10 Top Cuisine Experiences at Sea: For a Special Occasion or Just for Fun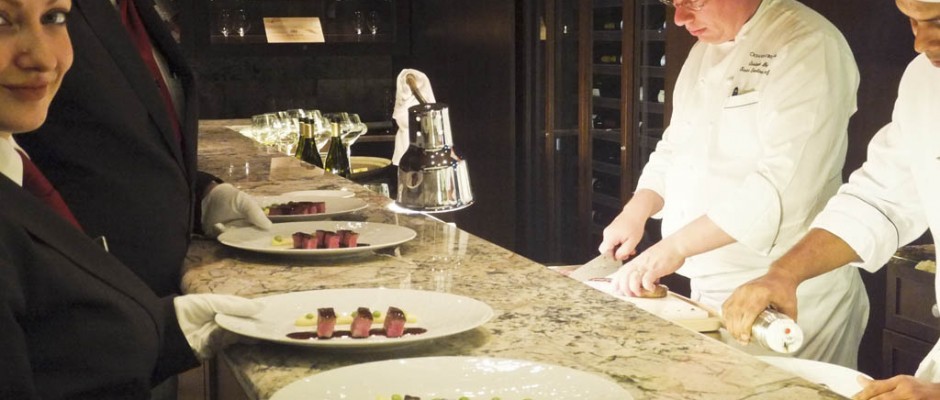 Where will you choose to dine for that special occasion on a cruise?
Options for dining are multiplying even on small cruise ships. The gourmet quotient is rising, with an increasing number of  menus inspired by celebrity chefs.
Where once the venues of choice for a special meal were either steak houses or red table cloth Italian bistros, the range of gourmet cuisines now covers a gamut from Pan-Asian to Mediterranean fusion
So where are the tastiest tables?
Our picks are based on the top choices of writers and readers of The Cruisington Times who had remarkable dining experiences on cruises in 2015. They're based on the ambience, creativity, presentation and, of course, the palate-pleasing quality of the meals.
Have we left out your favorite?
We welcome your input. We've left space in our Top 10 for a wild card, which will be announced in the weeks ahead.
Meanwhile, tuck in and enjoy:
1) La Reserve on Oceania
For a special treat on Oceania's Riviera or Marina, La Reserve is the ultimate dinner party, a seven-course gourmet meal paired with premium wines in an association with Wine Spectator magazine.
The experience begins with a reception for the two dozen guests who will share the feast and then moves to the dining room, where the meal is explained in detail by the sommelier and the head chef. Each of the innovative courses is prepared to order by chefs working at a galley right in the room.
I can see why there are cover charges of between $135 and $160 for these dinners, because the opening Champagne we enjoyed with our appetizer alone would cost upward of $300 bottle if bought at a retail store on land. We were even offered top ups of our flutes. There were six more vintage reds and whites to follow.
La Reserve is offered only on Marina and Riviera on select nights of each cruise. Reservations are essential. Cover charges vary depending on the wines being offered.
2) Ji Ji Asian Kitchen on Carnival Sunshine
Yes, Carnival. It was only a few years ago that sushi was only available on a couple of formal nights in the dining room on a Carnival cruise. Now Carnival ships are regularly offering sushi stations and Asian fare.
Raising the bar to the next level is Ji Ji, a specialty room on Carnival Sunshine curtained off with Mongolian-inspired fabrics and its own kitchen tended by chefs who know their stuff and will spice dishes to your taste. Starters include e slow-braised pork belly and Nanjing style duck as well as the traditional spring rolls and shrimp. Among the must-try entrees are bo kho: a wagyu beef short rib with burdock root and potatoes and Chairman Mao's master stock pig.
There's a $15 cover charge, but it's well worth it for the quality of the menu, which encourages sharing. The portions are American-sized.
Currently you'll only find JI Ji on Carnival Sunshine, but one will be on the new Carnival Vista coming this spring. On Sunshine as well as Carnival Legend and Carnival Breeze there are also very authentic Bonsai sushi restaurants, with a la carte sushi pricing.
3) Aqualina Restaurant on Azamara Cruises
As the name implies, this is the seafood house on Azamara ships and dining here can mean the opportunity to sample some local catches of the day. The room features floor to ceiling windows with spectacular ocean views and is decorated in classical French style. The service is very personal and the focus is on food rather than pretention.
They're particularly proud of their starters, like seafood bouillabaisse, lobster and asparagus salad and white mushrooms with parmesan and white truffle cream. Standout entrees include the seafood paella with saffron couscous, a black truffle and mushroom risotto or seared duck breast and rack of lamb for the mains.
Specialty dining is complimentary for suite guests (Club World Owner's Suites, Club Ocean Suites and Club Continent Suites). For others, there's a $25 a person cover.
4) Silk Road on Crystal Cruises
Crystal's partnership with celebrity Japanese chef Nobu Matsuhisa, who's got close to 50 popular restaurants ashore around the world, has made this one of the most in-demand restaurants at sea. Many of Crystal's guests are experienced with Japanese cuisine and this is the real deal, with choices that range from tuna to octopus to geoduck clams.
The Nobu waiters are happy to suggest an assorted plate to start that includes Nobu's signature sushi and sashimi, including salmon tartar with Sevruga caviar, tiradito Nobu-style, and yellowtail sashimi with Jalapeño, reflecting the experience Chef Nobu gathered working in restaurants in Peru..
The signature entrée is black cod marinated in Saikyo miso with lemon, but there are a host of options, including grilled wagyu beef with a choice of anticuccho or wasabi pepper sauce. The chefs are all personally trained by Chef Nobu.
Even though Crystal is otherwise all-inclusive, to ensure that everyone gets the opportunity to dine at Silk Road, only one visit per cruise is complimentary. A second visit, which you're likely to want to do on a two-week cruise, comes with a cover charge of $30 a person.
5) Tuscan Grille on Celebrity Cruises
The ambiance of Tuscan Grille is described by Celebrity as "Napa-meets-Old-World-Italy," giving a contemporary artisanal flair to traditional dishes. The flair starts at the sensuously curvy entrance to the restaurant that's now on five of Celebrity's ships and being added to another in 2016.
There's a full slate of pastas of the day, but steaks and chops are the stars, with Italian twists. For instance the Toscana Ribeye is Angus steak with Cajun-spiced butter, marinated pepper served with baked pecorino "mac & cheese" Filet mignon is served with horseradish mashed potatoes, porcini mushrooms, arugula and a Barolo sauce. Salmon may be offered with orecchiette pasta, artichokes, olives and grilled asparagus.
You'll find Tuscan Grilles on Celebrity's four Solstice-class ships, plus Infinity, with a cover charge of $35 a person. A Grille is being  added to Summit during a refit in early 2016.
6) Evening at Le Cirque on Holland America
This isn't really a separate restaurant, but this is a must-do experience when it's offered on Holland America's ships. The line's Master Chef Rudi Sodamin worked with Executive Chef Craig Hopson of New York's legendary Le Cirque restaurant to re-create the whimsical ambiance and award-winning dining experience, complete with reproduction china featuring impish monkeys.
The menu has its tongue-in-cheek choices: Chicken Under a Brick, for instance, means chicken piled high with sautéed vegetables. The presentations are whimsical: The Le Cirque signature soup is a butternut squash served from a tea kettle. A Lobster salad includes an entire lobster tail and the classic Chateaubriand with a horseradish flan comes in a portion that's easily large enough for two to share.
The Le Cirque dinner is generally offered only once each cruise and priced at $49 a person. Early reservations on line are essential, as evenings are generally fully booked.
7) Sabatini's Trattoria on Princess Cruises
The Italian venues on Princess Cruises ships have been getting rave reviews for years, but there is an on-going process of updating classic offerings with "new Italian cuisine choices. So they call their restaurants the New Sabatini's.
It means adding extra flavors as well as inventing new ways to present the dishes. So for instance the signature spaghetti is not just pasta and sauce but a medley of langoustine, scallops, shrimp, vongole (baby clams) and mussels. Striped bass comes in a crust of zucchini and polenta. The lobster comes in a trio, lobster tail, lobster orzotto (a risotto made with barley) and lobster bisque sauce. Preparation is to order and the staff is invariably attentive.
The cover charge is $25 a person and the restaurants are always packed in the early evening.
8) Restaurant 2 on Seabourn Cruises
Granted, it's not the most inventive name for an upscale eatery, but Seabourn's dining alternative Restaurant 2 is extremely adventurous. Its seven-course tasting menus of tapas-sized portions are popular for special occasions or a change of pace from the line's award winning dining room, known on each ship as The Restaurant.
The menu changes each week, so passengers on the ship for more a week will see a new menu the second time around. On a recent cruise the menu featured such items as a foie gras crème brûlée, a crispy duck confit filo, smoked duck carpaccio, lobster and lemongrass presse and seared beef crostini.
Restaurant 2 has no cover charge but it's limited in size, seating only 50 guests a night. You should make a reservation before the cruise to ensure getting a table.
9) Manfredi's Italian Restaurant on Viking Star
Since 2015, proclaims the sign for the Italian restaurant, whose entrance features a video screen showing the gluttony scene from the movie Tom Jones. All the walls are covered with photos of famous Italian celebrities tucking in to large bowls of pasta. The restaurant promises to "recall Italy's beloved trattorias" and it took some doing to get a reservation for a table here, because the restaurant has already developed a devoted following, even though guests are supposed to be limited to one evening in the restaurant on each segment of the cruise.
I could see why, because the restaurant is very cheery and the staff is welcoming and it turns out worthy Italian fare. The ship prides itself on making all its pasta fresh in the kitchen daily.My wife was impressed that there were three types of risotto on offer, although she opted for the osso buco and found it prepared perfectly. I had a masterfully done filet of sea bass served with potatoes and tomatoes.
Manfredi's is complimentary, but popular, so reservations are essential.. It's on Viking Star and will also be a feature of two sister ships, Viking Sea, coming in the spring of 2016 and Viking Sky, launching in 2017.
10) Silversea Cruises
You read that right. Every dinner venue on Silversea's ships will create a memorable meal.  In fact, we had a tie in reader voting, including for the main restaurants. So they all share the honors.
 Click here to read why we name Silversea the comprehensive choice for epicures.
And here's a toast to great dining in the years ahead.