3 Memorable Meals Reveal 3 Unique Faces of California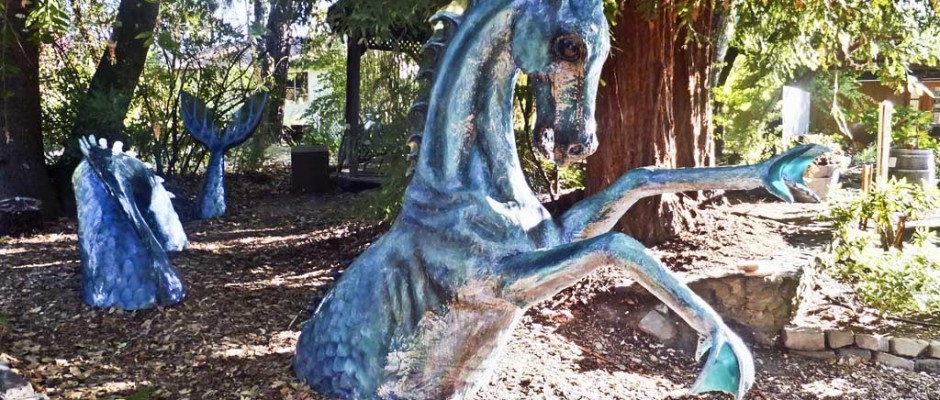 What three lifestyles come to mind when you think about California?
Yep, there's the glamor and style of Hollywood.
Then there's the laid-back life in the sun that brought us the surfers and the Summer of Love.
And third, there's the visionary artistry that can turn an idea into a multi-billion dollar computer app or recycle scrap parts into priceless art.
On a quick driving tour in California's wine country before a cruise from the West Coast, I was able to immerse myself in all three.
Picking up a rental car at San Francisco airport, we crossed the Golden Gate north for a stay in Santa Rosa, the heart of Sonoma County that's world-renowned for its wine. (It's been thankfully spared damage from the earthquake that hit the neighboring Napa Valley recently).
Santa Rosa is also an incubator of innovative cuisine, and it came as a bit of a surprise that while there are 400 wineries within easy driving distance of the city, there are only a handful that actually have restaurants. It's a quirk of California licencing laws that it's all but impossible to get permits to open restaurants on farms.
That makes the few wineries that have long-standing licences and can serve meals extremely popular and it pays to make reservations in advance. Here's a sampler of the tastes of Santa Rosa and Sonoma:
Tinseltown Flash at Francis Ford Coppola's Winery
At most vineyards, it's all about the wine. Here, it's all about the winemaker.  If ever there was an outsized sense of the drama that Hollywood can create, it's the theme park Coppola Winery.
If Francis Ford Coppola ever decided to do is own version of The Wizard of Oz, I'll bet he'd use the Heaven-sized iron gates to his palatial wine estate as the entrance to the Emerald City. Once inside there are three optioons:
1. Check in for a lunch or dinner.
2. Get t a tour and tastings in rooms that are museums of memorabilia from films including The Godfather, Tucker and Apocalypse Now. 
3. Or- if you happen to have made reservations months ago and are on the list– spend a day around the cabana-lined pool.
The meal:  The Godfather would feel at home with the menu of Rustic, the winery's country-style restaurant and patio at the edge of the vineyard. It features many traditional Italian comfort foods made with seasonal ingredients, including herbs and produce from the winery's garden. An interesting twist is the kitchen includes a parrilla, an Argentine wood-burning oven that grills meat South American style. My wife had lamb chops which were artfully grilled and presented.
My choice was a Moroccan Bastilla. Let's pitch it this way: it's chicken pie meets crispy crusted cruller. The plot is it's got a filling of eggs, meat and cumin inside a baked crust topped with powdered sugar. Like everything on the Francis' Favorites menu, the dish comes with a rave review from Francis Ford himself: "This is my dream food."
Got it, Mr. C, but would it spoil the ending to say it was fun but the crust was a bit on the flaky side? As I cut it open, it exploded into the air I found my nose covered in white powder. Now, that never happens in Hollywood– or does it?
The sweet and savory combo did live up to its billing as a flavor exploration, although not one I expect to have dreams about.
The wine: For an al fresco lunch, I found the Sofia blanc de blancs sparkling wine was just right. Sofia began as a promise from Coppola to his daughter that he'd create a wine in her honor. He chose a sparkling wine, he explains, to be "as bright and effervescent as the woman who inspired it."
Spoiler alert: A typewritten casting call sheet in one of the tasting room/ museums shows that Marlon Brando was short –listed against Sir Laurence Olivier for the part of Don Corleone. Now that would have been interesting; an Italian mobster with an English aristocratic accent.
The Francis Ford Coppola Winery at 300 Via Archimedes in Geyserville opens daily at 11 a.m. Tastings range in price.
Art in the Vineyard at Paradise Ridge
This former ranch on rolling foothills just outside Santa Rosa is a vineyard but also an art park. Among the remarkable large-scale sculpture installations are a carved wooden snake that coils through the oak trees and a tower of Tibetan temple bells that reverberate for a full minute after each turn of a small prayer wheel.
The meal: Paradise Ridge doesn't have a full service restaurant, but they have installed a wood burning pizza oven and sponsor Pizza in Paradise luncheons and evenings in which the Italian-style thin crust pizzas are served with a tasting of four wines. My favorite turned out to be one seasoned with lemon oil, that perfectly matched the citrusy sauvignon blanc.
The wines: We sampled the winery's range, from sauvignon blanc and chardonnay to pinot noir. Paradise Ridge's owner Walter Byck is on hand and his philosophy is simple: " Trust yourself. If somebody tells you a wine—or a piece of art–is good and you don't like it…you're the one who's right."
Paradise Ridge Winery is at 4545 Thomas Lake Harris Drive, Santa Rosa opens daily at 11 a.m. Pizza in Paradise runs through October from Wednesday through Sunday 11 to 3; $55 for two with a pizza paired with tasting of four wines.
Hippie Rustic @ Russian River Vinyards
Remember the days of hippie communes, where like-minded new agers decided it would be groovy to share the land? Even if that doesn't evoke flashbacks, there's an extremely 1960s eclectic throwback feel to this vineyard and gardens of fresh herbs and veggies on the Russian River.
The farm's wooden barn was erected 1960s by folks who knew more about farming than building. They just kept adding sheds and decorative roofs to the point that it most resembles an enormous decrepit version of the hand-built dachas you'd find in rural Russia. Around it are sculptures of unicorns and dragons that decorate the farm fields because, well, they're so big they wouldn't fit anywhere else.
And of course there's the obligatory vast array of hippie garage fixer-uppers, including a 1951 Pontiac Super Chief, that still runs despite its missing windows and a Studebaker that would run– if only they could find an engine.
The meal: The cork-covered menu at the Corks restaurant comes as a typewritten sheet—that seems to have been  written on an ancient Underwood typewriter.  Local ingredients feature in the menu that might include artichokes, crab or sweet pea soup with prawns. The entrees include a rabbit sugo with morel mushrooms finished in brandy over fresh pasta or a vegetarian Monterey pea risotto.
I couldn't resist ordering the ribs which came piled high on the plate along with asparagus and a hearty mound of mashed potatoes. Those hippie farm hands really do get the munchies. If you want the farm's vegetables like lima beans or sugar peas, alongside the entrees, you'll pay an extra $5.
But there's more. The dessert menu features an irresistible  warm semolina cake with rose-infused cherry sauce and ice cream served with big chocolate (hash-free) brownies.
The wine: To pair with my paleo plate of ribs and the hearty veggie risotto my wife ordered, I went with the medium-bodied and fruity estate grown pinot noir, one of six choices of pinot noir Russian River produces.
Corks at Russian River is at 5700 California Highway 116, Forestville, Calif. Phone: 707-887-3344. Hours are from 11:30 to 4 for lunch and from 5 to 9 for dinner.