4 Exotic Asian Rivers Get More Comfortable New Cruise Options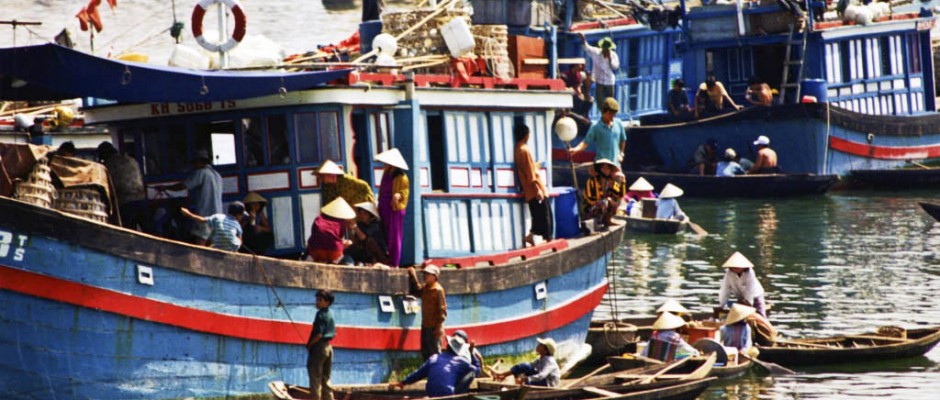 Life in Asia has always depended on rivers.
Some of the world's oldest civilizations developed along the Yangtze, the Mekong, the Irrawaddy and the Ganges. These rivers are still main sources of water, irrigation and trade, as well as places to do the laundry and cool off from searing heat.
In the past though, Asia's rivers weren't big tourist draws because the infrastructure was still primitive. Passengers were an afterthought to freight and to get on and off a ship  could mean wading ashore or literally walking a plank.
But there's a new generation of new cruise ships that cater to the Western market being launched in the next two years.
Taking one of these  floating hotels is a luxurious way to discover fascinating  corners of the continent before tourist development happens ashore, as it certainly will as the modern world discovers the richness of civilizations that that are thousands of years old.
Here's a look at what's new on Asia's Rivers:
Mekong River into Laos and Cambodia
Ho Chi Minh City–or Saigon as southern Vietnamese still call it– has been on cruise routes for years, but the newly developing Mekong River routes head from Hanoi into Cambodia and Laos. Highlights are  Cambodia's capital of Phnom Penh and the must-see ancient complex of Angkor Wat and island communities and rural villages that seldom get  outside visitors.
AmaDara
AMAWaterways is launching a 124-passenger ship in August, 2015. It tweaks the design of sister ship AMA Lotus to allow for slightly larger suites and rearranges the top deck lounge space to make way for fitness and massage facilities.
The itineraries begin in Vietnam's capital, Hanoi, with an excursion to Ha Long Bay. Passengers then fly to Siem Reap, Cambodia, to spend three days touring sites of the ancient Khmer empire and the temples of Angkor Archeological Park.
The cruise starts in Tonle Sap Lake, visiting rural villages and an overnight in Phnom Phen and ends with a stay in Ho Chi Minh City.
Avalon Siem Reap
The newly launched ship built in Asia is smaller than Avalon Waterways' European river ships. It accommodates 36 passengers in 18 suites,  which are larger than the suites found on European river ships. Being small and with a shallow draft, it can offer itineraries that include both Vietnam and Cambodia.
Panoramic windows open to create an indoor and outdoor living space. The ship features an open-air observation lounge as well as air-conditioned indoor lounge. It's the sister ship of the Avalon Myanmar, which is starting service in the late fall of 2015.
Scenic Spirit
Scenic Tours' new Scenic Spirit launching in in January, 2016, has 34 all-balcony suites, with separate bedrooms and living rooms and sun lounges. The ship also boasts four dining venues and a deck pool with spa sauna and steam room. The itineraries will range from eight days between Ho Chi Minh City and Siem Reap to a 27-day exploration that combines land and cruise, and journeys from Hanoi to the Laos city of Luang Prabang.
 Laos Pandaw
Beginning in November 2015, Pandaw Cruises' new Laos Pandaw will offer the first voyages on the Mekong that entirely cross Laos. The ship is built with a shallow draught for additional maneuverability during low water season, along with a high-horsepower engine needed to navigate the fast-flowing upper Mekong. It's a sister-ship to Pandaw's Kha Byoo, launched in 2014. On its 10-day journeys, guests will spend two nights at Luang Prabang noted for its pagodas or "Vat", many dating back to the sixteenth century.
Mekong Princess
Launching in September 2015, Haimark Travel's Mekong Princess will navigate the smaller tributaries in Vietnam's Mekong Delta and Cambodia, delivering an itinerary of port calls it claims will be different from any ships currently sailing the Mekong. The ship has only 12 suites and each is more like accommodations you might find in a European hotel with French-style trim and furniture and marble baths. Haimark, which was founded in 2013, is hoping to make a name for itself with luxury and exotic itineraries. Ports on the river trips include Long Xuyen, Can Tho and Ben Tre.
Aqua Mekong
Another new line, Aqua Expeditions, is expanding into Asia from its start on the Amazon in Peru. Designed by architects in Saigon, the newly launched Aqua Mekong accommodates 40 passengers in 20 suites the company says are designed to be as lavish as a five-star hotel. The menus are created by Michelin-star Bangkok chef, David Thompson.
Irrawaddy River
AmaPura
AMA Waterway's new AmaPura  in Myanmar has 28 suites that offer either French balconies, outside balcony or twin balconies. The ship is locally built and features a combination of modern and traditional motifs and a shallow draft that allows it to navigate the Irrawaddy river nearly year-round. Its itineraries run between Pyay, a port south of Yangon (Rangoon), to Mandalay.
The line also brings local entertainers, including a puppet show, on board to perform in the lounge during port calls.
Avalon Myanmar
Avalon Waterways new all-suite Avalon Myanmar entering service in the fall of 2015 accommodates only 36 guests, but it's as large as a vessel accommodating twice as many, the company claims. It's designed to travel the upper Irrawaddy, north from Mandalay, where most other Myanmar cruises end.
Built by local carpenters and craftsmen, the ship is designed to reflect the character of traditional Myanmar river craft while offering the modern conveniences and dining that Western travelers expect. It's got an air- conditioned Panorama Lounge as well as an open-air observation lounge for viewing the passing scenery.
Yangtze River
New Century Cruises
European lines are partnering with Chinese companies to operate several big, new ships on the Yangtze.
One of the more audacious is the Avalon Waterways offering: the 398-guest Century Legend, launched in 2013. It and sister ship Century Paragon demonstrate how popular Chinese river cruising is becoming.
Previous generations of Yangtze ships tended to be clones of European river ships, three decks tall and with a capacity of 100 guests or so. But now that the giant Three Gorges dam is operating,  the river is deeper and wider and new ships are coming out almost ocean size. New Century's newest ships boast 7-story atrium lobbies and huge heated indoor swimming pools.
Another large Yangtze river ship,  the Viking Emerald,  is managed by  Europe's Viking River Cruises. The 250-guest ship caters to Western guests, with American cuisine but also offers Chinese cuisine and entertainment on board the itineraries in the  Three Gorges.
Ganges and Beyond in India
Pandaw's Raimahal
Pandaw River Expeditions is offering a new itinerary on the Ganges and Hooghly Rivers aboard the 22-suite RV Raimahal, which the company says has two crew for every guest. The in-depth 16-night itinerary in October 2015 will include a sunset visit to the holy Ghats at Varanasi as well as evening tours of "intoxicating street life" in cities. The tour ends in Kolkata (Calcutta).
Kerala Backwater Barge
While not new, one of the most exotic cruise options in India is a luxury river barge. Kerala Backwater Cruises offers a two-bedroom barge, the Sauver Nigan, which was built in traditional style, without using a single nail. Each plank of wood is joined to the next with rope and coated with black resin made from boiled cashew kernels and fish oils. It's also furnished in European style and air conditioned and has won awards for being eco-friendly, including using solar panels to generate electricity and having a non-polluting waste system.