4 Tastes with Ultimate Views from Hong Kong's InterContinental Hotel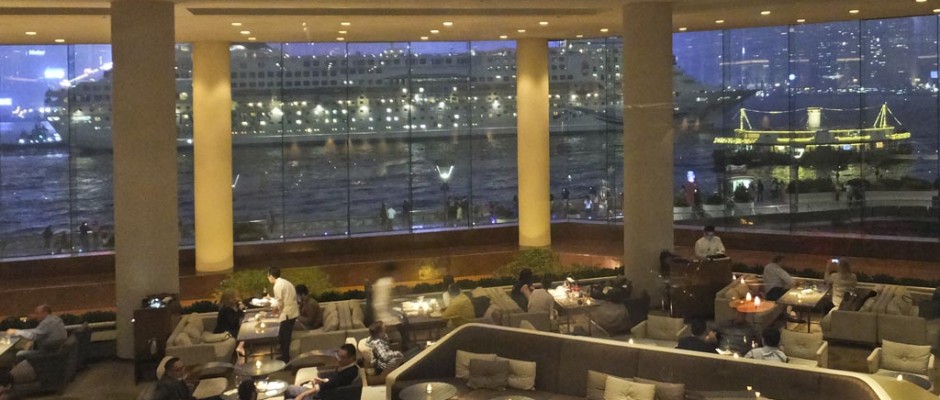 There's no city skyline as iconic and fascinating as Hong Kong's from the Kowloon side. At night, the architectural mountain range of the Central business district comes alive in neon and a fiber-optic and laser Symphony of Lights from buildings that seem to reach for the stars.
The billion-dollar views of shape-shifting central Hong Kong have always been best from the InterContinental Hong Kong, that's become the prime choice for fashionistas, financiers and foodies.
And on a recent return after an Asian cruise on Silversea's Silver Wind, I got to celebrate the hotel's latest claim to fame. Three of the InterContinental's restaurants have been awarded stars in the 2015 Michelin Guide to Hong Kong, giving it the most starred restaurants under one roof in Asia.
There are probably more staff cooking here than any hotel in the world and they make it part of their business to constantly innovate. Two of the restaurants offer menus created by international celebrity chefs: Alain Ducasse and Nobu Matushisa
Here are a few tastes of the Hong Kong classic:
1) Yan Toh Heen
The Cantonese restaurant headed by Chef Lau Yiu Fai has scored two Michelin stars. The contemporary restaurant features hand-carved jade place settings and floor to ceiling harbor views.
Don't be daunted by the vast menu; the staff is good at guiding you to options you may not have tried, but are sure to like. The choices change regularly with the seasons and seafood is always the prime choice.
If you can't choose, Chef Lau has a multi-course "Exquisite Menu" of tastings that on the day I was there, included Imperial Bird's nest soup with fish and bamboo piths, lobster with Matsutake mushrooms, wagyu beef with black garlic, fried rice with duck and a dessert of mango cream. It's pricey at 2,000 HK (about $250 U.S.), but what an experience.
2) Spoon by Alain Ducasse
Spoon holds a Michelin star for its contemporary French cuisine and a vast wine list. When you're not looking out at the harbor view or admiring the presentations on plates, look up at the ceiling of the restaurant which is decorated by 550 hand blown Murano glass spoons.
Rather than try to choose, the Spoon Experience Menu gives a tasting of the restaurant's signature dishes, including the farm hen consume, home-made pasta with black truffles, rock lobster with green peas and veal medallions. Top it off with chocolate pralines flown in from Ducasse's workshop in France
3) The Steak House Winebar + Grill
Something unexpected in Hong Kong: a 1-Michelin star steak house worthy of the best in America. It flies its beef in from around the world and cooks it over Hong Kong's only charcoal grill.
As with steak houses everywhere, it's best to come hungry for the big U.S., Japanese and Australian prime cuts. But for a treat, order the "seafood mountain" appetizer. Lobster, crab legs mussels, scallops, prawns clams and abalone on a huge mound of ice. It's billed as for two people, but can easily feed four.
4) Champagne and Cuisine in the Club
Staying in a suite in the Club InterContinental floor  includes access to the Club Lounge on the mezzanine above the lobby, with the most panoramic view in the hotel. It serves a remarkably extensive buffet breakfast, and then afternoon tea and evening cocktails with long tables of exquisite hors d'oeuvres that change through the day. The complimentary pours include French Champagne and a range of premium wines and spirits.
Club InterContinental guests also enjoy personalized check-in and check-out service, a dedicated Club concierge service, high-speed Wi-Fi Internet and complimentary two-hour use of the adjoining Stanford conference room (subject to availability).
A stay at the InterContinental comes with a sleep at night factor. The rooms are all super soundproofed, so once you click a button to shut the automatic blackout curtains, there's nothing to distract you from sleep–if that's what you want in this city that seldom sleeps.
A new perk is a local "handy smartphone" device for guests to use during their stay. It allows unlimited local calls and international calls to and from eight countries, including the United States and Canada. Along with 3G internet access, interactive maps and a Hong Kong city guide.
Location, Location
This has always been the center of Kowloon from the days when the landmarks were the nearby harbor tower and the Star Ferry dock.  Busy Nathan Road ends here and it's convenient to just about everything.
The MTR subway system is winning out over from the nostalgic but aging Star Ferries to cross Victoria Harbour. You can take the train from East Tsim Sha Tsui Station (Exit L6) to stops in Central in minutes. Almost all the city's main bus routes also stop near the corner of the hotel.
Of course, the InterContinental also has its own famous fleet of limousines on call for those who prefer a little more elegance than a Hong Kong cab.