5 Must-Dos on Harmony of the Seas, the Biggest Cruise Ship Ever Built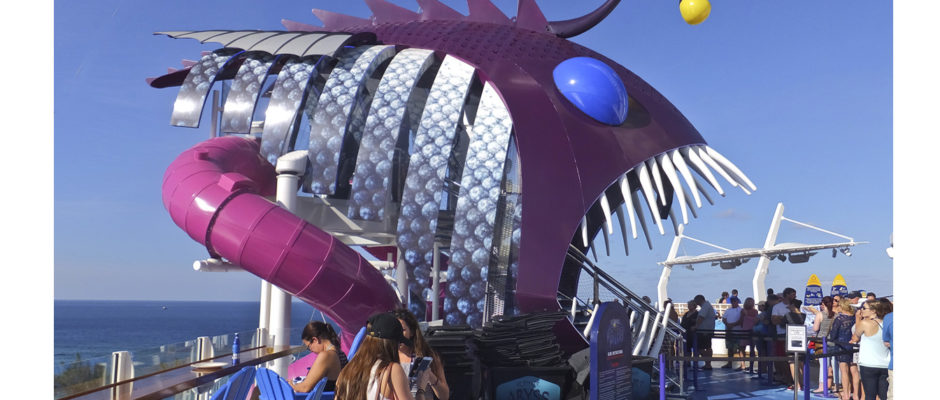 Even two days into a cruise, guests on Harmony of the Seas still carry guide books and ask questions like "If I keep walking this way, will I get to the Boardwalk?"
Royal Caribbean's newest and biggest yet is indeed huge;  it's enormous; it's a floating city. In reality, though, Harmony is only a couple of feet longer and wider than its two sister Oasis-class ships. What makes it so special is how they've tweaked all the space on board the ship to add an array of unique features.
Richard Fain, Royal Caribbean's chairman, says that there's so much new and improved on Harmony that  they considered calling it a new class of ships. With so much space to play with, the designers added new attractions and twists at every turn.  There are more places to drink and dine and they could have added  more because some entry halls are so vast that they're bigger than entire restaurants on other ships
Even if you've sailed on one of these big ships before, there's a lot to discover on Harmony's  16 decks and five neighborhoods. Let's have a look at what puts  this ship in a class of its own:
1) Take an art appreciation tour
This ship boasts more than 3,000 pieces of original and thought-provoking art, from glossy photo fantasies to oil paintings, to  sculptures, to a gigantic metallic head by Czech artist, David Cerny that regularly turns and shifts its shape.
Harmony is definitely a ship that makes it necessary to take elevators to get around. But if you don't try the stairs occasionally, you'll be missing one of the most wonderfully intriguing art displays afloat–with huge whimsical art pieces and compelling  giant photos and collages at every landing.
Wander the guest corridors and you'll find colorful panels bearing zingers like: "I hate to spoil the ending for you, but everything is going to be OK." Or: "Earth without art would just be…Eh?
2) Take a plunge down the pipes
Harmony has tripled up on its waterslides and added more twists and turns than any that have come before. The water tubes have clear sections so you can see the decks far below as you go with the flow at ever higher speeds. One slide also features a whirlpool in the middle that you'll swirl around a couple of times before you find the drain hole to resume the plunge.
But the star of Harmony is the Ultimate Abyss–a 10-story dry slide that starts on Deck 16 and finishes on the Deck 6 Boardwalk below. To add to the terrifying effect, the entrance is designed to look like a toothy fish from the ocean depths. The floor at the top is made of glass for a dizzying view straight down.
You slip on a mat made of carpet (to add to the speed and avoid friction burns) and then hop into one of the two slides. Frightening, yes, but the whole drop lasts just 15 seconds, and by the time your adrenaline gets really flowing you're at the bottom and ready to do it again.
3) Grease it up and search for a new world
Two new production shows are unique to Harmony. Grease is a full-length adaptation from the classic film and Broadway show with a cast of 20 singers and dancers and a live orchestra. It features all the hit songs like Summer Nights, Greased Lightnin', Look at Me, I'm Sandra Dee, Born to Hand-Jive, and Beauty School Dropout and masterful sets that work perfectly on Harmony's big stage.
Royal Caribbean also commissioned its own original production, Columbus – The Musical. A slapstick spoof in the spirit of Spamalot, it's the tale of Christopher's bumbling distant cousin, Marvin, who actually manages to beat Chris to the New World. Imagine a fully rigged galleon on stage, a chorus of sharks singing Cheeseburger in Paradise and a lady pirate doing a rendition of Roar that outshines Katy Perry's version and you'll get the idea. But it has to be seen to be believed.
4) Time travel on ice
What starts out as a skating party on the Seine in 1887 becomes a journey inspired by Jules Verne to the past, the bottom of the sea  and to the center of the Earth in the new ice show in Harmony's Studio B rink. An innovative projection system unique to this ship makes the rink's ice realistically appear to melt, crack or turn to lava. But the real delight of the show is the choreography of Olympic-class lifts and leaps by the dozen ice dancers, about half of them from Canada. A standout performance by the headliner from Poland will have you believing she can fly.
5)  Get curious and curiouser in Wonderland
First introduced on Harmony's smaller Quantum-class cousins, Wonderland becomes a rabbit hole worthy of Lewis Carrol's fantasy. Here, the restaurant is on two levels with a panoramic view through giant windows that overlook the ship's Boardwalk.
You enter through a long corridor lit by glowing crystal butterflies to a wonky golden door where you're greeted by a delightfully grinning etching of the Cheshire cat. The waiters wear velvet frock coats and the menus only become visible when you wet them with an artist's brush. Choose from "Dishes grounded in whimsy," or "fire emanating wonderful warmth," or "inspirations from the tide of the imagination." Once seen and tasted, they're destined to disappear from your plate.
(Reservations are essential and there's a $45 cover charge for dinner at Wonderland).
These are only a taste of the multitude of possibilities to get out and swim, surf, rock climb, and dine on Harmony of the Seas.
For all those who say they never considered cruising on a ship this big, the advice is try it. Sure it's vast but there's always something new and unexpected at every turn.
Not to spoil the ending for you, but you'll come away saying everything is going to be OK.