5 New "Where's That?" Ports Appearing in the Caribbean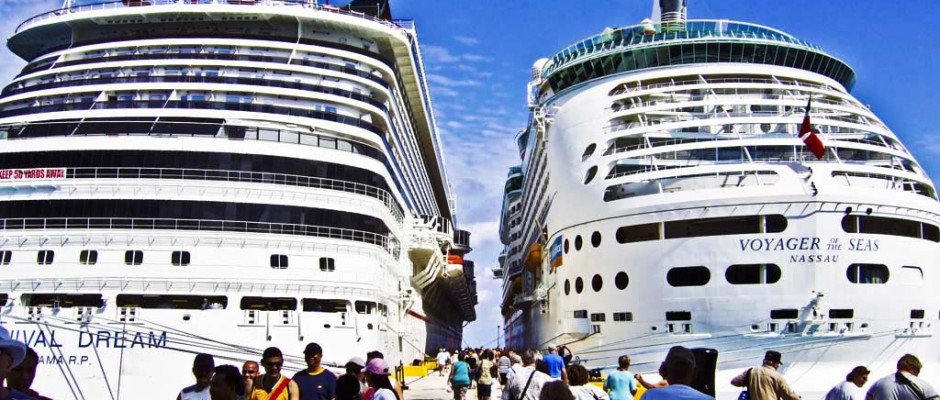 They're gated communities; fenced-in shopping malls that have little to do with the local cultures. They're tropical amusement parks.
Say what you will about the proprietary cruise ports and private islands that cruise lines are building in the Caribbean, a lot of passengers seem to like them.
It's easy to find your way around and get back to the ship without needing a guide and a phrase book. And, as much as I relish encounters with the local cultures at cruise destinations, a lot of my fellow guests tell me they'd rather not be bothered fending off local touts selling cab rides and illegal substances.
All they want is a quiet day at the beach and shops that take credit cards for cold beer and duty-free souvenirs. They like the security of being in a gated community, thank you.
Cruise lines like the proprietary ports as well, because they get a cut of the profits and can set limits on how many ships can dock on the same day. That's becoming important these days when ships are carrying thousands of guests and many Caribbean islands seem size-challenged.
On any given day on islands like St. Maarten or St. Thomas there are likely to be  four or more ships tied up at docks or an anchor, towering over anything in the tourist-packed towns around them.
Cruise lines want to expand their port offerings, but many island governments don't have the money to build the bigger docks they need to land throngs of passengers from mega ships. The seasonality of cruising also means that their bars, stores and restaurants must cater more to locals than to tourists to stay in business.
Enter the fantasy port, spearheaded by Carnival Corp. which pioneered creating new ports from scratch at Grand Turk in the Turks and Caicos and Mahogany Bay on Roatan Island in Honduras as well as carving out a new cruise pier in Cozumel.
There are several more created-from-scratch ports on the way in the next year or so. Here's a look:
Amber Cove, Dominican Republic
It's been nearly 30 years since cruise ships called on the north coast of the Dominican Republic, but this $65-million development 15 minutes from Puerto Plata can accommodate two 4,000- passenger ships a day beginning in fall of 2015. It's slated to host more than 100,000 cruise guests through the winter season that will last until April, 2016, when it will close for the summer.
What's there: Cobble stone plazas will be lined with a variety of retail shops, including themed restaurants and bars and a marketplace that claims its crafts and souvenirs are locally sourced. There's a transportation center for access to beach and sea excursions including nearby Ocean World marine adventure park and shopping trips to Puerto Plata.
Who's going: Eight different Carnival Cruise Line ships, starting with Carnival Victory on Oct. 6. Carnival ships have preference, but the port will be open to all cruise ships, as is true of all Carnival-developed ports.
Banana Coast, Honduras
The first mainland port in Honduras, is being built on the north coast  shore at the  town of Trujillo, which was founded by Spanish conquistadors in 1525. There are still ruins of an ancient fort. It's designed as an alternative to the island of Roatan, which is the Honduras port for many cruise ships on western Caribbean itineraries.
What's there: Cruise lines will be sending passengers to and from shore by tenders for about two years until a pier capable of berthing two Panamax ships is completed. Shore facilities will eventually include 10 acres of beachfront and up to 50,000 square feet of retail shopping. Excursions include waterfall tours and a walk around the ruins of the fort of Santa Barbara.
Who's going: Built by a private investment group with the co-operation of the Honduran government and the city of Trujillo, visitors this winter include Norwegian Cruise Line, Oceania Cruises, Silversea Cruises and Holland America Line.
Sugar Point, Barbados
Royal Caribbean International, which opened a new port at Falmouth in Jamaica in 2011, is working with the Barbadian government to construct a brand new port outside Bridgetown, to replace the industrial docks where cruise ships tie up now.
What's there: In the first phase, scheduled to be ready in the fall of 2016, two cruise piers are being built. A third phase completing the project is slated to open in 2017. The $300-million development is located within closer walking distance of the Barbados capital than the existing port, which will continue to be used for cargo when the new port is in full operation.
Who's going: The long-term plan calls for the port to accommodate up to six cruise ships from a variety of lines or four Royal Caribbean Oasis-class vessels.
Harvest Caye, Belize
Norwegian Cruise Line also has entered the new port building business with plans to create a $50-million port on two adjoining islands off the coast of southern Belize that total 75 acres of land. IDEA Inc. of Orlando, Florida, which has done previous branded destinations, is creating structures and experiences with Belize and Mayan themes
What's there:  Norwegian wants the port to have multiple functions — with docking/tendering facilities for visitors to the island and a separate tender dock for connection to the mainland and inland tours. Facilities will include a  floating pier designed to be eco-friendly, an island village with open-air buildings, a marina, as well as a lagoon and beach for water sports. The $50-million project is slated to open in the fall of 2015.
Who's going: Norwegian ships will be primary tenants, but other ships will be welcomed.
George Town Port, Grand Cayman
Several proposals to build cruise piers are in the works for the Grand Cayman, the Cayman Islands' largest island, where cruise ships have always had to tender passengers to and from shore.
What's there: The government has approved plans to construct two piers at George Town, where there's currently only landing facilities for cruise tenders. The proposals call for piers able to accommodate four ships at once and estimate the costs at between $100-million and $200-million.
Also approved are plans to enhance shore facilities at Spotts Landing, another existing anchorage about 4.5 miles from George Town. Proposed enhancements at Spotts Landing include shops, a restaurant and parking/transfer facilities. Cost is estimated at $8-million to $10-million.
Work on the projects is expected to begin this year, depending on further studies and refinement of plans. But no completion date has yet been set.