5 Reality Checks as Venice Cracks Down on Cruise Ships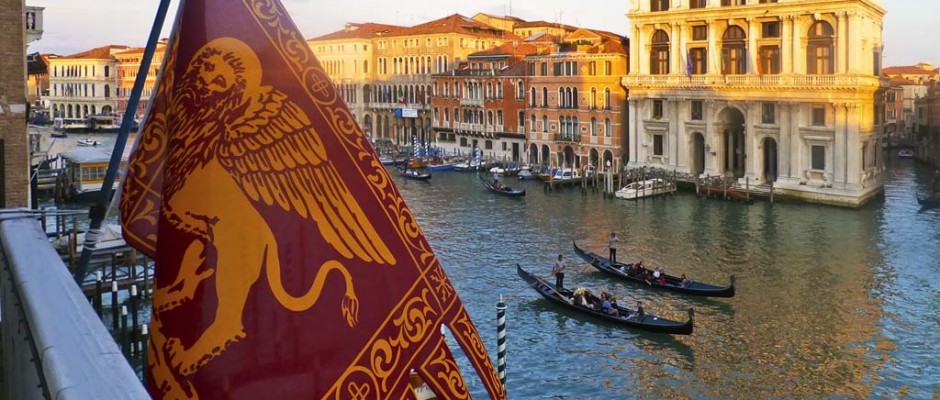 The most stunning view from a cruise ship anywhere in the world has to be the slow glide past Venice,  with its intricate ballet of gondolas and speedboats and its eternal skyline that's inspired centuries of artists.
But it's about to fade into history. At least that's what seemed to be happening when an Italian tribunal decided to ban grande nave–large cruise ships–from sailing in to Venice.
It's a long-overdue concession to reality that the once-serene city is setting limits on the growth of tourism that's creating pedestrian traffic jams on the city's narrow lanes and ancient bridges. It's logical to put the brakes on a trend that was seeing ships taller than anything in the city looming over monuments and sometimes causing flooding in their wakes.
But if the history of Venice is any guide,  we're still far from the end of the story.
In January, 2015, an appeals court overturned the ban after pressure from the port authority and business groups who claimed the ban would cost billions in lost revenues from tourists. That decision was immediately appealed and the case could drag on for many months.
Cruise Lines International Association (CLIA), which represents 53 major cruise lines, said itineraries for 2015 have already been finalized, steering big ships away from the Venice lagoon.  The legal uncertainty may mean bigger ships could return in 2016.
Here's a reality check, no matter which way the legal winds blow:
 Grande Nave doesn't actually mean no big ships
As of next year, ships over 96,000 tons won't be allowed to sail along the edge of Venice. However, that's not to say ships that carry substantial numbers of passengers to Venice can't still take the classic route to the docks. Norwegian Cruise Line's Norwegian Jade weights in below  the cut-off weight and carries over 2,400 passengers. Royal Caribbean's Splendour of the Seas accommodates more than 2,000 passengers, yet at around 70,000 tons,  it could still call Venice home even if a further 20 per cent reduction in maximum ship size takes effect as proposed in 2016.
All of Holland America Line's ships and many in the Celebrity, Costa, MSC. Norwegian, Princess and Regent Seven Seas cruise fleets are compact enough to still meet the rules, as will Cunard's Queen Elizabeth and Crystal Cruises' ships. The small ships of Azamara, Oceania, Seabourn, Silversea, Windstar and the new Viking Star from Viking Cruises will easily make the cut even if  additional ship size restrictions for the future actually take effect.
Plans can bog down in a city built on a marsh
Longer term, the government wants a new route that will keep ships from passing the environmentally sensitive islands of Venice and the Italian government has ordered a fast-tracking of a plan to build new cruise facilities outside of the famed lagoon.
Instead of reaching Stazione Marittima through the current Giudecca Channel past St. Mark's Square, officials decided the most viable alternative for the future is to have cruise ships enter through the southern Malamocco passage and follow the commercial ship channel to the Marghera commercial port. A proposed but yet-to-be-excavated 4.8-kilometer Contorta-Sant'Angelo Channel would branch off from this channel to reach the Stazione Marittima cruise ship docks.
The optimistic plan estimates the excavation could be done in as little as 18 months. But a key thing to keep in mind is that few things in Venice have ever been built on schedule. Even the iconic Rialto Bridge was a hot topic of decades of debate and multiple re-designs during the Renaissance from the time it was first proposed until it was finally completed.
An environmental analysis–a complex process here– has to be done before any permits and contracts can be issued. And so far no one's come up with the cash for the project whose cost estimate, assuming no unforeseen snags, is  115 million Euros (about $150 million US Dollars).
There's still an ongoing legal tug of war. Environmental activists are fighting for a total cruise ship ban and oppose any dredging, because it would disrupt sediment and deepening the canal could create higher waves.
Meanwhile, government officials are calling for a compromise, realizing cruise ships bring over 1.7 million affluent visitors into and out of the city every year.  The current cruise ship size limits were put on hold last year after they were struck down by an appeals court and the federal government finally had to step in this summer to break the legal logjam and put the ban back in place.
There are trade-offs to consider
The major cruise lines are still working out their fleet deployments for the future. In many cases it will mean they'll be using older, smaller–and potentially less efficient ships than the large ships that  can no longer visit Venice.  And if there are 3,500 potential customers a week for Venice cruises in the peak summer months, it's likely cruise  lines will want to put  two smaller ships on the route replacing the one big one.
The new measures try to counter that  problem with a limit of five on the number of cruise ships that can be berthed at one time at the Venice docks and a restriction on cruise ship passages to sunrise and sunset. This is destined to mean  adjustments of cruise schedules away from sailing on peak weekend days and restrictions on the number of overnight stays in the city during the peak summer season.
Cruise Lines International Association members have agreed to voluntarily comply with the restrictions, but the  industry association warns that the  economic impact on Venice will amount to a loss for the region in excess of 60 million Euros, taking into account both the direct contribution of the cruise lines and the expenditures generated by the tourists.
The cruise industry generates about 10,000 jobs, directly and indirectly, in Venice. With the new restrictions and the forecast drop in passenger traffic in 2015, CLIA predicts a significant drop in employment.
Throngs of tourists have Venice on their bucket list
Truth be told, Venice depends on tourist dollars for its continued existence.
Venice has become one of the world's most important cruise destinations in recent years. But  land-based  demand for the experience of Venice has been  growing just as fast. Every day, more than 60,000 people visit Venice – more than the entire population of the city.
The visitors have to stay somewhere. My personal take is that it's still better to have floating hotels that sail away in a day or two rather than building dozens of hotels on land to accommodate the throngs from around the world who are drawn to the historic city.
Venice will remain a coveted cruise hub
So, cruising to Venice may change, but it will still be a major way of getting the opportunity to visit the unique city.
A cruise including Venice is destined to become a more premium ticket in the future. Costs are sure to rise as it gets more difficult to sail in to port and the city imposes fees to cover the costs of protecting the fragile environment.  That's inevitable and only fitting for visiting such a coveted destination.
Cruising will remain an important way to visit Venice. Still, for those who want to experience that grand sail-past of San Marco, it's sage advice to see it soon.
Read more: Has Venice Become Too Popular For its Own Good?