5 Steps to Make a Deal and Find What's Real on a Touristy Island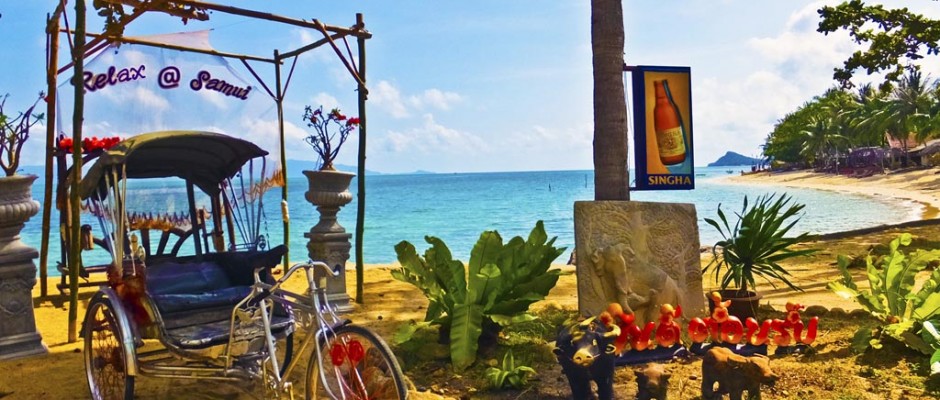 It's an island where monkeys still do the picking in coconut trees and you share the beach with bullocks. It's also an island that's been overrun by kitsch and clutter and sunbathers chugging beer.
But Koh Samui, Thailand, has become a hot international resort and I wanted to find out why.
We only had five hours ashore on our port stop on Silversea Cruises' Silver Wind. Fortunately it's a small island. Unfortunately, the once sleepy island in the Gulf of Thailand halfway between Singapore and Bangkok has been invaded by package tourists in recent years.
Almost as soon as a road circling the speck of land was paved, it was hemmed in by shops and restaurants built on the cheap. Now they're being joined by modern shopping malls featuring Tesco super markets and KFC drive-thrus.
The island's beauty is still there if you can get into the hills and beyond the layers of tourist trappings, we were told in a port talk on board the ship. And my wife and I had an agenda: we wanted to comb an uncrowded beach, savor a coconut fresh from a tree and see some of the natural and man-made beauties that islanders know about but tourists might not see.
That was a tall order, considering there was so little time. I needed a driver who wasn't chicken and was willing to go off the road. But finding one who wasn't going to gouge me was another matter.
As passengers got off of Silver Wind at Nathon, the island's only significant town, a swarm of eager would-be guides were on the pier to pitch their services and asking for as much as $150 U.S. or 100 pounds for an hour and a half round-island drive in a compact taxi or the back of an open truck.
The core  lesson my wife and I have learned about travel in Asia is that everything is negotiable and in most cases should cost a fraction of what we'd pay at home.
Whether it's bargaining in a bazaar, or for a guide, the steps are the same:
 1. Feign disinterest
The last thing in the world you're in the market for is what they most want to sell you. As some of my fellow passengers were piling into taxis, often without negotiating, we walked away from the touts saying no thanks.
2. That's way too much
By the time we reached the exit from the port to the town one sincere guide was imploring: "Please Mama, Papa I guide you a tour." Since the crowds had disappeared the opening bid was $80 U.S. for two hours, which I knew from previous experience in Thailand was more than double what the going rate really should be.
I let out a little sigh of astonishment and said "no, too much." Just as in a street market, my wife pulled out a pocket calculator, which is a handy prop to display a counter-offer.
3. Lay out the terms
Before making an offer of $40, we made it clear that we had a four-hour itinerary in mind and wanted to be able to spend some time at a beach and see some things that the local people think are beautiful.
The guide suggested some so-called tourist attractions–where he probably got a cut of the admission charge. I preferred to ignore the tourist shows that might include monkeys doing tricks, elephant rides or water buffalo fights.There are also cock fighting rings, but I don't even want to think about what goes on there.
4. Stand your ground
"Oh please, please, cannot" is a common response from local vendors. Again as in a market, we were ready to pack up and walk away. But we'd entered a negotiation and the guide was down to $60. Before I would sweeten my offer, I wanted to get something else in the bargain.
What kind of car do you have? There were a couple of old compact cabs nearby, but there was also a roomy brand new Toyota Club Cab pickup that the guide pointed to.
We'll go if we take that one! And we'll pay $50 for the four hours and we get some time on a beach. It's a deal; and there were smiles all around. For Kew, the driver, it was a good day's income, because the meter fare for a cab even in Bangkok is remarkably only about $6 an hour.
5.  Stick to the script
Don't let the driver try to upsell you later, taking you to a restaurant you don't want to visit or a brother-in-law's shop for "a  look around." It can also help avoid confusion at the end of the drive if  you've written down the agreed to amount on paper.
Deal done, for the next four hours, there were smiles aplenty as we explored coves, scenic lookouts and temples and ended up having fresh coconut on a hidden beach that's on a dirt road so obscure that even the driver had to backtrack to find it.
Here are some highlights:
Scenic vistas
Small as the island is, it has a lot of terrain and scenic lookouts that let you scan miles of coastline. Be cautious about taking selfies on  the brink, though; it's a long way down and, especially on the north coast, the shore is solid rock rather than sand.
Temples, old and upcoming
The Big Buddha is famous but we were looking for temples the locals know and venerate. An intriguing one turned out to be a shrine that's in its early stages. They've only erected a platform that has only the head of a statue that will eventually rise five stories high. It's a work in progress that shows Buddhism remains dynamic and devotees are building temples for future generations.
 Beaches without bodies
The northern Bang Po and Mae Nam beaches and the eastern Lamai coast are the finest on the island, but they're also hemmed in my resorts that charge by the hour for beach chairs and are jammed with tourists.
Kew took us all the way to the west coast south of Nathon before turning on a farm road to the palm fringed corner of a beach on the Taling Ngam coast that's only used by fishermen.
Local treats
While we combed the beach, the driver scored a couple of coconuts from a local plantation and came to the shore wielding a machete to hack off the tops and garnish them with flowers. Other local delicacies include finger bananas and mangoes fresh from the trees.
Here's where that final caveat really applied:
At the end of the drive, Kew stopped at a store and emerged with a colorful paper lantern he seemed to be offering as a present. But when it came time to settle up, he frowned when I paid and gave him what I thought was a generous tip.
He wanted $20 extra for the lantern—worth only a couple of dollars—that we hadn't asked for.
There's no need to feel obligated. We said "thank you very much, but no thanks."
And as we headed back to Silver Wind, both the driver and we came away satisfied that  the day had made both of us richer from the experience.