5 Treats and 1 Left Unsampled on an AmaWaterways Mekong Cruise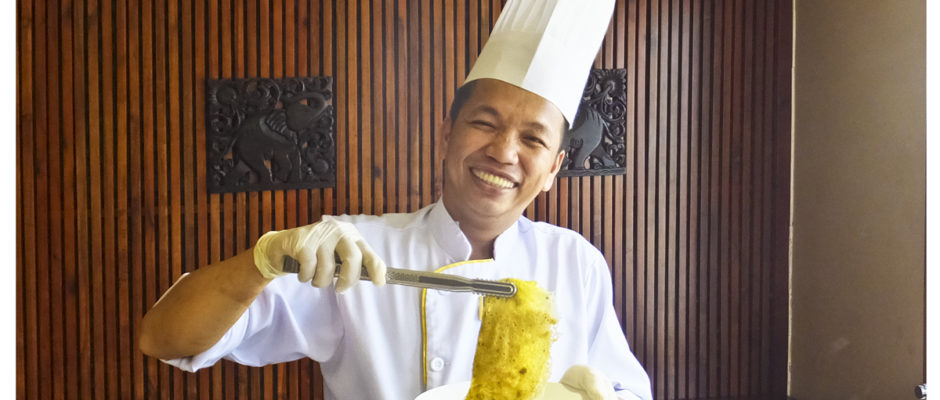 I should have known something unusual was in store as we visited the bustling food market known as Tarantula Village on a tour from our AmaWaterways Mekong River cruise in Cambodia.
Tables were piled high with big platters of things many of the shoppers lined up to buy them obviously considered lunchtime delicacies. And I was game to try them—I thought.
But on closer look, the protein wasn't on my bucket list.
There were bowls of silk worms in soy sauce, grubs with garlic and ginger, grasshoppers and crickets roasted with hot peppers. The ultimate delicacies were giant, creepy black tarantulas each the size of a cell phone– available either fried or live and ready to milk for their venom, which I'm told is great for arthritis.
That part worked anyway. I forgot any pain I might have had as I watched one of the nightmare-inducing critters scampering up the arm of an AmaWaterways guide.
Thanks, but no thanks. As adventurous as I normally am, I gave the opportunity to sample the buggy street meat a pass. There was little incentive to snack on our tours, because we were being extremely well fed with much more delectable Cambodian specialties on our ship, AmaWaterways' new AmaDara.
1) Capturing the essence of Cambodia
Food aboard the new AmaDara is prepared by masterful chefs from Vietnam and Cambodia who all have extensive hotel experience. Cambodian food may have a reputation for being more timidly spiced than the dishes served up in neighboring Thailand, but it turns out that's a bad rap because the flavors of the fresh from the field spices used here were so subtle and complex that too much zing would overpower them. If you want more heat, you can always add chili sauce at the table.
Turmeric, cardamom, lemongrass and kaffir lime leaves are the essential spices in Khmer cooking. But there's also a supporting cast of ingredients unfamiliar to Western kitchens that make authentic Cambodian fare complex with a welcome tanginess.
Galangal, also known as romdeng, resembles ginger and it adds a peppery or mustard-like taste to dishes. Fingerroot is a main ingredient in curry pastes and makes Cambodian seafood stews known as Amok famous. Peh-coc, similar to yam or jicama, may substitute for potato. There are also spices named m'rum, m'reah, angkeadei and kantrup that have no English equivalents at all.
2) Discovering much more than Pho
Both Cambodia and Vietnamese cuisines trace their influences to China and the eras of French colonialism. And there are traditional staples that make the countries famous.
A classic even for breakfast is the Vietnamese soup-based noodle dish known as pho. The accent you put on words is vital because pho pronounced fuh with a rising tone is noodle soup. Saying it as fowh, the way most English speakers pronounce it, means street.
Fish or pork and rice are the basis of many dishes. Markets are full of tilapia, catfish and bassa caught in the Mekong (literally the mother of rivers) that are the staple protein in Cambodia. On the ship, most of the fish come from the ocean and include tuna and salmon.
On AmaDara, there was always a choice of Asian fish, meat and vegetable entrées at every meal and they were always arranged on the plate like works of art. Western-style dishes are also offered on the menu, but I'd come all this way and I wanted to enjoy as much as possible of local fare.
3) Perpetual motion at the Action Station
The fun on AmaDara includes watching the preparation. In contrast to the standard omelette station in the dining room at breakfast that becomes a pasta station for lunch, on AmaDara the Action Station features chefs preparing and serving up delectable local specialties of the regions we're visiting.
My newfound treat is a rice crepe called Bahn Xeo (not pronounced banjo, but more like ban sheow) that's filled with fried minced pork and mushrooms and served with a dipping sauce. The rice flour crepe is much finer than one made from wheat and is extremely satisfying. On menus on AmaWaterways, there are handy guides to potential allergies of each of the dishes.  This Bahn Xeo is egg-, dairy- and shellfish-free.
4) Hot ticket: the Chef's Table
A specialty restaurant that appears nightly at the rear lounge of Deck 2 is a highly anticipated event. Guests are permitted only one reservation in the 24-seat room per cruise and it's best to book in advance of the cruise to ensure you get the evening you prefer.
It's a gala feed with a six-course set menu and special wine pairings. There's a description of the courses by a master of ceremonies and you can see the preparation by the restaurant's dedicated chefs through glass windows
The feast was delightful, although I had one regret. The entrées on the menu were U.S. prime sirloin of beef and Australian barramundi in a vegetable broth. Considering where we were, I would have preferred to see at least one course being an Asian specialty. However, the dessert of five elements–one of which was a chocolate bun filled with delectable molten lemon sauce–was probably the most elegant end to a dinner I've experienced  on any river ship.
5) Fond food memories to take home
It's difficult to leave the memorable exotic food and service. For those who want to try their hand at making the dishes they've discovered on the cruise once they get home, the chefs on AmaDara are happy to hand out recipes.
A word of caution though. The batches they whip up for the ship are designed to feed dozens of guests and the menu ingredient measures will need to be divided by 30 or 50 to prepare for your family table.
Of course, if it's those chocolate and lemon buns, I'm sure there's a good chance they'd all be eaten if I made up the whole batch.