5 Ways Crystal Symphony Has Added Even More Sparkle to Cruises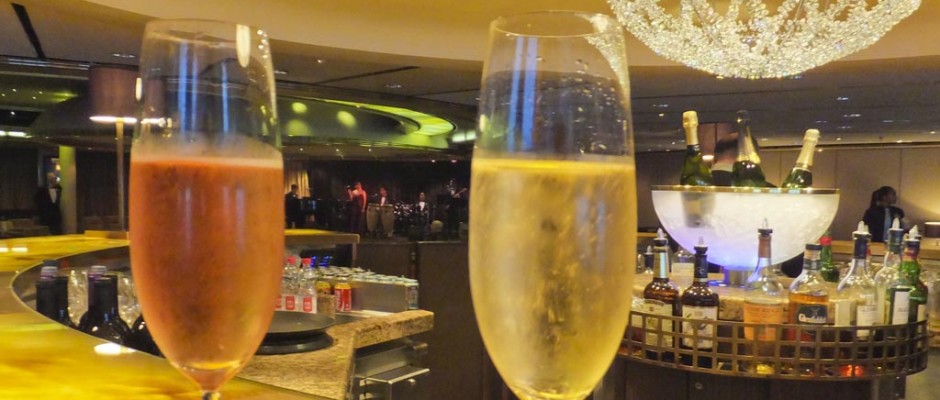 How can you top Crystal Symphony?
A lot of cruise ship designers have asked that question over the years as they've tried to out-do Crystal Cruises' classic ship. Yet every year, Crystal Symphony and sister ship Crystal Serenity  maintain their lead in customer surveys. The latest Travel & Leisure magazine award for best large ocean ship was the unprecedented 19th time Crystal has scored number one in the annual reader survey.
That's a result of Crystal regularly asking itself: how do you top being on top? It's a constant process, as I found on my most recent voyage aboard Symphony.
Even though Symphony's latest multi-million dollar dry dock in the fall of 2014 had included all parts of the ship, many more upgrades have been made since. More improvements were being made even as we were sailing on a comprehensive Best of the Baltic cruise.
Here's a review of what's new:
1) Continual Refreshing
Crews on boom cranes were busily refreshing  the paint on Crystal Symphony's brilliant white hull as passengers boarded in Stockholm for the cruise that would include eight countries in 10 days.
Comfortable new furnishings and art works have been added to the atrium and new draperies and carpets have freshened the décor in all public spaces.
The upgrades continued even as we were sailing. While the guests were off on shore excursions during a day in port in Germany, the entire crew of Symphony pitched in to do a complete upgrade of beds throughout the ship. In less than eight hours, more than 1,000 mattreses were removed from the ship and replaced with even more comfortable new pillow-topped ones.
2) Modernized Menus
Yes, of course there are the traditional classics ranging from sirloin to lamb chops and quail or a pasta of the day on the menus, but on the left side of the menus are new sets of Modern Cuisine choices that Crystal calls examples of "the science of very contemporary cooking around the world."
Some are valiantly experimental, including one evening's duck pate served with melon and sweet crackers. My favorite was one night's ahi tuna stack topped with caviar. Not only are the entrees extraordinarily well-prepared, they're arranged on the plates like modern art.
Freshness is an obsession. In the Lido Café in the morning, croissants, buns and rolls are baked on the spot and are set out warm from the ovens.
The modern trend extends to the lunch buffets in the Lido Cafe. Most of the offerings come in tapas-size portions. Of course, there are still the traditional carving station and pasta of the day.
Instead of slabs of cake in the dessert section, there are bite-size pastries and tarts, with each intricately decorated as though it were a full sized confection.
Every day's selections are different and so elegantly decorated it almost seems a shame to bite into them. But they're difficult to resist.
3) More Inclusive Than Ever
A big change has been that cruise fares now include gratuities and alcoholic beverages throughout the ship. Significantly, the change hasn't affected the staff's attention to all details, or the quality of the house pours at the bars and restaurants. The house bubbly is Jacquart, a delightful Champagne, and the wines are reserve bottlings from respected producers in Europe, California and Australia.
Of course, you can always upgrade. Crystal guests know the best and many splurge on the connoisseur premium wines and spirits on board that come at an extra price. A premium dinner in The Vintage Room– a table for 12 with wine pairings– comes with a $250 a guest charge. But that includes selections such as vintage Roederer Millesime brut, limited edition estate whites and premier cru Burgundy and Bordeaux.
4) Improved Connectivity
It was a wise decision for Crystal to have ramped up its satellite internet and wi-fi capacity to have enough bandwidth so it can now offer a complimentary package of one hour of internet time a day to every guest who has been on at least one previous Crystal cruise. Crystal guests are well connected and it enhances the feeling of all-inclusive cruising to not be nicked for staying in touch (although many of the guests end up purchasing more hours or an unlimited plan).
But free still comes with some costs. The more guests who are logged in, the slower the service. There are times of day, especially before dinner, when the bandwidth gets overwhelmed and connection speed bogs down.
5) More Flexibility
Crystal had been one of the last holdouts of assigned tables and set seating times, but that's been replaced this year by choice. You can still opt for the "classic" approach: dining at the same table and an early seating at 6:15 p.m. or a late seating at 8:30. But now there is a "dining by reservation" policy that allows guests to choose a time to dine as late as 9 and be assigned a table that may be a different one every night.
That's meant is that there are fewer of the former tables for six or eight and many more tables for two in the Dining Room. It also means more opportunity for striking up friendships on board and meeting for dinner. However, it can be difficult to get a prime table at the windows in the flex dining plan, as these tend to be reserved at the start of the cruise by diners who want the same table every night.
The Bottom Line
Crystal Symphony is still the same ship that I've always found to be the gold standard of luxury cruising, but somehow they've found ways to make it better. That's a feat considering the number of new luxury cruise ships that have been launched since Symphony first started sailing 20 years ago.
What will they think of next?