5 Ways Holland America's Enhancing Cuisine and Personal Explorations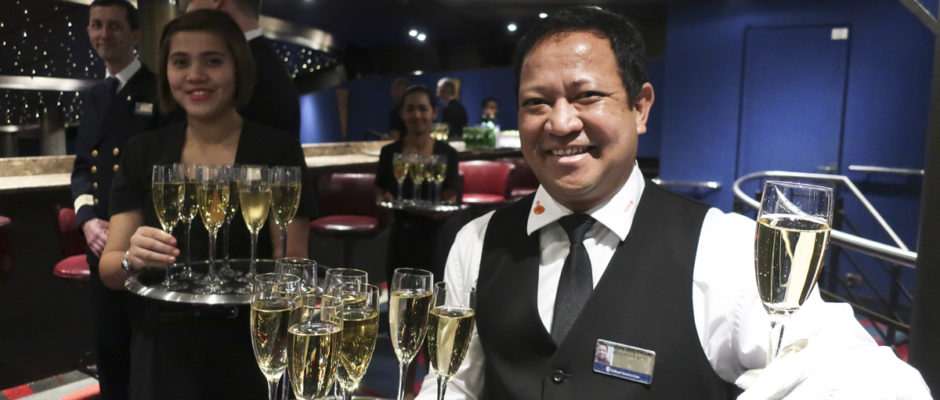 No one has more experience navigating the world than Holland America Line. Celebrating its 145th year, the company is using that savvy to launch a new international Culinary Council to plan menus and experimenting with a fascinating EXC In-Depth Voyages concept to personalize guest experiences.
While the company has a long tradition and "does a lot of things right," the premium line seeks to "try and innovate on top of that. I see that as a balance of what we've done and where we're going,"  said Holland America president Orlando Ashford at a preview of the new direction in Fort Lauderdale.
Holland America recently has added features to attract new generations of guests. It's incorporated its Music Walk entertainment corridor on many ships, enhanced its culinary and wine programs, expanded its partnerships with BBC Earth and O, The Magazine and added hands-on, high-tech Explorations Central spaces onboard and adventurous EXC programs ashore. But you can't stand still in this competitive age, and here are HAL's next steps:
1) New dining and wine experiences
Holland America Line is cultivating the expertise of the seven members of its award-winning Culinary Council by entrusting each chef with a designated onboard dining experience across the fleet:
Rudi Sodamin, Holland America's master chef and Culinary Council chairman, oversees all aspects of Holland America onboard dining. In addition, he's the muse of Rudi's Sel de Mer, a French brasserie that's a stand-alone venue on Koningsdam and Nieuw Statendam and is featured on other ships through special pop-up dinners in the Pinnacle Grill.
Jonnie Boer, whose restaurant De Librije has earned a three-star Michelin rating every year since 2004, will bring the flavors of Dutch regional cuisine restaurant De Librije to special evening events in Pinnacle Grill restaurants on HAL ships.
David Burke partnered with New York's Smith & Wollensky CEO Alan Stillman to open the critically acclaimed Park Avenue Café. He's been featured on Iron Chef America and Top Chef Masters. He'll be adding American contemporary flavors and new signature recipes to Pinnacle Grill menus.
Elizabeth Falkner is the founder of ground-breaking San Francisco shop Citizen Cakes and a recurring judge and competitor on the Food Network. She'll be introducing a variety of new, lighter fare to venues across the fleet. Frequently interviewed and quoted on healthy cuisine, she's an advocate for people and chefs to think more like athletes and "stay fit to cook."
Andy Matsuda, founder of the Sushi Chef Institute in Los Angeles teaches aspiring chefs and professionals about sushi and Japanese cuisine. Matsuda will oversee sushi offerings in Lido Market as well as the sushi menu available in Tamarind on select ships. Aboard Nieuw Statendam, Matsuda's creations will be featured at Nami Sushi, the new sushi bar inside Tamarind restaurant.
Ethan Stowell was named one of the Best New Chefs in America by Food & Wine magazine in 2008 and chosen as one of the Best New Chef All-Stars in 2013. He'll bring the unique flavors of Alaska and the Pacific Northwest on board ships sailing in the region. Also known for his pasta and Italian dishes, Stowell will introduce his recipes at New York Pizza and select Lido Market stations on all ships.
Jacques Torres, former executive pastry chef at New York's legendary Le Cirque, who opened a chocolate factory and stores throughout New York, will create chocolate desserts for Holland America Line's dining venues, as well as the Chocolate Surprise Dessert Parade featured on the last gala evening of every cruise. He's co-host and head judge of the new Netflix culinary show Nailed It.
2) New wine curator and fleet-wide wine list
Holland America Line has tapped wine critic James Suckling as its official wine curator to collect an extensive new wine list that will be featured on all ships in the line's fleet. When that work is completed, a large majority of the wine selection will have a rating of 90 points or higher (based on Suckling's own 100-point scale). Holland America expects to have the new list in place fleet-wide by the end of 2018, in time for the launch of Nieuw Statendam.
3) In-depth cruise explorations
A program of personalized tour planning based on Holland America's Explorations Central will be tested first on the Maasdam and is expected to be expanded fleet wide. The themes will include photography; active exploration; history; food, wine and spirits; nature and science and arts and crafts. Guides and individual tours customized for your interests are offered at rates guaranteed to be competitive with anything ashore.
4) New Planet Earth II in Concert
Holland America revealed Planet Earth II in Concert, part of its video and live music partnership with BBC Earth,  for reporters at a preview in Fort Lauderdale in March. The spectacular video show follows up on the previous collaboration, called Frozen Planet in Concert.
The video features acrobatic monkeys in Madagascar, lions on the hunt in Namibia and penguins in Antarctica. One remarkable video enhanced by dramatic live music followed just-hatched marine iguanas in the Galapagos trying to escape a blitz of attacks from remarkably speedy snakes. Some didn't make it, but the audience cheered in relief when several speedy baby iguanas managed to outrun or leap out of harm's way, one literally managing a great escape.
Planet Earth II in Concert will be on Eurodam, Koningsdam, Maasdam, Nieuw Amsterdam, Oosterdam, Rotterdam, Veendam, Westerdam and Zuiderdam by May.
5) New retail and photo ops
HAL ships are introducing new onboard stores, including an expanded logo collection and locally sourced  crafts. The shops will also feature co-branded merchandise from such Holland America partners as Lincoln Center Stage, B.B. King's Blues Club, BBC Earth and America's Test Kitchen.
To better integrate the line's destination experience into the onboard shopping experience, Holland America will begin selling creations from local artisans and designers from places the ships visit around the world.
A new Fujifilm photo space and workshop will let guests print their photos from their devices or memory cards using auto-print machines or put their images on everything from T-shirts to mugs as keepsakes of their trip.
The retail roll-out began with Veendam and is expanding to Maasdam, Nieuw Amsterdam, Oosterdam, Prinsendam, Rotterdam, Westerdam and Zaandam over the summer months.