5 Ways Scenic's Coming Superyacht Aims to Eclipse the Competition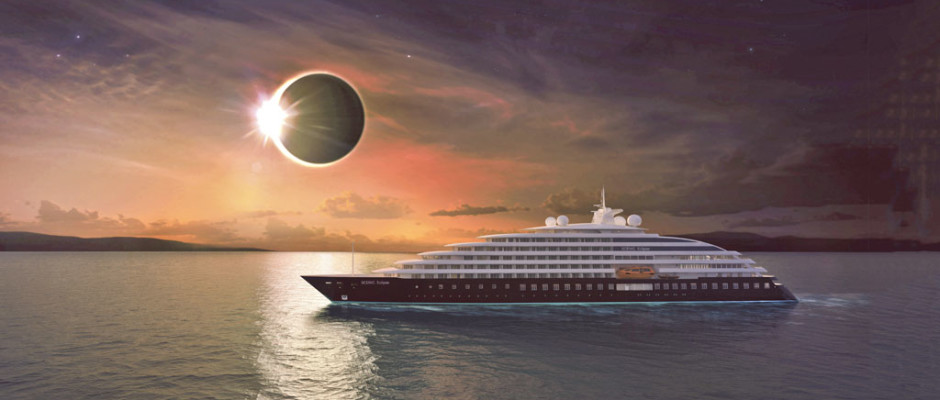 It will have nearly as many crew as guests, food and amenities that rival five-star hotels and it'll be tough enough to chew its way through pack ice at the poles.
It's Scenic Eclipse, and it will go above and beyond any other exploration ship, said Glen Moroney, the affable Australian founder of Scenic, the company that calls its river fleet "space ships." The yacht-inspired ship is designed to offer sleek style and luxury accommodations that can compete with the best found on billionaires' yachts, even as it sails to the world's most remote locations, he said, unveiling details in Toronto of the audacious ship that's due in 2018.
Scenic's plan to branch out from river cruising into the high seas rides the crest of a number of waves in cruising. Viking River Cruises is christening its second ocean ship this spring and has a third in the works. Meanwhile, top-rated ocean line Crystal Cruises is launching ultra-luxe ships on Europe's waterways, starting with a revamped ms Mozart this summer. It's also sending ocean ship Crystal Serenity through the Northwest Passage on an adventure cruise. At the same time, Silversea Cruises is expanding its Expeditions discovery fleet, to offer more cruises in the Arctic and Antarctic.
But Scenic is going enthusiastically all-in on opulence with the Eclipse (FYI: In Aussie, it's pronounced Ay-clipse). The rates are going to be among the highest for any cruise anywhere, with full brochure fares for polar journeys starting at well over $1,000 a guest per day. The books are newly opened for reservations and sign-ups have already been satisfyingly strong at full price, Moroney says.
Pretty impressive for a ship a Croatian shipyard won't even start building until the spring. Here's what you need to know about the ground-breaking, ice-breaking ship:
1) My, How the Ambitions Have Grown
In three years of planning, the Eclipse has gone through a lot of design changes, Moroney said. It started smaller, at a length of 125 meters, "but after we did tank testing of a model, we found it would be up to 12 per cent more fuel efficient if we extended to 168 meters (544 feet). That let us add more space all around and we expanded from two guest restaurants to five."
The design has become much more sleek and yacht-like and, at eight decks, it's become as big as some ships carrying more than 300 passengers. Eclipse will carry a maximum of just 228 guests, and will be limited to 200 in the polar regions.
2) The Unique Design
"Nothing quite like this has ever been built before," Moroney enthused. The hull is being built specifically for ice with a polar class 1A super design and a double-reinforced hull.
The ship will actually use its propellers to cut through tough ice. The Azipod propulsion system is at the bow of the ship, which is the reverse of the layout on most cruise ships. The propellers can spin so fast that the pressure of water will split ice ahead of the ship and the blades will chew up the pieces and spit them up and away from the hull.
That means there's no need for icebreakers to accompany the ship and it can even chomp its way through an ice ridge. The design also gets around the issue that's common with icebreakers, which need rounded bows to ride up on ice and split it. A rounded bow can be less stable in rough water.
"Stability equals comfort," Moroney explained, promising that the Eclipse's "zero speed stabilizer" system will cut roll by up to 90 per cent, thanks to stability fins that are 50 per cent larger than those on any other cruise ship its size. So far, the system has only been installed on private mega-yachts like Microsoft co-founder Paul Allen's Octopus.
A GPS dynamic positioning system will also allow the ship to stay in the same place without the use of anchors.
3) A Focus on Pampering Guests
Not only will the ship be small enough to reach remote locales, all the passengers will be able to get ashore for complimentary shore excursions. "If you have more passengers than 200, as some other ships in the Antarctic do, the only thing you can do is sightsee from the deck." Moroney explained.
In addition to a fleet of Zodiacs, there's a seven-person mini-submarine that will give guests the opportunity to see penguins and fish (and if they're lucky, whales) and visit undersea formations or shipwrecks within an undersea bubble. There will also be kayaking, scuba diving and snorkelling excursions on offer.
Accommodations range from a roomy 344 square foot Verandah Suite to the "over-the-top" 2,500 square foot,  two-bedroom Owner's Penthouse Suite. The opulent interiors have been designed by Glen's wife Karen Moroney, who gathers her inspirations from luxury hotels.
There are 182 crew,  getting close to a one to one ratio with guests, which certainly bodes well for personal service. All suites have butler service and there will be specialist guides on board leading expeditions.  Among the dining options are French, Pan-Asian, Italian, steakhouse and casual dining in the Ocean Cafe Lounge. There are also four lounge areas and three bars, a plunge pool and Jacuzzi and gym and spa.
4) They're Promising the World
The maiden voyage is slated to start in the Mediterranean in August, 2018. It then will circuit the globe, from the British Isles and the North Atlantic to Canada, Cuba, Central and South America and Antarctica in the winter. The summer season will be in Europe, the Norwegian fjords and Arctic.
5) The Big Bottom Line
No discounts are currently being offered from the preview pricing and there's already been an encouraging amount of booking two and half years before the launch, Moroney said.
Everything is included in the price, except for like the helicopter rides, mini-submarine and spa treatments. Gratuities are included.
Scenic Eclipse has been designed by a collaboration of internal and external naval architects including Foreship in Finland and is being built by Uljanik Group in Croatia. There's an option for a second ship to be delivered in June, 2019.