5 Yacht-Like Indulgences that Make Silversea Cruises Unique Experiences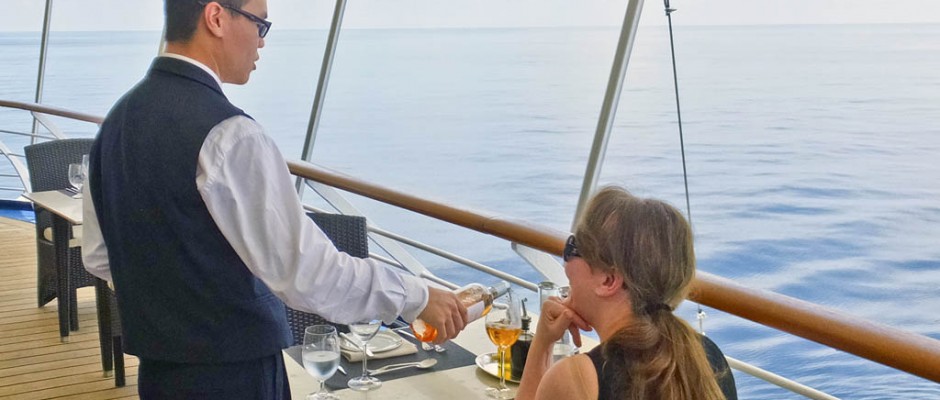 The Plate Police won—again.
The service is so continual on Silversea Cruises that even at the lunch-time buffet on the Deck 7 terrace of Silver Wind, there's regularly a waiter or two at the end of the line offering to carry your plate to your table.
It's a gracious touch and an offer of help that I'd be happy to accept if this was a much larger ship. But on the Silver Wind, the average walk to a table is about 10 steps. So, for a few days on our voyage from Singapore to Hong Kong, my wife and I decided to see how often we could evade the helpful genies at the gate we nicknamed the Plate Police.
That turned out to be trickier than you might imagine. The ship is so personal that the crew-to-guest ratio is nearly 1 to 1 and the staff know you by name from your first day on board. The option of just saying "no, thank you" to an offer of help  almost seemed like snubbing a good friend who wants to do something nice for you.
It became a game of going under the radar, exiting from the entrance, or stopping to admire the hot desserts until all the waiters were busy attending to other guests before carrying the plate to your table. Ultimately, we realized resistance is futile and settled back into Silversea's delightful excess.
But it got me wondering what I'd put on my must-have spec sheet if I were building my own personal yacht.
1) Personal space
Silver Wind is about as close as you can get to a private yacht. Its spacious accommodations are trimmed in polished woods and feature the most generously sized walk-in closets I've ever run across at sea.
The ship is fresh from a multi-million dollar renovation that has refreshed all the living quarters and public areas and the spa and made the 20-yar-old ship seem new.
But there are all the classic touches that make it familiar. We're even given the same suite we were in on the last time we sailed on Silver Wind more than five years ago. All your preferences are in their data base and anything special that you request will be in the file.
2) Exotic Journeys
Silversea's fleet includes the smallest, most personal ships in the cruise business today. That means they can schedule itineraries that stop in rarely visited small ports, and are able to tie up at a dock in ports where larger ships might have to anchor and send guests ashore in tenders.
On a visit to Saigon on this trip, we were the only ship docked right in the center of Saigon, while two other larger ships had to use a more inconvenient  freight port and passengers had to commute into the city on buses.
A sister ship, Silver Spirit recently did a voyage that included both a red carpet-side visit to the Cannes Film Festival and Grand Prix in Monaco. And the itineraries include exotics such as a sailing from Muscat, Oman or a West Africa cruise that starts in Accra, Ghana, with visits to places like Bom Bom Island and Walvis Bay before arriving in Cape Town.
And even more adventurous itineraries are offered on even smaller Silversea Expeditions ships that maintain the line's high standards of service and cuisine.
3) Very, Very  Inclusive
The bar features premium spirits and the choice of wines at lunch and dinner is so broad that there's even a choice of rosés. Although shore excursions are extra, in most ports there are complimentary shuttles into the centers of towns. The fare always includes gratuities.
There are no other charges, except for dinners in the small Le Champagne dining room, which comes with its own a menu degustation with a pairing of premium wines for each course.
Even though there's a $40 a guest fee, it was difficult to get a reservation, because many guests had booked several nights in the restaurant on-line in advance of the cruise to be able to experience the menus which are changed over the course of the cruise. We were finally only able to get in to the restaurant on the next to the last night out on the cruise.
I didn't feel deprived, though, because both the main dining room, and the alternative Italian restaurant La Terazza, feature menus that change daily and the meals and presentations meet the exacting standards that have made Silversea the only cruise line that's a member of the gourmet Relais & Chateaux association.
Of course you can splurge at any time. A menu in the suite includes Petrossian caviar options that range from $100 for a 50-gram jar of California white sturgeon roe to $650 for Beluga Imperial. As it should, it comes with condiments and blinis and Grey Goose vodka. There's also an extensive list of extra-cost vintage wines and a connoisseur wine tasting on a day at sea that includes French grand crus. It comes with a sign-up fee of $100.
4) The Butler Does It
On Silversea, everyone has a butler, who will not only bring canapés regularly and shine your shoes, he'll offer to unpack your bags. A nice flourish but I'd rather put away my own undies, thanks.
The offer to stock the bar in my suite with complimentary wines and soft drinks is welcome, as is the shoe shining and eye glass cleaning.
You have to be careful what you ask for. When Mustofa delivered breakfast on a morning we were going out on a day long shore excursion in Vietnam, I mentioned that we might want an afternoon snack when we got back to the ship.
When we returned from the excursion, we found he had gone all out with our request. The table in our suite was covered with a fresh linen table cloth. There was a silver ice bucket with a bottle of classic French champagne, and plates of shrimp, caviar and blinis, crab, fois gras, and other colorful canapes. It was enough for a dinner.
5) Consistent Camaraderie
Adventures at sea should be shared. I find the Silversea crowd are always well travelled, and consistently very social folks. And the 296 guests on this ship is a nice number. It's enough that there are plenty of interesting folks on board and not so many that you end the cruise wondering why you've never seen many of the people who are leaving the ship with you.
There also seems a happy camaraderie between the crew members from the senior officers to the deck crews. They work hard, but they seem to enjoy their jobs as caretakers of a yacht they want guests to consider their home.
A Silversea cruise for me beats what I could imagine it would be like to vacation aboard a personal yacht, because it's more alive.
What more could you ask? On Silversea, it's a challenge.
Let's just enjoy it for what it is: delightful excess.