50 Shades of Green in a Pre-cruise Rain Forest Hotel in Costa Rica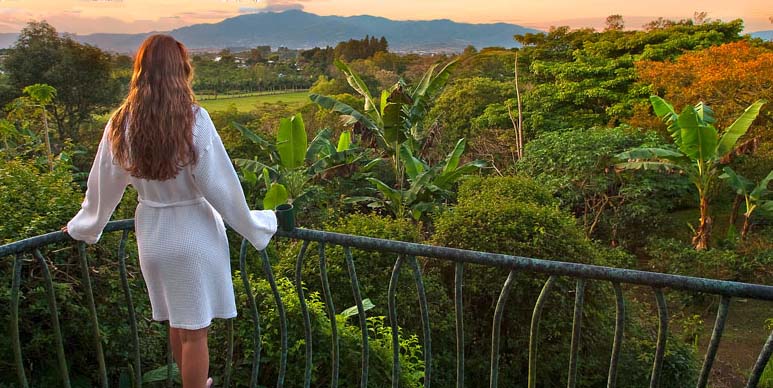 There are an infinite number of colors in Costa Rica, but there's no escaping green.
Arriving at the  Finca Rosa Blanca  coffee plantation and inn for a stay before taking a Star Clippers cruise, I was surrounded by a verdant rain forest and it was clear from the beginning that everyone is thinking environmentally green as well. Recycling and ecology are top priorities.
It's a plantation whose coffee fields and vegetable gardens grow chemical free using organic fertilizers. The soaps are natural and biodegradable and the waste bins come in sets: for recycling paper, plastic, organics and metal.
There are no televisions– just the sounds of birds and tree frogs and sunsets for entertainment. But who could argue with the views from the terrace across a lush valley to a range of mountains in the distance?
The main house of Rosa Blanca has the same whimsical style as the art nouveau homes built by Antoni Gaudi in Barcelona a century ago. Walls and arched windows curve sinuously and no two are alike. The deep brown and black hardwoods used in the floors and furniture were cut from local trees grown on former plantation land that has been reforested.
This is a total contrast to the kinds of hotels most cruise visitors stay in when they're on their way to or from a cruise in Costa Rica–or almost anywhere else in the world.
The San Jose international airport is a two hour drive from the Pacific coast ports where cruise ships dock in Costa Rica and most flights are connections from the United States. So  passengers are wise to plan to arrive a day or so before-hand to make sure they make their sailing.
But most tend to opt for a stay in one of the international hotels in San Jose. Those  tend to be modern clones of hotels you'd find in a suburb of Miami.
That's why I recommend the Finca as an option. It costs no more than some of the chain hotels and provides a unique experience of Costa Rica's culture and nature.
It's less than an hour's drive from San Jose's airport, but once my cab took a turn from the highway up a twisting unmarked road I thought I'd been transported to Wonderland, completely different from the fast growing city you can see in the valley below.
While it still operates as a plantation– and offers daily tours for visitors not staying at the hotel–the rain forest is quickly reclaiming large parts of it.
Flowers most people plant as ornamental house plants in northern climates grow to the size of bushes here. Leaves of some of the tropical greenery are big enough they could be floated as boats. And huge trees are festooned by bromeliads and orchids. When I visited in the middle of the winter, everything was blooming as though it was the height of the spring season.
A special treat of a stay here is to get out and take the old trails through the rain forest.
Up on the hill there's a pool and spa whose cabana  has a waterfall flowing right over its roof that cascades into a round pool. The art nouveau theme persists in copper railings bent in vine-like shapes.
Brightly painted ox carts recall the Finca's history  as a coffee plantation. It took an ox team a week to pull the harvested coffee to the coast where it was loaded onto ships.
There's still a large organic farm on the property and everything on the menu except for the fish are produced right on the farm on a hill in Santa Barbara de Heredia.
So it was a natural to check out the menu at the restaurant El Tigre Vestido, (which loosely translates as the well-dressed tiger).
Over mojitos on the terrace my wife and I started with lettuce tacos filled with fresh vegetables I looked over the choices in the Latin fusion menu.
For dinner, I had a seared local tuna done with a medley of vegetables grown on the plantation's hillside. A special dish is the local yams and sesame seeds. Other dishes included free range chicken done with a coffee sauce (naturally organic Costa Rican) or shrimps.
Dinner was accompanied by a mojito– or two –made with the tangy mint that grows on the slope. (Dinner for two including several mojitos and gratuity was $80).
Next morning, I had a  typical Costa Rican breakfast combo of eggs, rice and beans, tortillas and fried plantains–which is enough to set you up until dinner.
Then,  it was time to pack up to head to my cruise on board Star Flyer. On my next visit, I'll plan to stay longer at this gateway to Costa Rica's green attractions.