6 Additions that Make Oceania's Remastered Sirena Sparkle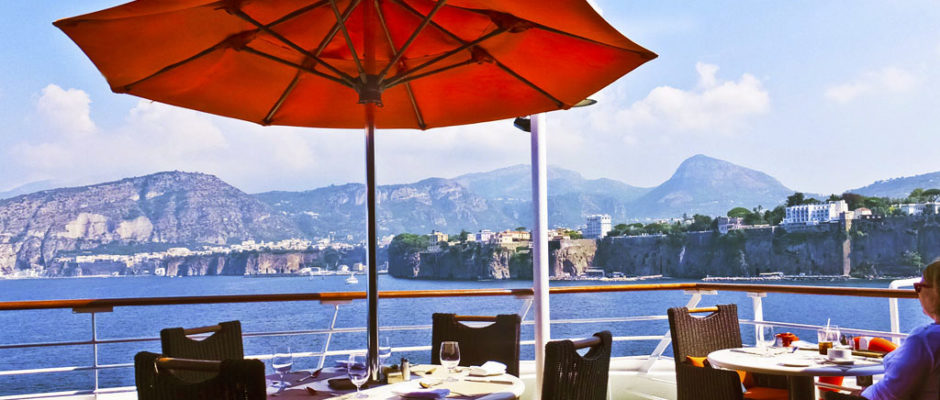 It's always a treat sailing away past the magical skyline of Venice. And Sirena's crew makes it even more special with trays heaping with fresh-made Italian-inspired treats they're almost begging us to sample.
From the time we boarded Oceania Cruise's newest addition, it seems the crew has been saying "welcome to our world and we hope you enjoy it as much as we do."
The name is pronounced Sir-ena, with the accent on Sir. But the name is inspired by siren–an irresistible temptress who holds your attention–and serene–the way you feel while on board.
The 684-guest ship (that was originally built for the long-gone Renaissance Cruises and later was the Ocean Princess) joined Oceania's fleet in mid-2016 after a $40-million refit that's made her feel as perky as new. Here's a look at some of the impressive new features that make the ship a destination in itself.
1) Fresh and elegant décor
The white hull gleams, the rich wood panelled interiors reminiscent of a European manor home are freshly polished and the furniture, carpeting and fabrics everywhere are luxurious.
While Oceania lavished particular attention to three owners suites redone in Ralph Lauren Home furnishings, our standard verandah cabin has been significantly upgraded. All beds on the ship were replaced with Oceania's signature Ultra Tranquility mattresses (with micro-springs that adapt to your movement) and sensual 1,000-count linens.
The color scheme is light and nautical. I love the blue piping on the pillow cases. The seating area has a new sofa upholstered in gold and a glass table at dining height. I just wish the oval table wasn't quite so large, because it makes for a tight squeeze around the vanity and desk area, which features lots of drawers
Standard cabin bathrooms did not get significantly upgraded, and a circa-1990s hair dryer is mounted on the wall. You will find a more effective version in a drawer in the closet. Premium Bulgari toiletries are an upgrade for the concierge and higher categories of accommodations.
2) Twin new alternative restaurants
The month-long refit added two complimentary alternative restaurants on the top deck.
Tuscan Steak combines the concepts of a steak house and trattoria. Polished wood panelling and wide plank flooring provides the detailing of a steakhouse, while marble counter tops and contemporary furnishings add a modern Italian flair. Combined with a wraparound view, the space has a very airy and bright look. In fact, it was so bright on my first visit that I asked if they could dim the lights a bit.
Red Ginger, on the other side of the ship, is the pan-Asian restaurant. Its décor works around shades of red and rust to give it the exotic feel of an upscale modern restaurant in Shanghai.
3) Beyond the blues in Horizons
On the other end of Deck 10, a CanyonRanch SpaClub has been added with new treatment rooms. It's coupled with a fitness center with a complete range of the latest TechnoGym equipment and features a cushioned gym-mat floor. Treadmills and stair climbers are arranged around floor to ceiling windows for a panoramic view. There's also a private sun deck and whirlpool for spa guests.
The  observation lounge, Horizons, has a modern vibe thanks to stainless steel sculptures and recessed lighting around the bar in subtle shades of blue and violet. The space was expanded with removal of a center wall and replacement with a central band stand and dance floor.  The room that gets a huge attendance for afternoon tea.
4) The ship as art gallery
Norwegian Cruise Holding's President Frank del Rio has an eagle eye for art and–as on other Oceania ships, he personally turned the ship into a gallery of thought-provoking original paintings that are everywhere on the ship—even in the cabins.
The corridors feature close to 100 abstract color fantasies by Cuban-American artist Andres Valerio. They're so intricate and fascinating, you'll notice more and different detail in them each time you walk by. There's also a large series of heroic nautical scenes and whimsical paintings by other Cuban artists in the public rooms.
5) A library you could call home
Looking for a 40-pound art book of dramatic surfing photos or the complete Gaudi, or the perfect page turner for a deck chair? One of Oceania's claims to fame is the extensive collections of books in its libraries and Sirena's collection is all brand new with the freshest novels, travel guides and glossy art books.
The richly paneled room wraps around the entire end of Deck 10 with fresh oriental carpeting and new sofas and arm chairs to give it the look of a British club. A coved ceiling with a mural of tropical birds adds height and the feel of a conservatory. Add a marble fireplace and tufted leather window seats and it's a place you'd wish was in your own home.
6) Upgraded options for entertainment
Upgrades to the stage of the Lounge make the intimate room a great venue for musical spectaculars, featuring accomplished singers and dancers and a five-piece show band. The new line-up of productions includes high energy music and dance shows like movie music themed Cabaret Cinema, a tribute to the "Rat Pack" and  an unplugged pop music acoustic session.
In addition, there are nightly classical concerts by a European quartet in the lobby before dinner.
Sirena is a small ship, but has enough to see that it will be a stretch to experience it all in the 12 days we're on board for our Mediterranean cruise from Venice to Barcelona that visits a port every day.
It's an alluring way to see the world and I'm glad I'm a part of it.