6 Keys to Taming Long-Haul Jet Lag on a Cathay Pacific Flight to Asia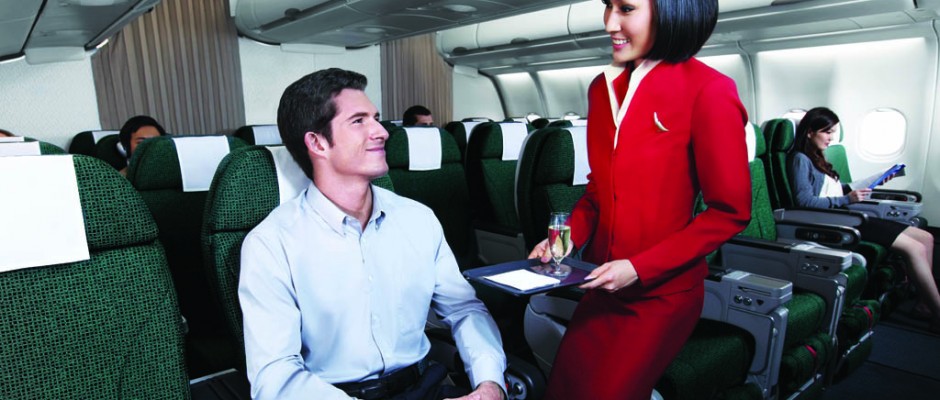 Amazing: I was able to sleep in an economy class seat for a good part of a 14-hour flight to Hong Kong. It's something I've never been able to do in coach class in 30 years of regular long-haul flying.
And as a result, I found I avoided the lingering jet lag I used to think was inevitable after spending a half day strapped into a coach seat for a trip halfway around the world.
In the past, when the budget doesn't allow for a business class booking over the Pacific, I'd coped by  anteing up for an extra night in a hotel on  arrival to recover enough to be able to make a good impression in meetings and be able to enjoy my time on a cruise in an exotic location.
And on this trip, my wife and I were boarding Silversea Cruises' very social Silver Wind  and we wanted to feel  at our best.
The option I discovered is Cathay Pacific Airways' new Premium Economy service, that features a separate cabin right behind business, whose ergonomic seats are wider and spaced further apart and come with many of the amenities you get with a business ticket.
The difference was a revelation. I didn't feel the two-day drag on my system I usually feel after the seemingly endless flight to Asia. Here are reasons why:
1) Stress Reduction
A key to relaxing enough to doze in the air is to avoid things that wind you up on the ground.
Cathay offers a separate queue for check in and priority boarding for Premium Economy passengers. And you can also check that bulky roll-on to avoid worries about whether there's going to be enough space in an overhead bin. Cathay allows two checked bags free. (You're allowed a carry on and a personal item like a handbag or camera bag as well).
When going to Asia there's a good likelihood you'll be shopping, so it's nice that premium economy passengers also get a few extra pounds of weight allowance per bag.
As soon as we're seated, a steward arrives from business class area to offer a choice of pre-take-off drinks. In fact everything in the separate compartment curtained off from economy feels like business-class lite.
2) Business-like Seats
A comfy chair is essential anywhere. Cathay Pacific had been researching the premium economy concept since 2010, after it ordered its new fleet of long haul Boeing 777-300ER planes.
Development started with feedback from frequent flyers about what they'd like to see in the seats and amenities, according to a Cathay spokesperson. A design company and seat manufacturers developed several prototypes and the final design that was selected   is being installed on 91 planes in the fleet, including all its planes that fly from North America.
3) More Personal Space
A welcome feature of the seats is that they have arm rests on both sides, which gets around the territorial issues of who gets to use the shared arm rest between economy seats.
The premium seats are 19.5-inches wide with 38-inches between seat backs, about half a foot more than between regular economy seats. They can recline eight inches and I found even when the person ahead goes into full tilt there's no feeling of their seat back being in your face. Another welcome feature is an adjustable head rest that can slide up and down enough to accommodate even the tallest passenger.
The big pillows provided with the blankets on the seats are the same as in business class. And there's even an amenity kit, designed by GOD– Hong Kong boutique Goods of Desire– with eye shades, socks to wear in flight so you can kick of your shoes and toiletries to freshen up with before landing.
There's also more space to store personal items such as phones or glasses just below the screen at the back of every seat, as well as a coat hanger next to the screen. Instead of a tray table, a larger cocktail table folds out from the center armrest and there's a separate swing-out mini tray for drinks or snacks.
4) Vast Array of Entertainment
Entertainment is "audio/video on demand" with hundreds of choices of films and albums. It was just a week after the Academy Awards show and  all  of the films that had been nominated for Oscars were already available on the film menu. The video monitors are 10.6 inches wide compared to 9 inches in economy, which makes for a significantly larger picture.
I started plotting choices for a film festival on the return flight, when I wouldn't be as eager to log shut-eye.
5) Enhanced Dining
There's a separate menu for the premium seats with three choices of supper entrées, including a vegetarian option. In the evening on the outbound flight, I had a taste of Asia with steamed chicken with Chinese sausage and mushrooms, on jasmine rice with stir-fried vegetables that were all cooked flawlessly. Meals are served from the business class galley, with a selection of premium wines.
For those who are peckish in flight, there's a basket of any-time  snacks or you can order cup noodles at any point. A full breakfast with fresh croissants is served in the morning before arrival.
6) The Big Sleep
So how did I get in a good night's sleep? For one thing it was 2 a.m. when the flight took off from Toronto and I was already in deep need of shut eye by the time meal service was over at 3.
(I'd also taken a 5 mg time-release tablet of melatonin, a hormone the body produces when it sleeps, which I find helps me feel more rested on an overnight flight, even if I don't sleep.)
There were still 13 hours before touch down in Hong Kong and the lights were out, but there are still distractions from other passengers still watching TV or reading can be distracting. The full- size eye shades that come with the amenity kit are immensely handy for keeping out the ambient light. And because the seats are far enough apart, they avoid the issue of being woken up to let a seat mate out of the aisle for a stretch or rest room break.
The noise cancelling head phones–which are the same as are installed in the business class seats– and the fact that Boeing's 777 is a very well soundproofed plane made it easy for me to get into a drowsy state by tuning out distractions and using a little yoga relaxation technique of slowly inhaling and exhaling.
And there's one other welcome amenity: A  big bottle of  mineral water in a holder in the seat,  to help stay hydrated without having to watch for when the attendants are in the aisle offering water during the night.
The verdict: Cathay Pacific's new service is business class lite at less than half the front-cabin fare. The price of this Toronto-Hong Kong round-trip in Premium Economy came  to about $500 more each way than the price of economy.
On a long haul that's definitely an investment in well-being worth considering.