6 New Cruise Ships Sure to Make Waves in the Year Ahead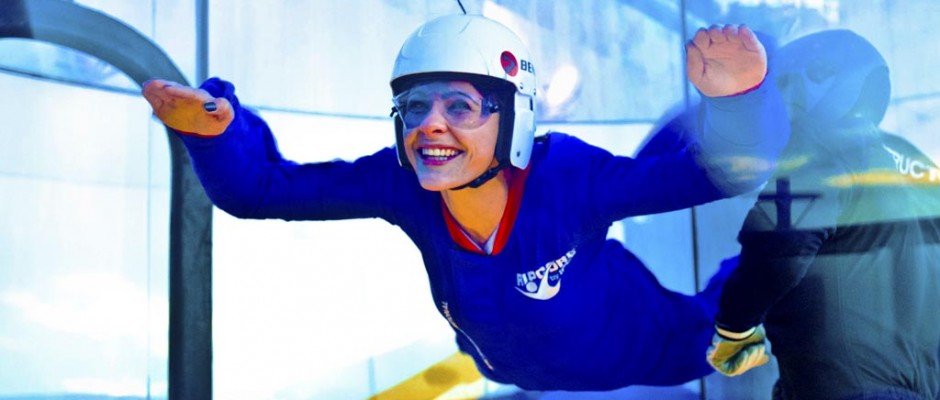 In the wake of the arrival of Royal Caribbean International's new floating playground Quantum of the Seas that amps up size,  technology and entertainment on a cruise, the cruise chatter of  late has been about Quantum leaps.
Size is going to continue to be a story in the coming year for sure, with several biggest-ever ships about to hit the waves—including Anthem of the Seas, the sister ship of Quantum that includes a ride that simulates sky diving and will bring mega-ship cruising to Europe.
But cruise evolution doesn't have to just mean getting bigger.
There's another story developing for 2015 and beyond. The mid-size  Viking Star will debut. Viking Ocean Cruises is an ocean-going spin-off of Viking River Cruises, whose ships are ubiquitous on European rivers. Other lines are placing orders for more compact ships that will be delivered later in the decade.
All the new tonnage means continued competition to attract passengers, which could shape up into price wars. But the innovative features of each of the new ships are sure to attract new cruise passengers as well.
Here's a look ahead to ships that will soon be in the news:
P&O Cruises' Britannia
Rule Britannia indeed. The new ship entering service in spring of 2015 is the largest ship ever built for British cruising, carrying 3,600 passengers. It's the third ship in the history of P&O Cruises to carry the name, although the previous one was launched so long ago that Queen Victoria was marking her Golden Jubilee at the time. Expect a lot of pomp and perhaps a bit of snob appeal on a ship that's got a stylized Union Jack streaming across its hull. It's going to call Southampton home base for cruises in the Mediterranean, Baltic and Canary Islands.
Innovative features: Purpose-built single occupancy cabins with balconies; The Limelight Club, a supper club with entertainment, and the Cookery Club, with guest celebrity chefs giving cooking classes.
Royal Caribbean's Anthem of the Seas
Royal Caribbean's goal seems to be to rule Britannia and also the rest of the world with its growing fleet of mega-ships. Once Quantum's winter season in the Caribbean ends, it will head to China, where it will be permanently based for short cruises for the Beijing market. Anthem, which is the 4,900 passenger sister of Quantum will sail European itineraries from Southampton.
It's also doing winter cruises from Royal Caribbean's purpose-built dock in Cape Liberty, New Jersey. The extended trans-Atlantic crossings could be extremely interesting as well.
Innovative features: In addition to the over-the-sea ride, bumper cars, and aerial shows, the ship features the first sky-diving simulator at sea. A glass pod blowing a cushion of air simulates the experience of flying in a safe, controlled environment.
Norwegian Cruise Line's Norwegian Escape
Accommodating  4,200 guests, this is the biggest-yet way to "cruise like a Norwegian." Building on the features of predecessors Norwegian Breakaway and Norwegian Getaway, Norwegian Escape due in the fall of 2015 features several new spaces and interactive experiences.
Innovative features: The Waterfront is a promenade lined with restaurants and bars featuring dramatic ocean views. A three story entertainment district in the center of the ship is called 678 Ocean Place, in honor of the decks they span. The casino is also the largest on a Norwegian ship yet, featuring a new Skyline Bar
Holland America Line's Koningsdam
While it's not officially due until early 2016, Koningsdam is already generating buzz and bookings open at the end of November. "Passengers will know they're on a Holland America ship, but they'll see we're taking a forward-thinking approach to many of the design elements," according to Stein Kruse, the CEO of Holland America Group.
The 2,650-guest ship will have more contemporary interiors that previous ships, but will balance it with the traditional touches that Holland America Line guests expect in the line' ships. Renderings of the designs, by Adam Tihany and Bjørn Storbraaten, are on a preview site.
Innovative features: The central atrium will feature a light show projected on the ceiling that will change throughout the day. The centerpiece of the dining room is a curved copper wall that surrounds a two-story wine tower. And the main lounge will feel more like a club with tables and a huge dance floor.
Viking Ocean Cruises Viking Star
The first arrival into a new fleet of ocean cruise ships in the Mediterranean and Northern Europe represents a trend toward more intimate mid-sized vessels. With ships carrying 930 passengers, Viking Ocean Cruises appears to be actively targeting passengers who might cruise on lines such as Azamara Club Cruises, Celebrity Cruises, Holland America Line or Oceania Cruises. In addition to one complimentary shore excursion in each port, beverages and wi-fi will be complimentary.
The main dining room will offer local specialties of the ports being visited. Other dining options include the Viking Deli for Scandinavian-style snacks, and an internationally themed World Cafe located on Deck 7. The Italian Grill and Chef's Table will be the ship's signature restaurants.
Innovative features: A glass-backed infinity pool will be a centerpiece of the Aquavit Terrace. Viking is making alternative restaurants available free-of-charge, except for a surcharge for passengers in the lowest grade staterooms.
American Cruise Line's American Eagle
Mark Twain would likely be amused. American Cruise Lines' brand new 150-passenger paddle wheeler American Eagle (not to be confused with an older ship of the same name that is currently laid up) is about to debut on the Mississippi River.
It's a sister ship of the Queen of the Mississippi and has design elements reminiscent of an earlier time on the river coupled with modern staterooms and furnishings, and private balconies, which weren't a feature of earlier river ships. It's also large enough to be able to offer open-seating dining plan, which allows guests to enjoy meals in a single seating and at the time of their choice,
Innovative feature: The itineraries include a 22-day Complete Mississippi option in August 2015, which travels the entire length of the mid-continent river from New Orleans to St. Paul, Minnesota, with stops in 16 towns along the way.