6 Realities Destined to Affect Your Cruise Options in the Coming Years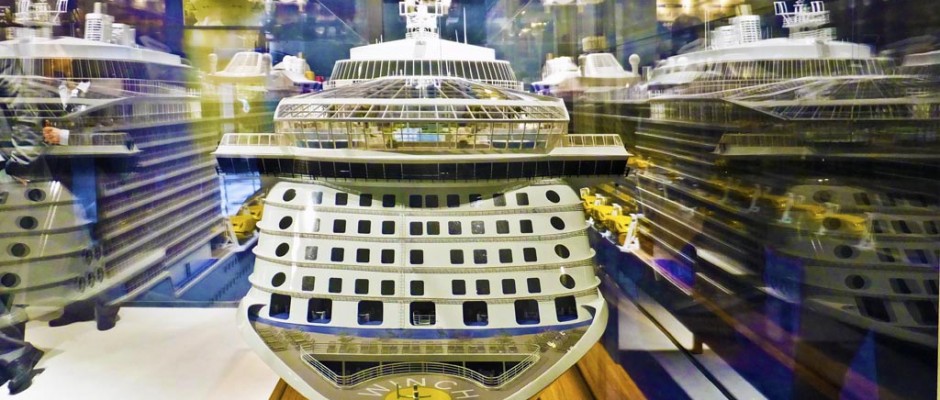 The top brass from the world's cruise lines gathered in Miami  to brag about their new ships and plot the courses their fleets will take in the future.
Ports you may never have heard of sent hundreds of delegates to lobby for more cruise stops at their beautiful, exciting, historic, dynamic, attractions for the eyes, ears and taste buds.
It was the Cruise Shipping Miami conference and the discussions there will directly affect the options that cruise passengers will have in the years ahead.
Here's a look at trends that were top of mind at the gathering:
1) What's hot
Alaska bookings are stronger than ever  because of an improved economy, a boom in multi-generational cruise vacations, and efforts by Alaskan ports to improve their attractions to cruisers. "This is Alaska's year," said Lisa Lutoff-Perlo president and CEO of Celebrity Cruises, which has added an extra ship to the west coast route to increase its capacity. Parent company Royal Caribbean Cruise Line is adding the 3,800-passenger Explorer of the Seas, the biggest ship yet to do the route, in 2016.
It helps that flights to Vancouver and U.S. west coast ports are a lot less expensive than air fares to Europe, she noted. Alaska is also a big attraction for first-time cruisers because it's easier than doing a land trip.
Bermuda is another destination that's about to surge in popularity, due to the America's Cup in 2017. The cruise lines are in talks with Bermuda to relax limits on the size and number of ships allowed to dock and the options are growing.  Carnival Cruise Line has just put Carnival Pride into year-round service from Baltimore to Bermuda. Celebrity Cruises have also returned to Bermuda. Holland America Line is sailing the Veendam to Bermuda from Boston, alternating with week-long sailings to eastern Canada.
2) What's not
South America in general is now on the least-favored lists of cruise lines. Every panellist at a session on the region shuddered when talking about the exorbitant fees, taxes, bribery, inflexible unions and ever-changing bureaucratic red tape, especially in Brazil and Argentina. On the south and west coasts, the ports are so far away from each other that it requires sea days on rough waters to reach the next stop.
"It's a conundrum because guests want to go to South America, but it's by far the hardest place in the world to operate. We literally don't know what's going to happen when we sail into a port. We do want to bring more ships there, but until the problems are resolved, we will limit our presence," Ms. Lutoff-Perlo said.
That was echoed by Orlando Ashford, President of Holland America Line. Even getting supplies there is an issue. Only Norwegian Cruise Line is planning to have a ship in Brazil for the Olympics in 2016.
3) Getting set for a race to Cuba
The big buzz at the conference was about Cuba. All the cruise lines are drawing up plans to race in when and if the long-standing embargo on Americans travelling to the island just a day's sailing from Miami is lifted. There's a huge pent-up demand but the lines worry the ports and tour operators which are accustomed to getting a few European ships in each month won't be able to quickly gear up to handle thousands of passengers a week.
"Cuba is longer than California and as diverse, so it's not one size fits all," pointed out Richard Fain, Chairman and CEO of Royal Caribbean Cruises Ltd. He added a note of caution: When Sovereign of the Seas, then the biggest cruise ship in the world, was launched, there was great optimism that it would be the ship that opened up cruising to Cuba. The year was 1988.
4) Drooling about China's potential
No part of the world has more growth potential than Asia. While today Asia only represents 6 per cent of all the world's cruise passengers, the market has been growing by at least 20 per cent annually for a decade. Royal Caribbean which is moving its huge new Quantum of the Seas to a home port in Asia isn't even promoting the ship in North America because they expect it will be full all the time from the vast customer base in China that's developing the affluence and time to travel, Mr. Fain said.
"Given the scale of China they are going to be the biggest cruise market at some point in the future," he predicted. "It's going to take time, but China has developing cruising as part of its next five-year plan."
Meanwhile, Hong Kong has opened a cruise terminal at the former Kai Tak airport site that can easily accommodate two Quantum-sized ships. They're obviously convinced there's a coming wave of  big ships.
Norwegian Cruise Lines has developed a whole department to develop cruise products marketed exclusively to Asian customers, said president and CEO Frank Del Rio. That includes the potential for dedicated ships in Asia and catering to Asians in Europe . In the past, Asian tourists did bus tours, covering hundreds of miles a day and staying in different hotels each night. Now they're discovering the advantages of cruise ships as experiences and floating hotels, he noted.
5) If you build it, they will come
What was with all the can-can dancers, girls in skimpy costumes, steel drum bands, groups in ethnic costumes and big-screen TVs featuring beaches, jungles and festivals in the trade show at the conference? They were all trying to impress cruise decision makers to add their port to upcoming itineraries.
Heard of Tsuruga or Fukui? Ever sailed in to Amatique or Roenne? They certainly want to be known as go-to places and they were lobbying at the conference for regular cruise visits.
Cruise lines say they're always looking to find new places to entice customers who think they've been there and done that to come back on board. But even the most gorgeous port in the world can't attract suitors if  they can't offer a good place to dock and a comfortable experience for visitors once they're on shore.
Ports that really want to welcome cruise ships would be wise to crack open the piggy bank and invest in dredging, docks and attractive cruise terminals, he said. One of the reasons you'll see a lot more cruises stopping in Busan, South Korea in coming years is that the government there invested heavily in new, dedicated cruise docks and terminals.
There are a lot of beautiful places that cruise lines would like to send more and bigger ships to, but they don't have the infrastructure to make that practical, said John Tercek, Royal Caribbean's vice-president of new business development. He pointed to Borakay in the Philippines, Krabi in Thailand and Na Trang and Hai Long Bay in Vietnam. Hint, hint.
6) Will they finally bust the myths?
Throughout the sessions, there were references to the pervasive reality that cruising actually represents only a tiny segment of the world of travel. The fact that more than 90 per cent of vacationers have never taken a cruise is something the industry has unsuccessfully grappled with for years.
Many panelists referred to "the old myths that are holding us back;" that cruises are only for old people, that you'd face long buffet lines or that it's only for people who just like to get drunk.
"Our big challenge is that many potential customers have never even been on board a cruise ship. We have to convey what cruising is all about," said Arnold Donald, president and CEO of Carnival Corp. That's why they spent a reported $1.5-million on a Super Bowl commercial with the tag line "come back to the sea."
While 23 million passengers did take a cruise in 2014 on a total of 421 ships, according to the Cruise Line Industry Association, the growth of cruising has been stuck at no more than 5 per cent a year. In a panel discussion, all the chief executives said they'd like to see that number reach double digits.
Can they make that happen? We'll have to come back next year and see.