6 (Sometimes Inconvenient) Truths About the Future of Cruise Travel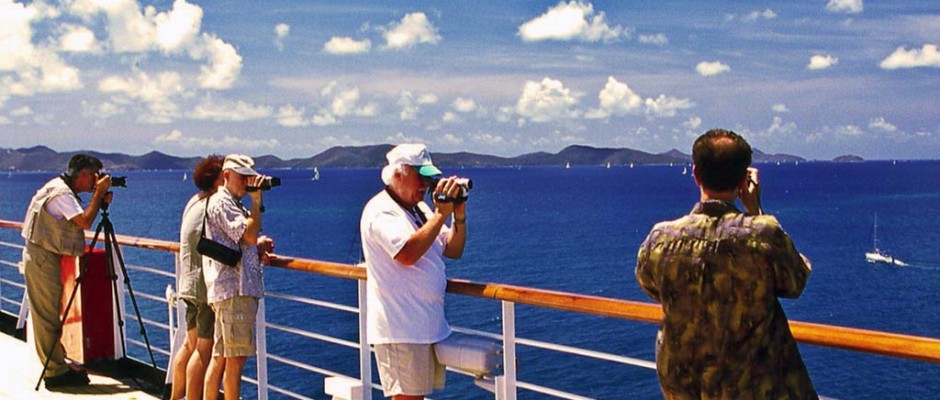 It can always be deceiving looking at the horizon at sea. Some things that seem close can be remarkably distant. And it's always  hard to predict whether far-off clouds will grow.
But here's a look ahead at some clear trends that will affect the cruise market and travel in general during 2015:
1) Cruising makes sense in uncertain times
If all you do is watch TV news cover typhoons, potential terrorism and tear gas, it seems scary to venture far from home, or even sit down at a local café.
But mellow out, people. Travelling is statistically safer than at any time in history. Cruising is a great hedge at a time when conflicts, storms or risks can affect entire regions. That's because if trouble should happen to flare up in a port on a cruise itinerary, a ship can easily change direction and avoid it. That's a claim that land-based travel destinations can't make.
Ukraine has tragically gone off the cruise map, seemingly for a long time. Yet the Sochi Winter Olympics gave the Black Sea region an awareness boost and there's gathering energy in places like Georgia and Bulgaria. The trend toward larger cruise ships and visits to lesser-known ports should continue to make Black Sea cruises increasingly attractive to travelers who have seen other parts of Europe.
Meanwhile, even if Ebola is eradicated, West Africa is going to remain a huge question mark that cruise lines are likely to steer away from for quite some time. But South Africa and the Indian Ocean are showing up on more itineraries. MSC Cruises' Opera will be based in South Africa, doing cruises that include Namibia, Mozambique and Madagascar. Meanwhile, Crystal Cruises has scheduled maiden calls at two ports in Madagascar.
Another set of question marks continues to hang over several Middle Eastern countries as political intrigue and sectarian conflict have tragically heated up again. However, the Emirates are safe and welcoming more cruises than ever. Abu Dhabi's Zayed port has seen cruise calls double in the past two years, including weekly calls by AIDA Cruises, Costa Cruises and MSC. Dubai is expanding its Mina Rashid port facilities to be able to handle 14,000 passengers a day.
And as the risks of piracy in the Gulf of Aden have all but disappeared thanks to international policing, Egypt–which depends on tourist dollars–is anxious to reassure tourists that it's safe to return on Suez Canal and Red Sea voyages.
2) Itineraries get increasingly exotic
Haven't heard of Ambodifotatra or Kapingamarangi? You're not alone. The ports in Madagascar and Micronesia respectively are part of a trend toward adventuring to exotic locales.
Silversea's Silver Discoverer probably takes the prize, with extended itineraries in the South Pacific including two-week voyages that concentrate on Papua New Guinea, Micronesia and Yap. The exploration ship lives up to Silversea Cruise's luxury reputation and they've apparently got a good handle on how to get embarking passengers to isolated embarkation ports in the Solomon Islands or Palau.
Oceania Cruises is stopping at five ports in South Africa, one in Mozambique as well as stops in Madagascar and the Seychelles during a 35-day Indian  Ocean  cruise on Insignia.
Crystal Cruises is boasting 22 maiden calls on its 2015 itineraries, including several in Arctic Russia and three in Norway. It's also expanding its repertoire of three-night stays in places like Shanghai and St. Petersburg. And for 2016, Crystal plans to sail the Northwest Passage in Canada's Arctic, a trip that's already got a wait list.
3) Asia and Australia are surging
Royal Caribbean International stunned a lot of folks with its decision to home port its new Quantum of the Seas permanently in Shanghai starting in May, 2015.  It's joining fleet mate Mariner of the Seas, that's sailing from Singapore. Other lines are exploring all-Asia ships and the Henna, operated by HNA Tourism Cruise, plans to launch a previously prohibited regular service from Shanghai to Taiwan and on to Japan in April.
The growth of all-Asia cruises is unprecedented, according to stats from the Cruise Line International Association. In 2013 there was capacity for 1.4 million guests on Asia cruises. In 2015, that will grow to close to 2.05 million. The annual growth rate is projected at close to 20 per cent.
But for all the hype, most of these itineraries aren't likely to appeal all that much to North Americans, because many of the voyages are only a few days long, which don't make much sense when it takes 15 hours to fly there.
A more significant trend is the growing fleet of ships in Australia. Holland America's Ryndam and Statendam will be moving to P&O Cruises Australia in late 2015.
Royal Caribbean is basing Explorer of the Seas in Australia after a renovation in April that will add new restaurants and a FlowRider surf simulator. And Legend of the Seas will sail from Brisbane in the fall and winter. These itineraries should appeal to North Americans who are jaded by the Caribbean.
4) We may have reached peak Caribbean
A smaller percentage of cruisers will be booking Caribbean sailings for 2015, according to a forecast based on the bookings of 1,300 agents affiliated with Cruise Holidays International. The survey shows 50.5 per cent of cruise bookings for the coming year have the Caribbean as their destination, down from 54.8 per cent at the same time in 2014.
Cruise ship capacity in the Caribbean peaked in 2014 and with fewer new ships coming on line in 2015 than in past years and some large ships moving to Europe and Asia, the number of available berths will shrink, the study suggested.
The trends show European cruising is on the rise, with 12 per cent of ocean cruises booked there next year, up from 10.4 per cent in 2014. European river cruises account for 6.7 per cent of bookings, up from 5.7 per cent last year, the study added.
5) Air fares will dampen cruise deals
It's great news that gas prices are on the skids unless you happen to be an oil producer, but the bad news is air fares won't go anywhere but up. That means sticker shock because prices of air flights to the Caribbean or Europe already often top the price of a week-long cruise.
Airlines say they're using their fuel savings to recoup losses they've had because of unanticipated oil price rises last year. In the 12 months ended in September, U.S. airlines saved $1.6 billion on jet fuel. That helped them post a 5.7 percent profit margin in the first three quarters of this year. The continued drop in crude prices will mean even fatter margins when year-end profits are tallied.
Will airlines bring back flights they cancelled in peak oil days to cut costs? Don't count on it.
6) Cruising is here to stay
Even though new ship deliveries are currently lower than normal, optimism seems to have been restored. The end of 2014 has seen a flurry of big new cruise ship orders for delivery in coming years.
Carnival Corp. has ordered two new ships. One is the 26th ship in the Carnival Cruise Lines' fleet– an as-yet-unnamed 3,954-passenger vessel that's slated for delivery in March, 2018. It's a sister ship to Carnival Vista that's due to start service in the Spring of 2016.
A second Pinnacle class ship for Holland America Line will be a sister to the Koningsdam, which launches in February 2016. The new ship, scheduled for delivery in late November 2018, will accommodate 2,650 guests.
Celebrity Cruises recently announced the order of two innovative new ships due for delivery in 2018 and 2020. The ships being built under the name Project EDGE, will carry 2,900 passengers each.
Regent Seven Seas has started construction of its first new ship in a decade. The Seven Seas Explorer, will be and all-suite ship, carrying 738 guests. That's slightly more than the largest of Regent's three current ships, but the ship will be about 12 per cent bigger, resulting in more space per guest.
And Crystal Cruises, which hasn't launched a new ship since 2003, expects to announce at least one new ship soon.