6 Tastes of the World's Cuisines on Regent's Seven Seas Explorer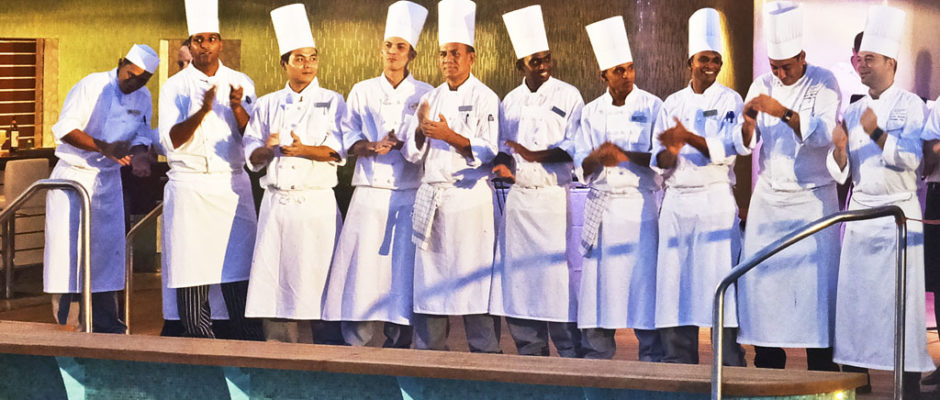 Ever dreamed of having your own staff of chefs? Give them your choices of ingredients to match your whim at the moment and let them create a dish to your taste.
It's an intriguing option on Regent's new Seven Seas Explorer. In addition to the chefs' own selections of the evening on the menu of Explorer's Compass Rose restaurant, there's a separate list of the meats and fishes available that evening. You can choose the portion, the prep, the sauce and the side dishes and have them create it for you while you enjoy the appetizers.
Seven Seas Explorer has one of the highest staff to guest ratios at sea. Unique culinary options and surprises are part of the all-inclusive dining experiences being introduced on Regent Seven Seas' first new ship in 13 years.
Each restaurant has its own galley, team of chefs and unique style. It was a tour of the world's cuisines as Explorer sailed in the Mediterranean.
1) Get your bearings at Compass Rose
You'll find you're always looking up in Explorer's the main dining room, whose ceiling is dominated by a vivid chandelier composed of hundreds of pieces of deep blue hand-made art glass dramatically suggesting surging waves hitting the shore.
I recommend starting with an appetizer like the fresh fois gras or mussels to give you more time to browse the extensive menu. The selections have continental inspirations, with a broad range from steaks and chops to seafood to pasta and risottos. There's also a Canyon Ranch spa menu.
Or you can "design your entrée." For instance, today there's fresh branzino (sea bass) on board. You can order from the chef's choice suggestion of grilled branzino with chorizo and tomato chutney and pesto mashed potatoes.
But with the design-it yourself-option, the same branzino can be cooked in any style, with any of a dozen different choices of sauce from garlic-herb butter to mango-peach salsa and a choice of half a dozen styles of potato plus a selection of vegetables as sides.
Ultimately, there were so many possible choices on the menu that one evening, I went with the chef's daily six-course tasting menu degustation. Each plate was large enough to stand on its own as an entrée. Scrumptious, but after five large courses, I had no room left for what must have been a wonderful dessert.
2) The many shades of Chartreuse
It's hard to miss this restaurant's namesake pale lime color in the art-nouveau style glass panels and artworks in this Parisian-style dining room. Mais oui, the menu is French, with English translations that are so long on verbiage they should leave a copy of the menu on the table for reference when the dish actually arrives. But the resulting dishes need no translation.
For instance, there's hand-cut Charolaise steak tartare in a hazelnut-Dijon emulsion topped with Perlita caviar d'Aquitaine.  Or roasted Cévennes rack of lamb with rosemary-mint persillade and sugar snap pea sauce. Or try the seared barbary duck breast with glazed turnips, candied Morello cherries and sour cherry mustard.
It all comes with a list of complimentary French wines, including a Montaudon Brut, the house champagne. You should reserve ahead because this restaurant tends to book quickly.
3) A spin around the Pacific Rim
It speaks to internationalism when a Canadian Atlantic lobster can end up as a signature dish on the menu of a Pan Asian restaurant. The tempura-battered deep fried lobster becomes a wonderfully complex dish, with border-hopping ingredients served on shiso leaf and finished with orange ponzu sauce and spicy mayo.
The chefs take their inspirations from all around the Pacific, as the designs on dramatic wall murals and enormous lamp shades suggest. Menu items will blend ingredients and spices from China, Japan, Korea, Thailand and Cambodia.
Again, make reservations in advance, preferably before the cruise begins.
4) A primer on Prime 7
There's a bronze bust of a bull at the entrance of Explorer's signature steak house and a Picasso etching of a bull on the wall. Prime 7 restaurants are a feature on all four Regent Seven Seas ships, but the design here is a different take on club-style steak houses. The décor features purple trim and mirrored accents and the room is divided by screens to create romantic alcoves. The plates are eye catching: rimmed with silver but from some angles they gleam like gold.
As you'd expect, the focus of the menu is USDA prime beef, chops and seafood. One surprising fail is that there was no vegetarian entrée listed. When one of the table guests asked for one, she was told that she should have ordered a vegetarian meal in advance.
Overall though, the preparation was excellent, with inventive twists. As an appetizer, I had a tower of lightly braised ahi tuna and avocado with a pomegranate soy dressing on the side that added a sweet top note. For an entrée, the Alaskan king crab came as a two-pound cluster of legs that tasted fresh from Arctic waters.
As always for steak houses, the rule is make reservations and come hungry.
5) View from La Veranda
The rear of the pool deck is the breakfast and lunch buffet zone with daily specials that are constantly being refreshed, so the displays always seem to look perfect.
A drawback of the outside veranda deck by day is that an awning only covers half of the very sunny deck and there are no umbrellas to shade the tables around the rail that have the best view. In the evening, those tables are prime locations, as the veranda gets transformed into Italian-themed alternative restaurant Sette Mari.
Around the pool itself, there's the all-day-long Grill, which has its own seating area, a pizza bar and the Creamery, with fresh ice creams.
6) Delightful dining on deck
A pleasant surprise is the lengths the crew go to in making the once-a-cruise deck barbeque a gala event. The entire crew spent an entire afternoon moving furniture and food from the restaurants to transform the pool deck into the sexiest al fresco patio possible. The ship's full contingent of chefs and staff make it a memorable meal, with live music and dancing afterwards.
It's going to be tough going back home and not having a staff like this in the kitchen.