6 Tips for Chilling Out on Cruising's Most Hectic Afternoon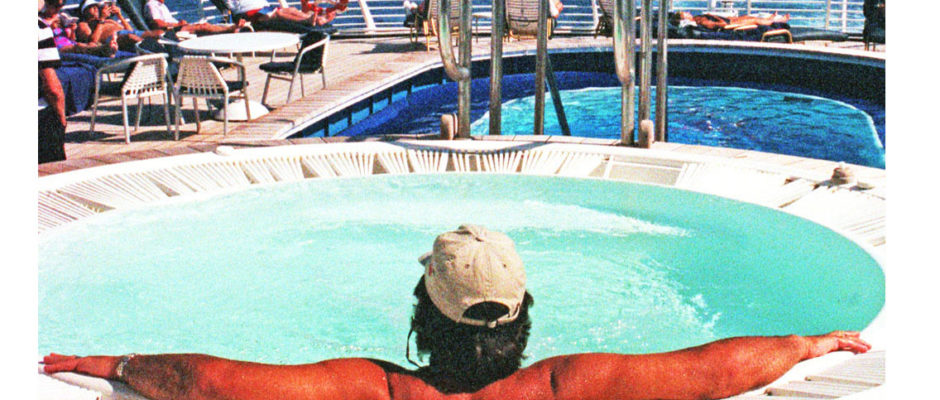 You must be tired after your trip here. But, smile, we need to take your photo.
You need something from the  suitcase you just left with the porters? Your bags will be delivered to your stateroom– sometime this afternoon.
And find a place to settle in, because your room won't be ready until after 2 p.m. Enjoy your cruise!
The most hectic–and thankfully the only really stressful–time on any cruise is the afternoon you board the ship. The official boarding time is often noon, but passengers who arrived early and have been cooling their heels in the terminal waiting for the ship to be cleared will be lined up ahead of you to get through security and onto the ship.
And when you do get on board, it's likely that the crew won't be finished preparing your room.
It's cruise limbo and for most passengers the logical places to herd are the restaurants, where every seat can be filled with impatient passengers and their carry-ons.
Starting the drinking day early by grabbing a seat at a bar and maybe watching the game on a big screen may be a tempting alternative. But remember that it's already been an exhausting day especially if you've been flying, and that brew might have the wallop of two at this point.
Instead, consider these options that will avoid the boarding day crush and give you a chance to relax while you're clock watching:
1) Do a Bag Drop at Your Suite
Often the reason that staterooms are off limits until mid-afternoon is that on turnaround day, the crew is run off its feet changing linens and cleaning everything for the new arrivals. But after noon, they've already done the major set-up and the clutter in the hallways is stowed away.
Some ships actually shut main doors to the passenger corridors until they announce it's all clear to move in. But in most cases, as long as you don't plan to settle in and take a nap in the bed, you can often politely drop your roll-on bags in the corner of your stateroom  and head off unencumbered to explore the ship.
2) Pull up a Deck Chair
If you plan ahead to have a bathing suit, sunglasses and sun lotion in your carry-on along with a good read, there are sure to be plenty of available deck chairs for relaxing on deck. As a bonus, you can sometimes let a waiter bring you lunch and enjoy it at your leisure.
3) Hit the Gym–or the Spa
The same goes for the indoor amenities.  The gym can get packed on the first full cruise day but now you're likely to have all the facilities to yourself. If you've got your gear in your carry-on bag you can get a jump on everything.
And consider indulging in the spa. There are often wait list for prime times for treatments once the cruise is under way.  But there are sure to be times available today. And nothing can set you up for a vacation like a massage or facial.
4) Curl Up in the Library
The library may not be the first place you think of when exploring the ship, but that means it's probably going to be a good place to retreat from the crowds. Most ships have nooks with cozy lounge chairs and an ample selection of books, magazines and newspapers you might not have time to check out during the rest of the cruise.
5) Connect at the Internet Cafe
You'll likely want to set up your wi-fi account at any rate, and this is the best time to do it, while fellow guests are having a second helping at a lunch buffet. You can also get off those "we've arrived" messages to family and friends and avoid what can be a peak time for bandwidth before dinner.
Fortunately, slow Internet is becoming a thing of the past, as ships upgrade to the latest in satellite technology. Royal Caribbean is now boasting that wi-fi on its new ships is as speedy as any ashore. Sister line Celebrity Cruises has announced it will also be installing Royal Caribbean's Voom system on its ships in coming months as well.
Not to be outdone, MSC Cruises is upgrading all its ships to a new high-capacity Marlink Sealink cloud system with variable pricing depending on whether you want just social media access or a full Internet package. Full packages will cost only $66 for seven-night cruises.
6) Plan Ahead to Avoid Rush Hour
You can avoid a lot of confusion by planning an arrival at the ship an hour or two after the scheduled start of embarkation.
The ultimate stress buster is to plan to arrive in the departure city a day early, to avoid the worry of flight delay. If you're staying in a hotel, you can arrange a checkout after the usual 11 or noon checkout time and sleep in or plan some sightseeing before heading to the port. This usually is easier if you've got a frequent guest membership in your hotel's chain. (You don't even have to have ever been a guest at the hotel before. The frequent guest clubs are free to join online and having a membership can also get you perks in your hotel stay).
If you do need to arrive on departure day, consider scheduling a flight that lands at noon or early afternoon so that by the time you reach the port, the early bird crowds will have dispersed and you can roll right into your stateroom.
That's much more convenient, and it avoids the temptation to have a second helping in the restaurant, at least for embarkation day.
Enjoy your cruise!