6 Ways Vista Ups the Fun Quotient on Carnival's Biggest Ship Yet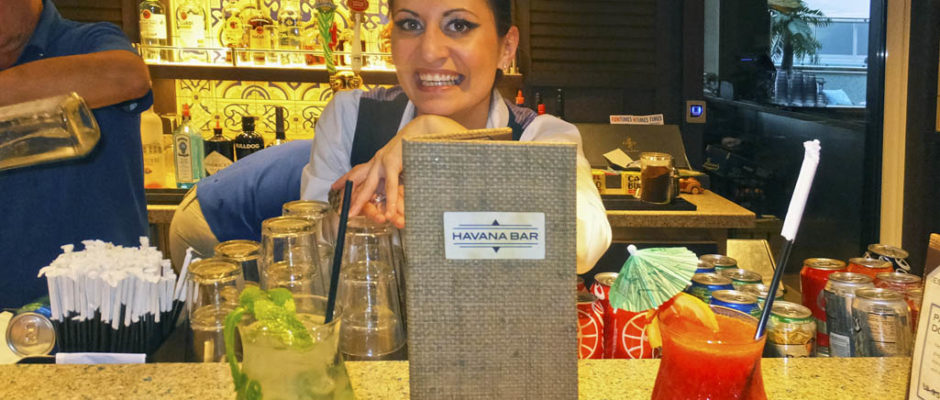 The floor is packed with ladies who can't help but get up and salsa to the band's infectious Cuban beat, while half a dozen bartenders muddle mojitos and dance as they decorate daiquiris.
The Havana Bar on Carnival Vista not only sounds and feels like an authentic club in Cuba, it's even got its own palm-fringed outdoor terrace, with a pool where patrons can take a late-night dip.
It's the kind of experience that's become possible as Carnival thinks ever bigger with its new ships. Vista is  wider and taller than any of her fleet mates  and packed with features that can make even this 4,000 passenger ship feel like it has spaces exclusively for you.
It's Carnival's first new ship in three years and its most sophisticated yet, but it doesn't forget that it's a Fun Ship. It's got  unique features including a brewery at sea, an IMAX theater screening first run 3-D movies and bikes you can ride in the sky.
Let's that a first look at a few things that make this ship an experience:
Longer, Wider and More Elegant
Arriving in the atrium of Carnival's newest ship, guests are greeted by a three-story high cone of LED lights creating a stunningly realistic effect of fish swimming around a sunny tropical reef. By evening, the scene had changed to a view that seemed to be a giant martini with a skewer stacked with olives at its edge. The LED towers are features in both Vista's atrium and the casino. They're dramatic and fun as they subtly and intriguingly evolve in patterns that are different each day, from abstracts to skyscapes to the entire universe.
The big displays prompted one of my fellow passengers who hadn't been on Carnival before to comment: "I thought Carnival was toning down its flashy décor." My answer was yes; in fact Carnival has evolved remarkably from the flashing lights and dazzlingly hued carpets on the earliest Fun Ships.
Sure, there are still over-the-top design features,  like orange lamp shades in some corridors that have the look of rocket ship thrusters. But over-all the décor of Carnival Vista can be described as sophisticated, with its tropical wood trims, marble table tops and contemporary chairs.
Al Fresco Dining Options
What you will notice that's different from other Carnival ships is that the first five decks are wider than the upper decks. With the added width of the ship, designers have been able to create open-air terraces outside many of Vista's restaurants, with comfortable lounge chairs and banquettes and high enclosures around the deck to block the wind.
Steakhouse Fahrenheit 555, the Bonsai Sushi restaurant and even the candy and soda shop Cherry on Top have a patios. A lot of the dining options including, Guy's Burger Bar, the Pizzeria and the Seafood Shack are already on open decks and have separate dedicated seating areas with sea views. These outdoor options are destined to be extremely popular for al fresco meals when Vista heads from Europe to its home port of Miami to cruise in the warm Caribbean.
Havana Days and Nights
Cuba's a hot theme these days and on this ship and it's not confined to the night club. Vista has a new class of suites called Havana Cabanas that have a Habana Viejo style, including shutters and rich, tropical colors.
The balcony suites feature private outdoor patios with yard furniture including a swing chair. (Originally plans called for hammocks, but that proved impractical because you'd have to duck under them to get outside). The big patios have gates that open to the promenade walking deck. Inside, the suites feature tropical amenities like a rain shower in the bathroom. A perk is that guests get exclusive use of the Havana Bar pool during the day. It opens to the public after 5.
Another new suite class is the Family Harbor zone on Deck 2, whose cabins have a nautical theme. These are designed to accommodate two adults and up to three kids with bunks that pop down from the ceiling. The living space can be separated by a main bedroom, to give parents a little private time on their vacation. There's also a dedicated family lounge for guests of Family Harbor.
Enlightened Entertainment
You've never seen an IMAX theater before on a ship, and it turned out to be quite a feat to fit this theater with its massive screen two decks tall and as wide as the ship within the Vista. In a long-term partnership, IMAX will screen first run 3-D blockbusters here at the same time they're released in theaters on land. It's part of a multiplex complete with a candy and popcorn bar and "thrill theater," where moving seats and effects like scents and wind gusts  give more kick to cartoons or spice up the spookiness of a monster movie. Prices for the shows vary, but they're no more than you'd pay for similar flicks at home.
Most other entertainment on the ship is free and you may want to cut out from diner early to get a good seat for the lavish production shows at the two level Liquid Lounge theater. They're extremely high energy thanks to a superb cast of performers and the latest in lighting and sound effects. A standout in the schedule is a show of music from films called Flick, which features remarkable special effects using lasers and lots of glitter.
Carnival's popular Punchliners comedy club has also been expanded on Vista as the Limelight Lounge. There are PG shows in the early evening and a pair of adult-only shows later in the evening that are generally standing room only even though the lounge is packed tight with swivel chairs and stools. I'd recommend buying a drink at another bar and taking it along to the club, because the room's so busy at showtime the waiters have a tough time keeping up with demand.
Riders and Bowlers in the Sky
I challenge you to a bike race around the deck—actually 40 feet above the deck and 150 feet above the water. The red and blue recumbent bike cars that glide on the  track around the top deck of Vista may not seem like a breakthrough, but in fact, SkyRide was an engineering challenge. Such a high heavy structure at the very top of the ship required a lot of calculation to balance the weight and avoid wind. The result is a course with an incredible vista over the sea and an exhilarating number of twists, turns and sudden dips that make the two minute circuit not just a bike ride but a kick.
It's far from the only new deck feature on Vista. Just below the SkyRide is the SkyCourse, the most challenging shipboard ropes course yet, including a tight rope walk with a set of jungle vines to cling onto. Below that is the basketball court and The Clubhouse, which has arcade-style basketball and two mini-bowling lanes.
On the other end of the ship is the WaterWorks, which includes the Kaleid-O-Slide that you ride through 450 feet of watery loops on inner tubes and a 300-gallon water bucket that dumps a spray across half the deck.
Internet Reimagined
There will be a lot of demand for staying connected because the average age of passengers on Carnival ships is one of the youngest of any cruise line and it caters to families. Even on the early cruises in Europe, which is a long way to travel, a surprising number of the passengers were pushing strollers or carrying babes in arms on tours. In the Caribbean as many as 1,400 of the 4,000 on board will be tech-savvy children and teens.
Carnival's got a new system for providing Internet and mobile using a hybrid of satellite and land station connections. The packages come at three levels, Social for connecting on Facebook, Twitter and Instagram costs $5 a day or $40 for the cruise.
Premium Internet at $150 for the cruise is said to be three times faster than the value plan at $90. I found the premium was quite reliable during my  voyage in Europe. Surfing could take a few seconds to connect, but it was generally quick,  except for early evening when everyone on the ship is trying to log in at once after a day's worth of fun outside. You can use Skype, but it's not designed for streaming apps like Netflix or Hulu.
So, what's for dinner? We'll be looking at the dining and experiences on board in future stories. Stay tuned.