7 Tips for Getting the Most Out of Days on Anthem of the Seas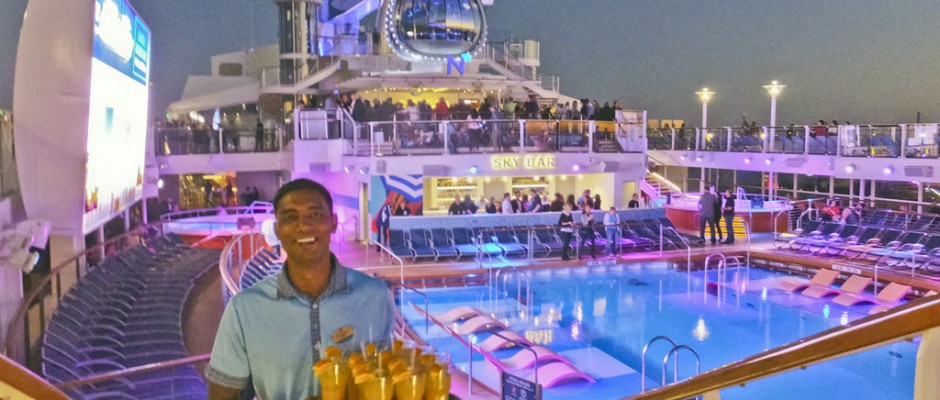 So what will it be on a day at sea?
Play hard or chill out? Eat sensibly or splurge?
Royal Caribbean's Anthem of the Seas is designed to be a floating world  with a huge number of options for the stretches of two or three sea days it takes to get to the Caribbean from its home port near the Statue of Liberty.
With 18 restaurants, dozens of shows and decks filled with recreation, you're not likely to experience everything there is to do even on Anthem's extended cruises that last up to 12 days.
Things shift into higher gear in the evening, with drinks on deck to watch sunset and  lots of bars and clubs with music and entertainment, including full length production shows.
Because you're sharing the facilities with 4,000 fellow guests, there are bound to be a lot of others planning to get in on the action at the same time. So a bit of strategy can help make the party go smoothly.
Here are some tips to get the most out of your stay on board a floating world:
1) Check in on-line, but don't be an early bird
Royal Caribbean's on-line check in system is custom designed to help passengers avoid waiting in lines, a big advantage when there are 4,000 guests to get on board  in a few hours. You fill out the boarding information on your own computer before the trip and take a selfie that will be used as your ID photo on board. You can print out a boarding pass that lets you roll on with only a brief stop to clear security. In only a few minutes you're on board.
But the embarkation doesn't officially start until noon and the doors to the passenger areas of the ship don't open until 2 pm., so you'll end up cooling your heels with your carry-ons if you arrive in the morning.
2) Book restaurants and activities from home
Once you've done the on-line registration you can also book on board activities and dining plans. That's especially important if you have plans to celebrate an event at a particular restaurant and want to see the production shows that include We Will Rock You that are extremely popular. Pre-reserving  will guarantee you a seat and once on board you can always change your choices. Because seating in the shows isn't assigned, it's also a good idea to show up at least 15 minutes before curtain time.
3) Crowds Can be deceiving
At breakfast and lunch time, the Windjammer Marketplace food court on the pool deck offers an amazing array of buffet serving stations with menus for just about any taste, from American to Asian. It's the only place at sea I've ever encountered a crêpe-making  station.
Because there's so much variety and the stations are easy to manoeuver around, there are seldom long lines. However, it can also be difficult to find a table to sit at near the serving area, where most people tend to settle in.
But the further from the food you walk, the more likely you'll find a free table. Windjammer is actually a vast network of seating areas and there are also tables on an outside deck at the stern of the ship. There's even a serving station in the rear of the complex that many guests don't discover until later in the cruise.
4) Pick your best time slot
The best time to take a ride the North Star the viewing pod without a wait of an hour is on days in port or early in the morning. Another popular attraction, the Bionic Bar is amusing, but it can draw a crowd that can make the wait time half an hour before your drink is served.  Afternoons between 3 and 5 are the time slot when the fewest people want a robot to make a drink. The wait time as well as the most popular drinks of the cruise are displayed on a tote board alongside the robots' serving platform.
5) Be an early adapter
The signature activities like the Ripcord by iFLY skydiving simulator, the Flow Rider surfing ride and  the bumper cars are so poplar you may encounter long lines on days at sea. The best bet to avoid lineups for these is to get to them on embarkation day, while everyone else is still settling in.
6) Wash your hands regularly
As part of the pre-sailing safety drill, the first part of the presentation is a video with a catchy jingle about washing your hands. It's a mantra repeated endlessly for good reason through the cruise. The best way to avoid the spread of any cold or other bug passengers might bring on board is to keep everyone fastidious about clean hands.
Everyone entering the Windjammer Market buffet area is steered through a corridor lined with hand-washing sinks. Don't feel offended; it helps you and everyone else avoid the risk of getting sick on what should be a carefree vacation.
7) Dine around
With no main dining room on the ship, guests are encouraged to try a different restaurant each night. You can always come back to a favorite.
Here are restaurants you'll want to try:
The Grande
They pronounce it grand and it's the most formal restaurant on the ship. That means a jacket for men. But ties aren't required. The room has lots of gold and mirrors and waiters in formal wear with white gloves. The menu focuses on the classics, like New York Strip steak, grilled lobster, duck a 'la orange, pasta Alfredo and sole. It's all very charming and friendly.
Chic
Chic is more contemporary, with indirect lighting in the ceiling and lots of glass crystals in the decor. Menu items lean toward the Mediterranean, with items like carpaccio, ravioli and rack of lamb.
Silk
Silk is an interesting example of different tastes between Europe and America. During Anthem's summer season in Europe, this was an Indian-themed restaurant specializing in curries, which are popular with  British guests. Now that the ship is getting a more North American audience, the menus have changed to pan-Asia, with lots of Chinese, Thai and Vietnamese dishes. Big tables in the center of the room feature lazy Susans in the middle for family-style sharing of dishes.
American Icon Grill
No, Elvis doesn't show up anywhere here, but room dividers create skylines of places like New York or vistas along Route 66. The menu is described as American comfort food and that can mean dishes like crab cakes, Cajun chicken or gumbo. My choice for an iconic dessert is the chocolate skillet cookie, a miniature frying pan filled with chocolate fudge and  topped with ice cream.
Jamie's Italian by Jamie Oliver
There's a $30 cover charge for this restaurant whose family-style menu was created by celebrity chef Jamie Oliver. The appetizer trays known as planks come to the table propped on top of a pair of tomato paste cans. The selection includes cured meats, cheeses olives and vegetables. Main courses include risottos, pastas and lasagna as well as steaks, pork belly and the chef's Italian burger with mortadella and onions.
On my visit, I had Jamie's "famous" fettuccine with prawns, but I found the prawns were actually baby shrimp. Still, it was flavorful and beautifully presented.
Wonderland Imaginative Cuisine
There's a $45 cover charge for this restaurant that uses dry ice and unusual combinations of flavors to suggest you've moved into a dinner from Alice's Adventures in Wonderland. Suffice it to say that rather than divide the menu into starters, entrees and desserts, you choose dishes from the elements: Sun, Ice, Fire, Water, Earth and Dreams and the waiters call themselves guides. They're happy to make selections for you and bring dishes that may arrive under a glass dome filled with smoke.
And tell me Mr. Mad Hatter, what's with all the glassware on the ceiling?
Click here for more from The Cruisington Times about innovations on Anthem of the Seas