8 Classic Tastes of Cuisine in Lyon, the City Where Dining is a Passion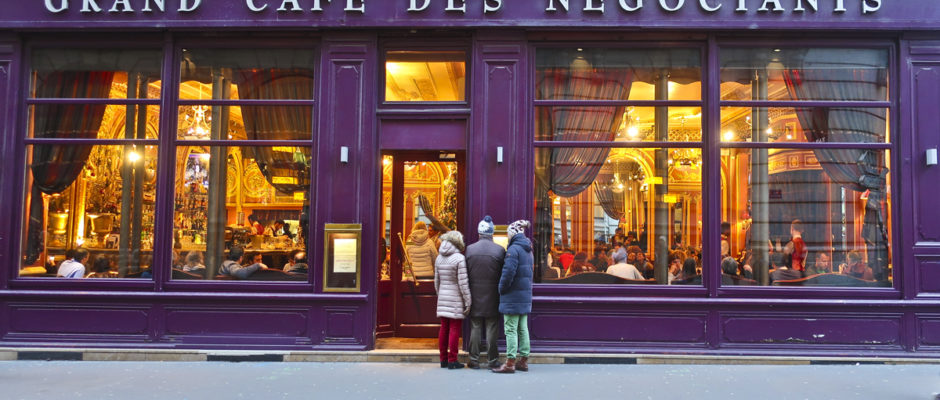 In the restaurants of Lyon, generations of experience and meticulous preparation consistently turn humble ingredients into magical dishes. And the choices are daunting.
There are over 4,000 restaurants in France's second-largest city, including 15 kitchens that score one or more stars in the Michelin Guide and dozens more that are deemed worth a gourmet pilgrimage or a few  extra days at the end of a French river cruise.
Here's a sampling of restaurants suggested by OnlyLyon, the city's tourism bureau, that left me anxious to return for more:
1) Le Café Terroir
If you arrive Le Café Terroir before 7 in the evening you might be lucky enough to score a table in the picture window or on the terrace on a quiet cul de sac that has a fascinating view of Lyon's main walking street. As befits a café, it's small and family run. The menu is a single sheet on a clipboard, with the day's specials written on chalk boards around the walls.
The featured saussicon pistaché is a uniquely Lyon specialty: pork sausage infused with whole pistachio nuts. But be sure you and a companion are really hungry, because an entire sausage that weighs over a pound is cooked and served to be shared by two. Actually, the plates stacked with puck-sized medallions surrounded by a hearty beef sauce are really enough to feed four.
The perfect accompaniment for this much meat is a Côtes du Rhône red wine. We're at the edge of the Rhône Valley, one of France's most extensive wine districts, which has been turning grapes into wine since the fourth century, when Romans made the confluence of the Rhône and Saône rivers a busy outpost called Lugdunum. The Café's walls are lined with bottles of a full range of wines from the 18 different winemaking regions in the valley.
2) L'Atelier des Augustins
In a vintage building on a narrow alley painted with wildly colorful graffiti, L'Atelier des Augustins lives up to its name with tables on a loft in the attic. You can peek into the kitchen that's so tiny there's no room for anyone but the chefs. But you're certainly welcome to chat as they perform a ballet between the prep table and the stoves.
There's a menu on a clipboard, but the "surprise"–what the chefs have cooking from the produce of the day–is always the simplest and best choice. Today, the meal starts with rich fois gras and slices of baguette straight from the oven. The entrée is a perfectly poached filet of delicate salmon trout caught that morning in the Saône that's topped with caviar. Dessert is lightly broiled fresh pineapple slices with cream sauce. It's all simple, yet remarkably memorable.
3) Brasserie Leon de Lyon Restaurant
This this popular Michelin-guide listed brasserie that dates back to 1904 is one of three Lyon restaurants operated by celebrity chef Jean-Paul Lacombe. The restaurant in a heritage building is divided into several small rooms to maintain a welcoming intimacy and Belle  Époque ambience.
The Lyonnaise specialty of the day is a braised beef cheek—literally the cheek muscle of a cow—that needs long cooking over low heat but absorbs remarkable depths of flavor as it tenderises in a delectable reduction of red wine, onions  and spices that's served with carrot medallions.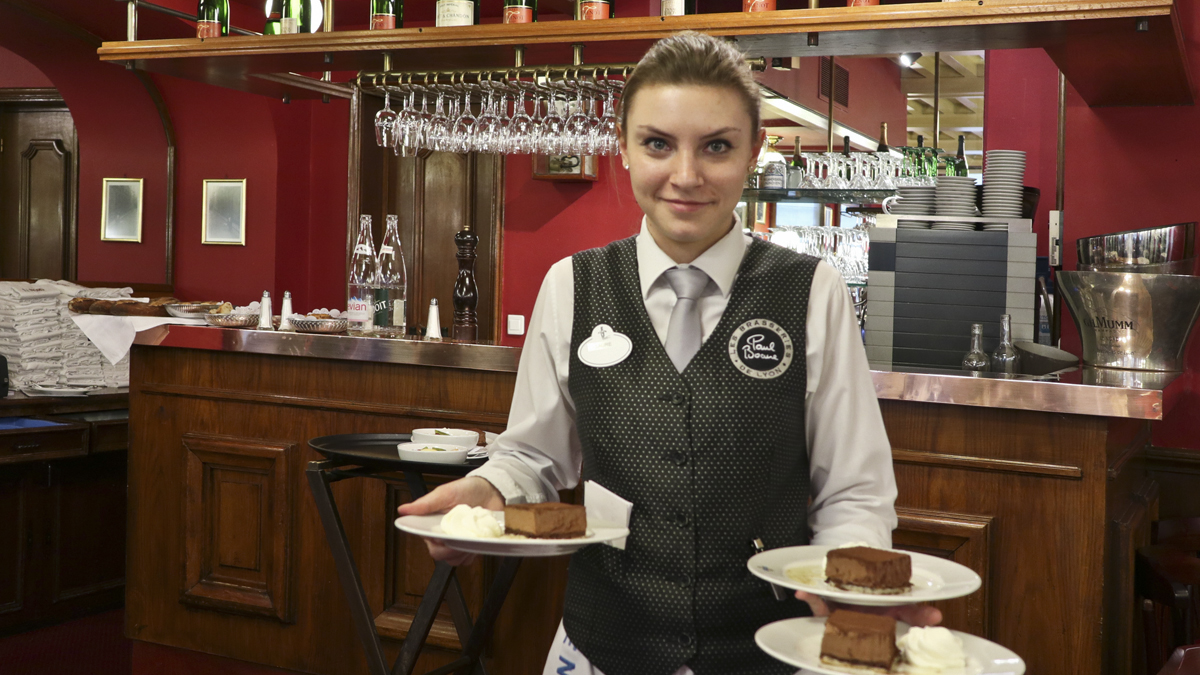 Here comes dessert at Brasserie le Nord–Photo by Wallace Immen
4) Brasserie le Nord
This is the first brasserie to be opened in Lyon by star chef Paul Bocuse, in 1994. (Others in the Bocuse group have opened since and are called Le Sud, de l'Est and l'Ouest). The restaurant is at the heart of the city's historic cultural district and promises "to revisit the standards of Lyon traditional cuisine."
You'll find versions of many famous Lyon specialties on the menu, including classic salade Lyonnaise, whose main features are a poached egg, lettuce, bacon and croutons. For an entrée, I opted for a rich and tender roast breast of free-range Bresse Chicken with a cream sauce.
I also tried a small sample of another Lyonnaise specialty called andouillette, a sausage of chitterlings (as its translation attests intestines) seasoned with a blend of spices that will include pepper, paprika, garlic, thyme and sage, with a dash of wine and. served with mashed potatoes. It's a dish that's an acquired taste for many, but its unique pungency and flavor has spawned a fan club of devotees in the city.
I'd advise choosing something not too filling for an entrée at Le Nord, because the desserts that veer heavily toward the rich chocolates made locally are heavenly and not to be missed.
5) A bouchon
Lyon is known for its many "bouchons." They're small family-run bistros that serve affordable regional cuisine weighted toward hearty dishes made from lesser-used cuts of meat or sausage with rich sauces.  Roast pork shank is typical, often with a duck liver pate as a starter. Bouchons date back to the days when Lyon was a working class community whose main industry was silk weaving. Shift workers would get off work looking for a filling and affordable meal.
Bouchons are easy to spot because of their windows will sport the iconic cartoon logo awarded by L'Association de Défense des Bouchons Lyonnais of a diner with a bright red nose, caused either by indulging in too much meat or red wine. Some bouchons may pride themselves on their wine cellars, but many tend to offer inexpensive, luscious house pours of the day from the local regions along the Rhone.
6) Halles Paul Bocuse
This is Lyon's main market but it's a cut above the farm markets you'll find in other European cities. The complex is named for the chef who gave Lyon a world reputation for cuisine, Paul Bocuse. His portrait is painted three stories high on a building across the street. Chef Bocuse, the father of nouvelle cuisine, passed away in January, 2018, and his funeral attracted more than 1,500 international chefs dressed in their best dress whites and tall toques.
The market is an indoor mall that's so upmarket that there are sit-down oyster bars and caviar restaurants interspersed between shops specializing in everything from housewares to gourmet chocolates and macaroons.
It's a perfect place to find a light lunch and we were offered a filling tasting of cold cuts and cheeses along with wine at the Charcuterie Sibilia, whose owner was a personal friend of Paul Bocuse. A specialty is sausage rolls, literally sausage baked within a loaf of bread; and a slice becomes a tasty sandwich without no  prep involved. Fittingly the wines on offer, a refreshing Mâcon Villages and smooth Côtes du Rhône, are from the Paul Bocuse collection of local vintages.
7) Bistrot Phosphore Restaurant & Bar au Vins
Michelin-starred chef Christian Tetedoie has an elegant restaurant on the ground floor that you'll need to make a reservation weeks in advance to be assured a table. Upstairs, though, is a more relaxed wine bar-style set of rooms with panoramic terrace views from one of the highest points in Lyon.
The entrees are takes on Lyon specialties, but you'll also find Basque dishes on the menu. Starters include tapas-style bar snacks like patatas bravas, salsa piquillos, in addition to escargot.
Here, the specialty of the day was another Lyon specialty treat: pike quenelles. They're made of minced fish that's poached and served with cream and egg sauce mousseline. Follow up with a selection of local cheeses such as Saint-Felicien, Saint-Marcellin or the artisanal chevre rigotte de Condrieu and the restaurant's homemade chocolates.
8) Lyon's GastroPub
Lyon has a proliferation of simple bars like this GastroPub, whose pub-style grub reflects the influence of British and Irish tourists in Lyon. The menu is simple and fresh, paired with local wines and beers and the atmosphere is friendly and relaxed. The selections cover a range of European cuisines from Italian burrata to Spanish tapas. Fish and chips come out fluffy and tasty avoiding the heavy breading. They're a far cry from the heavy cakes that Andy Capp would know in Jolly Old England.
Getting there: A unique flight with a taste of its own
There's only one airline flying non-stop service to Lyon from North America. That's Air Canada from Montreal. It's made the service a flagship route and the Lyon cuisine standards hold up on board. On my return, I paid to upgrade to business and the menu served in courses on China was catered with the same care as a meal in Lyon.
The appetizer for the meal–described as lunch–was perfectly seared tuna accompanied by a gigantic shrimp. Then, a big bowl of fresh green salad was served separately. There were four choices of main course and the beef filet I chose came medium rare as I'd requested, with a mushroom cream sauce, baby carrots asparagus and morels. It was finished by a flute of Champagne Drappier and Lyon's own Valrhona chocolates. If that was just lunch, I'll have to fly overnight next time to experience dinner.
Postscript
I'd actually lost weight  when I got home from my four days of gourmet feasting in Lyon, which included full breakfasts that were included at the affordable Hotel Okko–a well-located hostelry located in a quiet district across the Pont Lafayette from the center of town. That's the benefit of the high-protein, low-carb Mediterranean diet. I did, however, find myself a little bound up. French menus are often short on vegetables, with only a token carrot or mashed potatoes on the plate accompanying all the meat. To get more roughage, ordering a side salad or plate of vegetables along with your meal would be a prudent  idea.