9 Ways Portland Stays Weird While Being the West Coast's Sanest City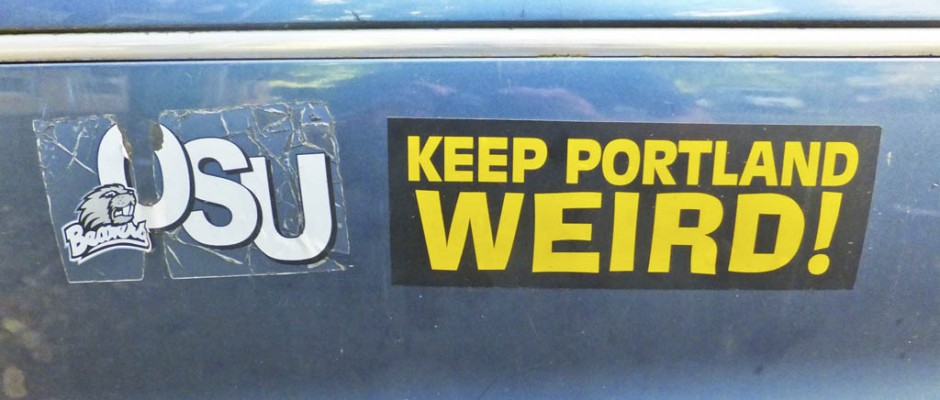 Keep Portland Weird.
It's a slogan that pops up on walls, bumper stickers and menus around Oregon's mecca of mellowness. Before a recent cruise by Un-Cruise Adventures up the Columbia River, I had the chance to experience a couple of days in the city to see how much truth there is to the weirdness of the place that's parodied in the TV series Portlandia.
There's definitely a distinct way of life that Portlanders want to preserve. The real Portlandia isn't nearly as whack as its reputation, but  still  some of  things about it are just too loopy to be made up.
Take the name itself, which you'd think would have something to do with being a good piece of land for building a port. The actual story is that two original settlers used a coin toss to decide what to call the town where the Columbia River meets the Willamette. Francis Pettygrove, won the toss and gave the town the name of the place he was born in: Portland, Maine.
It turned out to be good land for a port, though. This as far inland as ocean-going ships could sail up the Columbia.. The city grew to be a major rail center and a place to transfer cargo to river boats designed to sail through the rapids up river and load logs and pelts for buyers around the Pacific Rim.
Today, the lumberjacks and trappers of old have made way for populations of students, software engineers and artists who like things cool and cutting edge. What they like makes the town so different:
1) Unpretentious dining
There are traditional sit-down restaurants for romantic meals, but the style of many eateries here is casual, with mix and mingle places ranging from brew pubs to restaurants in strip clubs. The menus often feature hip innovations in tapas-style portions. There's a lot of Asian influence.
For example: There's a lineup of 20-somethings that stretches down the street at happy hour at Luc Lac Vietnamese Kitchen, but don't let that daunt you. It's typical of the kind of unpretentious restaurants that have popped up all around town offering good food and drinks without the fuss of fancy furnishings. Place your order at the counter and get a marker with a number and find a place to sit or stand at a counter along the window until your order is delivered. Luc Lac is run by two brothers, Adam and Alan Ho and their mother is the head chef. Mom really knows how to keep her kids well fed.
2) Homebrew and Local Liquors
I defy you to sample all the beers they have on the menu at almost any restaurant in this city. At one bar, they boast 49 beers on draft.
Portland is nicknamed Beervana (nirvana for beer, I get it), because it boasts more than 30 microbreweries. That's more than any other city in the world, according to the Oregon Brewers Guild. Several draft specialists include three branches of Oregon's McMenamins brew pub chain or the BridgePort Tap Room, which is Portland's oldest craft brewery.
Another growing trend is artisanal liquors. There are at least 10 independent distilleries around town making liquor from local grains, fruits and flowers. Many offer tastings, but a night out sampling spirits would have required a little more stamina than I could muster on a night on the town.
3) Weekend Farm Market
If you happen to be in town on a Saturday, the ultimate place to visit is the weekend Portland Farmers Market that fills the park along the Portland State University campus with food tents, crafts and amazing selections of locally grown flowers that go at remarkably affordable prices. As many as 20,000 people stroll around the market on any given weekend and it happens year-round except for Christmas.
You'll find everything from artisanal breads to kimchi to fresh-dried beef jerky in the stalls. Expect to get offered a lot of literature about going vegan and organic and about respecting the Earth, whales and stoners. You'll also hear a lot of music played by local bands that set up in the park to promote their upcoming gigs.
4) The Really Big Bookstore
You'd never imagine print was going out of fashion walking into Powell's City of Books on West Burnside Street. It claims to be the largest independent new and used book store in the world and I have to admit it would be hard to find any store that can challenge that claim, especially in an age when most books are sold on-line. On six floors that are each the size of an entire city block you'll need a map to find your way around (the store provides one) and sections of each level are color coded so you have some sense of where you are in the complex.
The prices are great, with a lot of brand new copies of out-of-print books that have been remaindered, and entire collections on a single subject that you'd be hard pressed to find in libraries. In a town as well educated as this, there are plenty of sections devoted to rare and esoteric books. There's a steady stream of book collectors coming to the resale counter to offer their libraries up for sale.
A cell phone is a good idea if you want to reconnect with your colleagues after exploring the stacks. I made the mistake of telling my wife who wanted to browse on her own that we should meet up again in the lobby. There are actually several lobbies and we were both waiting for half an hour at opposite ends of the building before I ended up calling her and we figured out the mistake.
5) River Walk
What was once a jumble of railroad sidings and warehouses along the Willamette River has become a leafy park with a three-mile-long walking and bicycling loop. The east bank is named for Vera Katz, a former Portland mayor who championed the notion of redevelopment and the west side is named for Tom McCall, an environmental activist and journalist who became Oregon's governor in the 1960s.
The Esplanade is a demonstration project for fish and wildlife habitats and riverbank restoration. In places, the riverbank has been reshaped with grading that supports native vegetation to help clean up runoff before it enters the river.
This is also the city that spawned the food truck phenomenon across the continent and you'll see restaurant vans out in force around the River Walk. One favorite local snack is Dutch tacos, pork sausage and maple spread served in a crisp waffle.
6) Leaving the Car at Home
Men's Fitness magazine named Portland its number one pick for the fittest city in America, because of the way locals have taken to using its parks, bike trails and walking friendly streets. That was against some pretty tough competition, in California and elsewhere.
Fact is people here walk the walk and seem to all be out doing something active on bikes, skates or on foot. The sidewalks are wide and the lack of urban sprawl means its possible to get by without a car here and just take transit and walk or bike to work. Beat that Long Beach!
7) The International Rose Test Center
The Rose City lives up to its nickname in this garden set up during World War I to preserve species of European roses that faced destruction in the fighting over there. The Rose Test Center has become the oldest and largest rose garden in the United States, boasting close to 10,000 bushes of more than 500 varieties of roses. It's also got free admission and is open from 7:30 a.m. to 9 p.m. daily.
8) Umbrellas are for Losers
Here's a tip: Pack a poncho. While Portland gets a lot of precipitation, umbrellas are out of fashion here. The rain tends to come as drizzles rather than downpours and most people use a rain jacket and hat or a hoodie on a rainy morning. The weather tends to clear in the afternoon and you don't want to be the dork carrying an umbrella when it's a beautiful day. Call your brolly a parasol if you like, but you'll seldom get any sympathy avoiding the sun on the west coast.
9) Weed, the Weirdness Wild Card
Oregon has legalized marijuana, but for the time being people aren't allowed to buy or sell it. As of July 1, 2015, new Oregon laws make it legal for adults 21 and older to possess and use recreational marijuana.
Applications for large-scale growers and retailers aren't being accepted until early 2016, and no Oregon stores are expected to have marijuana for sale until the fall of 2016.
It's legal for residents to grow up to four plants per residence and share it with other adults too. Portlanders really are friendly folk, if you get the drift.
No matter what your idea of a good time is though, Portland's an intriguing place to visit.