A Boom in Europe River Cruising Has Cruise Lines Seeking New Routes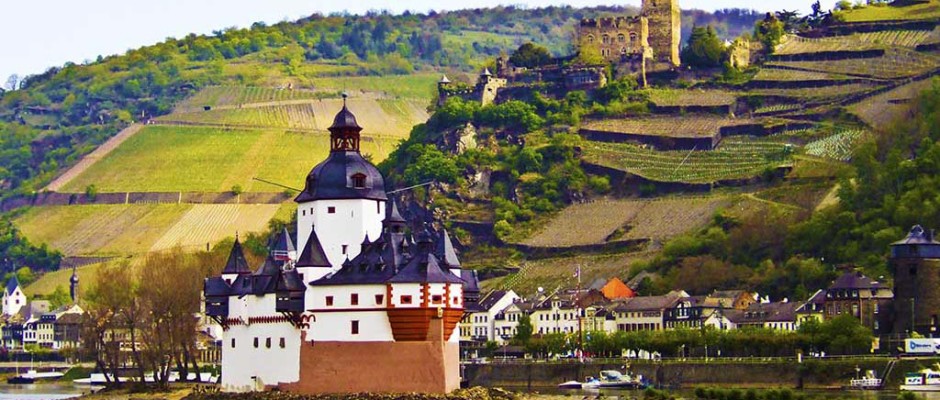 River cruises in Europe have certainly matured in the past few years, offering the kind of amenities, luxury and cuisine once only found on ocean-going ships.
As their popularity increases, all the river fleets are expanding rapidly, to the point where is can be almost too much of a good thing. At popular cities on the Rhine and Danube, there's so much demand for limited dock space that cruise ships often end up double- and triple-parked and guests go ashore walking through other ships.
That's leading the river lines to seek out new ports and new rivers to cruise. Some lines are downsizing their new ships so they can reach cities on shallower rivers not previously on regular cruise itineraries.
The coming year will see Avalon Waterways pioneering cruises on the Meuse River in Belgium. Cruise lines are also expanding their itineraries on the Elbe in Germany, the Seine in France and the Douro in Portugal as well as in Asia.
Here are notable arrivals and new routes on the rivers coming in 2016:
AmaWaterways
AmaStella and AmaViola will join AmaWaterways' European fleet in April for Danube and Rhine sailings. They're the third and fourth vessels of their class. The fitness room and salon on these ships will be moved to the lower deck, allowing for additional balcony staterooms and suites. Both will be equipped with connecting cabins designed to be more convenient for groups and families traveling together.
Avalon Waterways
Avalon Passion at 166 guests is a sister ship to Avalon's Illumination, Impression and Expression and will sail the Danube on a variety of itineraries as well as the North Sea and Black Sea.
Avalon Imagery II is designed to carry 128 guests and is a sister ship to the Tapestry II, Tranquility II, Poetry II, Artistry II and Visionary. It will start service on the Romantic Rhine itinerary.
In addition, Avalon is introducing two unique itineraries that put a spotlight on Belgium, which is marking the centennial of the Western Front battles of World War I. The Meuse and Sambra Rivers and the city of Namur appear in river cruise itineraries for the first time, thanks to the shallow draft of Avalon's smaller ships.
Crystal River Cruises
Crystal Mozart, starting service in July, 2016, is the largest river ship in Europe. Built originally for a German river cruise line, it's being reconstructed to kick-start Crystal's new Crystal River Cruises division. The 160-passenger vessel will debut on the Danube River. The ship features an entire deck of public areas that include multiple dining rooms, a wrap-around promenade, an indoor wellness center and spa.
The Mozart comes out a year before the first of Crystal's new river ships that carry 110 passengers are due to arrive. Two other ships that carry only 84 guests and operate on the Seine will come next. Designed to be the most opulent on the rivers, the smallest suites start at 220 square feet, which are large for European vessels, and range up to 750 square feet.
Emerald Waterways
Emerald Belle, like its four sister ships, will have 72 suites and 20 staterooms, including two cabins built for solo occupancy. Staterooms will feature a floor-to-ceiling panoramic window that drops down electronically to create a French balcony. The ship will feature a heated swimming pool with a retractable glass roof that transforms into a movie theater in the evening; and two restaurants — Reflections, the main dining room, and The Terrace for breakfast and lunch.
An update:A fire in early January at the shipyard where Emerald Belle was being built will mean the Belle's launch will be delayed. The line is making alternative arrangements for guests who have booked cruises on the ship.
Scenic Cruises
Scenic Amber will be a full size "space ship" with a capacity of 169 guests. A sister to the recently launched Scenic Jasper and Scenic Opal, it's scheduled to sail on the Rhine, Main and Danube Rivers.
Scenic Azure is what Scenic calls a "next generation" ship with just 48 cabins, to inaugurate 11-day round trip cruises along Portugal's Douro River from Porto.
Scenic Aura launches on Myanmar's Irrawaddy River in September 2016 on 10-night itineraries between Mandalay and Pyay. The ship features 22 all-balcony suites with a separate bedroom, living room and balcony areas.
Scenic Spirt enters service on the Mekong River, sailing an eight-day itinerary between Ho Chi Minh City and the Siem Reap, Cambodia. The 68-passenger ship features 34 large all-balcony one-bedroom suites including separate bedroom, living room and balcony areas. It also boasts four dining venues.
Viking River Cruises
We've gotten used to Viking River launching multiple ships in with its patented "Longship" design, whose staterooms feature full-size verandas and French balconies. This spring brings six more of the ships, raising the total in the fleet to 70. Additional features include an indoor-outdoor "Aquavit Terrace" for outdoor dining at the prow of the ship.
CrosiEurope
Elbe Princesse that's being built in France for a Spring, 2016 launch is a unique paddlewheel-propelled ship designed to cruise even in low water levels. It's scheduled to navigate year-round in the Elbe, which often has water levels too low for vessels with regular propulsion. It has 40 spacious outside cabins and can accommodate 80 guests.
Thanks to its size, this new ship will be able to berth in the heart of towns near historical centres which is a key selling point. From April 2016, it will visit iconic destinations such as Berlin; Potsdam; Wittenberg, the town of Luther; Meissen and Dresden.
Uniworld Boutique River Cruises
Ganges Voyager II makes India Uniworld's a new frontier of river cruising, The ship is designed to be an oasis from the bustle on land with all the amenities of a five-star hotel, the company promises. All suites have French balconies with floor-to-ceiling glass doors, and bathrooms with rain shower, comfy robes and slippers, and spa-quality Moulton Brown bath products. Its intriguing two-week itineraries from Kolkata to New Delhi are already in limited availability. Haimark Travel is building the ship for Uniworld.