A Do it Yourself "On Your Own" Day in Florence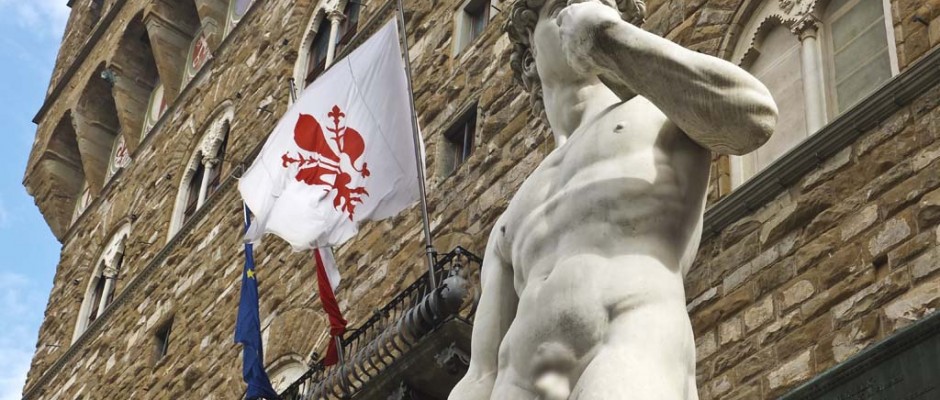 The abiding truth about Florence is that it's a long journey inland from the cruise port of Livorno.
That kept Firenze safe by being a day's march inland for invaders, but let's face it; the commercial port of Livorno isn't the place you want to spend your day if you're looking for Renaissance beauty.
We've been to Florence so many times we don't need a guided tour, and our choice on a cruise stop in Livorno is usually to book a Florence on Your Own bus transfer. On many ships, the price of a round trip bus transfer is less than $100 a person and that comes with a guarantee you'll make it back to the ship by the time it sails.
On our recent visit, the On Your Own excursion booked through the cruise line would cost a steep $175 a person. Going to the website for Italy's rail system Trenitalia, I found we could do the trip for 12 Euros each way second class (About $32 round trip.) or just over $50 in first class and we could buy tickets on-line. Remembering the condition of second class Italian rail cars from my student days, I opted for first class tickets on line.
But there's always a bit of unease about doing tours not arranged by the ship. "Take it easy, take the train," is an old slogan that no longer applies to rail travel in North America. But even in Europe where trains remain efficient, there's always risk doing it yourself that you could miss the train, which could mean missing the ship.
I'd done the transfer by train before and found that the reputation of Italian trains running on time continues to be true. But there's always the risk of a strike, which continues to be a fact of life in Italy, or a miscue in interpreting the schedule. If you don't read the itinerary carefully, you could get on a route that requires changing trains, which could stretch an hour and a half trip into over three hours start to finish. .
But, fortunately, workers were on the job today and I'd done my homework. The only potential hang-up might be if the ship wasn't cleared by local authorities on its scheduled arrival time of 8 a.m.. The only possible train we could get on to get us into Florence before noon left Livorno's Centrale station at 9:05 and arrived at 10:30. Later trains required connections that would see passengers finally pulling into Firenze's Santa Maria Novella station no earlier than 12:30, leaving very little time to savor the city.
Getting to the station in Livorno  from the port on time is a feat for taxis and not pedestrians, and that proved easier than expected as well. There's a fleet of brand new big Fiat vans waiting at the dock that easily seat six or seven along with the driver and the flat rate to the station is 25 Euros. A couple of dozen of our fellow passengers who are also planning to catch the train made it easy to share a ride with other couples and bring the fare down to less than five Euros a person.
We got to the station by 8:30 and having purchased tickets in advance we could avoid the lengthy ticket queue and headed straight to the platform.
So far, it was easy. But when we got to the platform a brand new double-decked regional commuter train was on the track getting a cleaning. The station sign said a Firenze train leaves at 9:06, but this train had a display with a completely different number and destination.
Welcome to Italy. In the slower fall and winter they combine trains and a little banter with locals boarding finally clarified that this was the right train, with a different number.
Even though we had purchased more expensive first class tickets, there were only second class cars in this train, but they were clean, modern and air conditioned and so far there were plenty of vacant seats. At the appointed time, to the minute, we're moving, with the digital readout reading velocita: 100 Km—65 mph—as we sped through thick cedar forests and passed farms and huge solar power arrays. It's a much more scenic way to see the countryside than the highway.
It turns out you can get to Pisa on this train in less than half an hour. It's something I'll plan to do on a future cruise stop in Livorno. But today, it was Firenze on my mind.
The fact that this was a commuter train became clear when we got to the city of Empoli, in which flocks of passengers herded on board and suddenly the cars were standing room only to Firenze Rifredi, the suburban station for Florence, where many left the train on their way to their jobs.
The elapsed time to central Firenze SMN, which is the station only a couple of blocks from the Duomo was one hour and 20 minutes, as scheduled.
Near the station, I made a stop at a pleasant local coffee shop, the News Cafe. We were literally two blocks from the Duomo and the barista made the point by drawing an artistic sketch of the Duomo in chocolate on the froth atop the cappuccino.  I had at the stand up bar. Even with the artwork, the coffee only cost  1 Euro if you stand at the bar. It's 2 Euros if you sit at a table, but either way you get to use the shop's washrooms. Heckuva deal.
I was glad I'd checked the departures schedule in the station before heading out to explore for the day, because two afternoon trains had also been combined and we'd have to be back at the station by 4 rather than 4:30 to make a connection back to Livorno before the ship sailed at 7.
That afternoon train again didn't have first class and the second class cars were graffiti covered antiques with no air conditioning and mobs of workers and students and tourists standing in the aisles with backpacks and suitcases. We'd managed to get seats by arriving and boarding 15 minutes before departure. And fortunately we met another couple on the train who were also from our ship and arranged to split the cost of a taxi back to the port.
We were back on board by 6, before the On your Own bus groups arrived back to the ship.
When it all goes well, rail travel in Europe is easy, comfortable and inexpensive. I was glad I was able to take it easy and take the train.