A Private Island Hideaway a Heartbeat from the Bustling Heart of Venice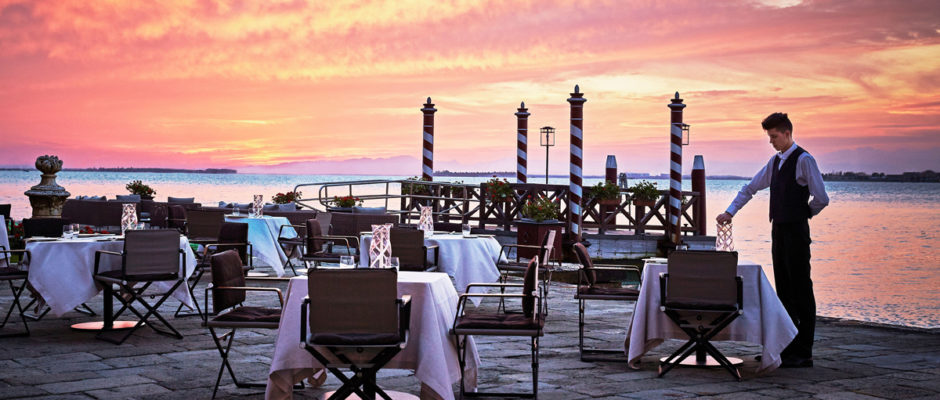 Venice titles itself La Serenissima — the most serene. But the overwhelming crowds that fill St. Mark's square daily and stream shoulder to shoulder through every narrow passageway at all hours can quickly make tranquility a lost memory.
Arriving in the square on a vaporetto at the end of a cruise, it was clear  there could be a challenge to get our luggage to a hotel. But we're not staying in the city, but at the San Clemente Palace Kempinski, whose gleaming lacquered speedboat is pulling in at the next dock to spirit us to a private island resort only 10 minutes away.
The idyllic private island of San Clemente is ideal for lovers of the romantic as well as a fascinating piece of the history of the Renaissance jewel that is Venice. The island across the Venice lagoon with a panoramic view of the city from its gardens, has always been a retreat.
It began as a medieval monastery and a hospice for soldiers coming or going from the Crusades. During the Renaissance, when Venice was a major world power, it was a secure welcoming center for visiting dignitaries, a short boat ride away from the mighty Doge's Palace.
How many hotels give guests a six-page fold out map of the hotel and its grounds? Or need to? But you'll find a guide mighty handy to navigate the magisterial and high-ceilinged marble corridors of the massive and impeccably restored monastic-style hotel. It  weaves around cloistered courtyards and its  sumptuous suites feature circular entry halls, comfortable living rooms and full-sized dressing rooms.
The all-marble baths have both a glass shower stall and deep tub. Furnishings are contemporary Italian embellished with classical Venetian beveled mirrors, Murano chandeliers and rich brocade curtains.
The San Clemente Palace is likely the only hotel anywhere that has its own church, and it's a grand one. The soaring fifteenth-century Gothic façade is an addition to a gorgeous church that dates to the twelfth century. Ornate doorways carved by monks open to rooms featuring beautiful frescoes of Biblical scenes.
This is still a consecrated Catholic church, but because it doesn't have a congregation you'll likely have the place, with its half dozen elaborate side altars, to yourself. If you do have company, it may be a diva or visiting musician practicing in the acoustically exquisite choir chancel.
An added attraction through 2017 is a fascinating series of contemporary art installations around the island as part of the 57th Venice Biennale Viva Arte Viva.
The exhibition plays on the theme of "The reality looks different–what kind of reality?" with thought-provoking works by six international artists. In the historic church, Austrian artist Brigitte Kowanz has installed Light Steps, a series of 13 fluorescent floating "steps" creating an impression of a stairway to Heaven that ends just above the church's altar.
And Berlin-based artist Jeppe Hein's sculpture, Third Eye, features a candle flame that flickers behind a head-high column made of a two-way mirror, layered with reflections of the visitors and the surrounding space of the historic church.
Outside, around the resort's grounds are sculptures including British artist Julian Opie's Galloping Horse, a double-sided LED installation set next to the brick wall that surrounds the island. Other sculptures created specifically for the island setting include Opie's Towers.2, a series of vinyl and wood creations up to 32 feet tall.
Once you're settled in, you may find yourself drawn more to the bucolic pool than to the busy city beyond. That's true of the celebrities, honeymooners and Euro unicorns to bring their families to this very discreet hotel to let down their guard.
The sumptuous breakfast room becomes a venue for hug-hug-kiss-kiss and morning get-togethers among the cognoscenti. In the early evening you'll see them black-tied and gowned strolling down the garden walk toward a private tender taking them to a gala or the opera.
But there's no temptation to hop into the circus that's San Marco for a menu turistico. The hotel's talented team of chefs create everything from scratch, using vegetables and herbs grown right on the island.
Even if you aren't staying at the hotel, a dinner at the Kempinski's elegant Acquerello restaurant is worthy of a reservation of its own. You'll be given complimentary water taxi service from St. Mark's square.
An amuse bouche arrives like a surrealist sculpture, consisting of a tender duck croquette in a broccoli foam with a starburst of red cabbage. The breads are all minutes from the oven, served in a metal basket that's warmed with heated rocks and lined with freshly picked and fragrant rosemary from the garden.
The signature dish is Parmesan cheese tortelli with cream of Venetian calf's liver, which makes what's usually the pasta sauce a super-rich filling. The flavours are so complex you'll want to eat it in tiny morsels, but Executive Chef Vincenzo Di Tuoro advises eating each tortelli in one bite for an amazing explosion of taste.
In honor of the first-ever art exhibition on the island, San Clemente Palace Kempinski's bar manager Alessio Venturini has crafted a special signature Viva Arte Viva cocktail, created with Absinthe, Appleton rum, coconut milk, curcuma (a kind of turmeric), mint, lemongrass, cardamom and lime juice.
The hotel is also offering special Biennale packages which include cocktails at the Clemente Bar, daily breakfasts for two and tickets to the Biennale venues.
In the morning, an expansive breakfast buffet is complimentary and you can dine either in the casual Insieme restaurant or on the historic church courtyard.
Venice awaits 10 minutes away and  it's time to explore. But I can't wait to get back to the real experience of Venetian elegance.