Windstar's New Star Pride: A Yacht Elegantly Transformed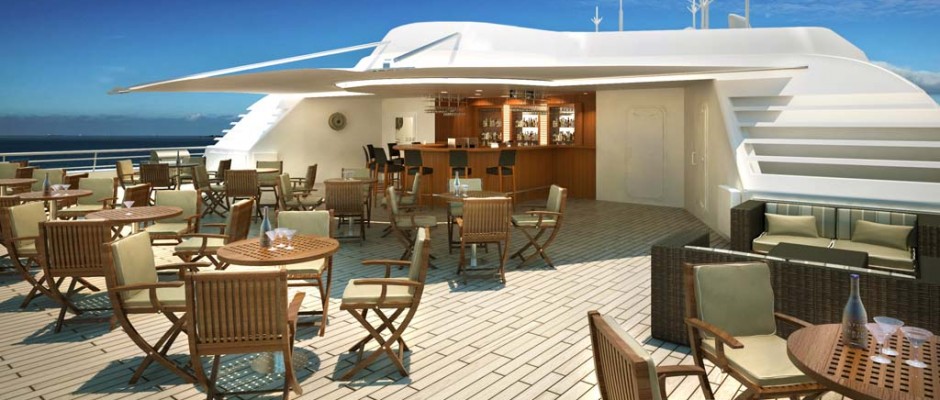 I've sailed in the past aboard the ship now named Star Pride  and always relished the experience of being aboard what I'd like to dream of being my own personal yacht.
With a party-sized capacity of  just over 200 guests, the ship formerly the Seabourn Pride is intimate yet spacious and contemporary. Its sleek good looks have always turned heads in every port it enters.
Now that it's part of Windstar Cruises' fleet it's got a new look that is being tweaked again in 2015 as two updated sister ships enter the fleet with even more features. Their new looks mark a bold new direction for Windstar, which in the past has specialized in sailing yachts. The line has always been known for its fine dining and casual elegance, so Star Pride, Star Breeze and Star Legend fit right in.
After a stem to stern renovation in Europe, here's a look at Star Pride's fresh new features:
The majority of public areas have updated décor, complete with new furnishings, upholstery, lighting, wall coverings, carpeting, ceiling finishes, window treatments, and floor coverings. The enhanced color palette combines sand and marine shades to contrast with the warm wood finishes.
Yacht Club
The indoor observation area on the top deck is now a cozy coffee bar and lounge, where guests can enjoy espresso and various sandwiches and pastries while relaxing with a good book, or surfing with state of the art wi-fi, or just watching the coast line. New flooring, furniture, and an open layout enhances the attraction.
Compass Rose
The club space is Windstar's popular Compass Rose, redesigned with contemporary furnishings, including rich flooring finishes, plantation shutters, and comfortable chairs and bar stools designed for socializing. It's the place to find live music in the evening.
Refreshed Reception
The central lobby features new paneling, light fixtures, and wall coverings. An additional desk was added for guests to consult with the destination manager and guest service manager.
Star Bar
The outdoor deck bar offers casual drinks during the day and a venue for star-gazing by night. The bar area features teak decking, new stools, and lighting.
In all the restaurants, that have no cover charges, guests are free to eat when, where, and with whom they please and casual dress codes mean no jackets or ties are required.
It's AmphorA with a capital A
Windstar's formal dining experience is the AmphorA Restaurant. The main dining room features mirror panels with Murano glass, soft lighting, wall coverings, and art work. The room sets the stage for Windstar's signature dining experience featuring contemporary, international menus and fresh
Bright New Candles
The restaurant in the forward part of the ship is the verandah for breakfast and lunch buffets, with a broad deck of outdoor seating available. At night, the venue becomes Candles Grill , with table service under the stars.
In addition, all 106 suites showcase new furnishings, leather headboards, plush sofas and chairs, drapes, new lighting features, window coverings, plush carpeting, new art work, stylish bed cushions, and luxurious bed throws.