A Welcome Retreat in Cambodia's Most Bustling Tourist Town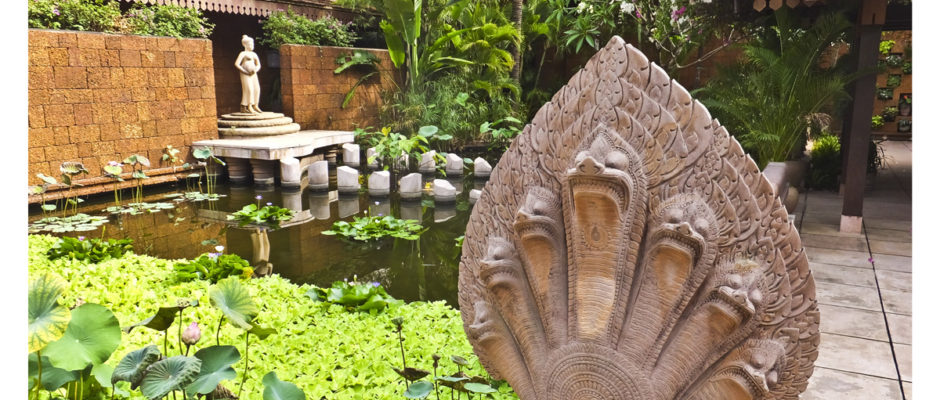 All the brochures for a vacation in Cambodia picture Siem Reap as an idyllic place that time forgot, where tree roots sprout from mysterious, ancient Khmer archaeological ruins. What they don't show is how these fantastic treasures have suddenly become magnets for throngs of tourists from around the world and the urban sprawl that's created.
Angkor Wat is a must-do at the beginning or end of a river cruise on the Mekong and after a week in the quiet luxury of AmaWaterways' elegant new ship AmaDara. I wanted to find a place that was just as serene and opulent as that ship to be a base to explore the world heritage.
It's not as easy as you'd imagine. Where once only tiny guest houses and a few small resorts catered to visitors to Siem Reap, today the road from the airport into town is lined with sprawling convention hotels and clogged with a riot of limos, motorcycles, tuk-tuks and mini-buses.
But I did discover a retreat that still lives up to the idyllic fantasy:
The Belmond La Résidence d'Angkor (formerly La Résidence d'Angkor by Orient Express) has reopened in its prime downtown riverside location after extensive renovations that combined rooms into 59 large suites. It's a quiet walled retreat that combines traditional Khmer style with pleasing contemporary design. The lush gardens and serene pool are a welcome respite from the heat and hectic pace of the city that's grown around it. And it's an ideal base for visits to the fascinating treasures of Angkor Wat.
Location, location
The hotel is in a prime riverside location, just a 10-minute stroll from shops and restaurants and a 20-minute drive from the Angkor Archaeological Park when traffic is light. But it's a bit slower getting around in the late afternoon when everyone is rushing to the park for sunset viewing.
As soon as you cross the lotus-filled moat around the resort, the buzz of tuk-tuks is swapped for rustling palms, the air is scented by fragrant frangipani and vibrant bougainvillea.
A Step Back in Time
The design of the hotel borrows from Khmer culture, with its cathedral-like beamed lobby, bookended with outsized Asian-inspired paintings by artist Christian Develter. The suites also have a Khmer feel, built of tropical hardwoods and bamboo.
On the walls of  the suites, there are large prints of the ancient Angkor site from Cambodian photographers. The king-sized bed has ample stacks of silk-covered cushions and there's a day bed for lounging. The dressing room features twin sinks and its vast adjoining marble bath area includes a rainfall shower that's fun, but without an enclosure around it, you'll want to avoid splashing too vigorously
All the suites have outdoor spaces secluded by lush foliage. Those on upper levels have balconies and Garden Junior Suites get patios with direct access to the vast pool. An ample number of double loungers are available for guests around the pool, along with complimentary straw hats and bamboo fans.
You'd think you were in an ancient temple complex here as a series of courtyards feature lush gardens surrounded by high stone walls and reflecting pools, guarded by carvings of stone lions. My notes read: "gold, sparkle, flowers, brilliantly polished chrome and mirrored surfaces, velvet carpets, marble and tropical woods everywhere. It's grand without being overwhelmingly grand."
Even in the brutal heat of the afternoon, the temperature always feels pleasant thanks to the overhanging trees and soft breezes.
The spa that unties all the knots
The spa called Kong Kea (Khmer for water for the king) prides itself on using 100 per cent natural ingredients and a massage here is a must-experience event. It starts with foot bath and scrub in a pail  filled with lotus flowers. Then to a treatment room for singles or couples, where the massage is designed to wring all the tension from your muscles. You can specify the degree of pressure but I told mine to go deep into muscles and find points where my energy was blocked. He did indeed and found ways to stretch my arms and legs more than I thought possible. After an hour, I came out feeling like years' worth of tension had been swept away.
Eat in or eat out?
It depends on how adventurous you are. There are two restaurants in the resort and there is a street of small cafes just outside the resort.
The resort's Ember restaurant, whose specialty is a wood-fired pizza oven, bills itself as an Asian restaurant with a Latin twist. That's fine, but seeing that we are in Cambodia, I would have preferred to see some more local fare on the menu.
The indoor-outdoor Spice Circle is a fun introduction to Khmer cuisine. The spreads of "hawker-style" classic dishes like green papaya salad, fish amok and grilled catches of the day are arranged on wooden counters as well as on an authentic tuk-tuk and pedicab in the center of the restaurant.
Upstairs is a tropical Martini Lounge whose specialty is one made with muddled basil and lemongrass. The best time to visit is during happy hour from 5 to 6, where the second drink is on the house.
For those who are more adventurous, the hotel also arranges a "Mystery Dine Around" tour for Cambodian specialties that takes guests to have courses at some of the best restaurants in town, some well off the tourist track.
There's no contest at breakfast, though. The place to sit is around a vast lotus pond, with tempting pastries, a variety of fresh juices, eggs-to-order and local noodle soups.
Oh yes, that tour to Angkor
The prime reason we'd come all this way was to visit the magnificent Angkor Wat, but it suddenly seemed less pressing after all the relaxation at the resort. The Belmond Residence is convenient to the Angkor complex and the desk can arrange tours with knowledgeable English speaking guides. You can do a full day for about $100 (and in addition you need to buy an Angkor day pass at the entrance that's priced about $37 a person). But it's best to avoid afternoons which not only get stiflingly hot but packed with tourists. With the daytime temperatures soaring to about 38 C (100 F), the best place to be in the afternoon is a private cabana poolside at the resort.
Sunrise is an ideal time to visit and sunset is stunning, and you can arrange with a driver to wait while you enjoy the natural light show then take you to a restaurant.
The Bottom Line
For the peace and quiet and service it provides, the Belmond La Residence d'Angkor is an excellent, intimate retreat in a tourist zone that's becoming busier by the day. Junior suites are priced from about $325 in low season and $450 in peak winter season and include wi-fi, but not breakfast. The address is simply River Road, Siem Reap, Cambodia.