AmaWaterways' Newest Ship Baptized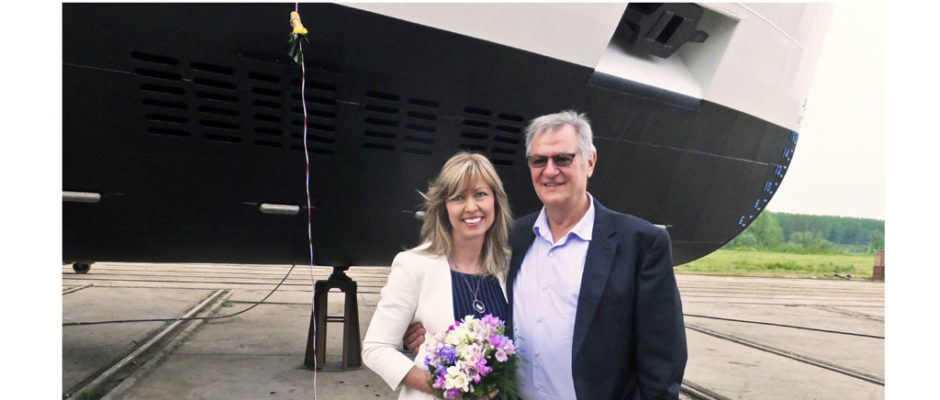 In a celebration fueled by German beer, Serbian wine and triumphant fireworks, AmaWaterways' newest arrival was baptized in a gala shipyard ceremony.
A beaming Kristin Karst, executive vice-president and co-owner of AmaWaterways broke a traditional bottle of Champagne on the bow of the company's newest ship, the AmaKristina at the dry dock of Vahali Shipyards in Mitrovica, Serbia in April, 2016. The ship launched in April, 2017, for cruising on Rhine River itineraries.
A little-known fact is that the hulls of most European river cruise ships are built by steel specialists at yards in Serbia then the newborn ship shells are floated down the Danube and Rhine rivers to Holland where they're fitted out and furnished.
"This has been a fantastic long-term relationship," said Rudi Schreiner, Ama's president (and Kristin's hubby) of the company's long-running association with the Vahali shipyard. "It gets easier every year because they understand what I want."
The ship is  the 21st in Ama's fleet and will feature innovations introduced on  AmaViola and AmaStella, with connecting cabins and innovative stateroom configurations, to appeal to groups and multi-generational families. Six sets of adjoining cabins can be connected via an internal doorway, accommodating families of up to five. Four suites with convertible sofa-beds can accommodate families of up to four.
The new design also increases the number of upper deck staterooms, while reducing the overall number of cabins to 79 from 84 on earlier Ama ships. The change allows for a larger spa and fitness complex and an expanded elevator that serves all decks.
"The debut of our brand new AmaViola builds on the momentum and tremendous feedback we have already seen since launching our AmaStella," said Kristin Karst. "Part of what makes AmaWaterways so unique to the industry is our careful pace in developing fresh design concepts on the rivers. It is this mindset that allows our team to deliver innovative features for our guests."
An innovative  ship twice as wide as others on Europe's rivers, the AmaMagna, is due to be launched in 2019.