AmaWaterways Thinks Big for 2019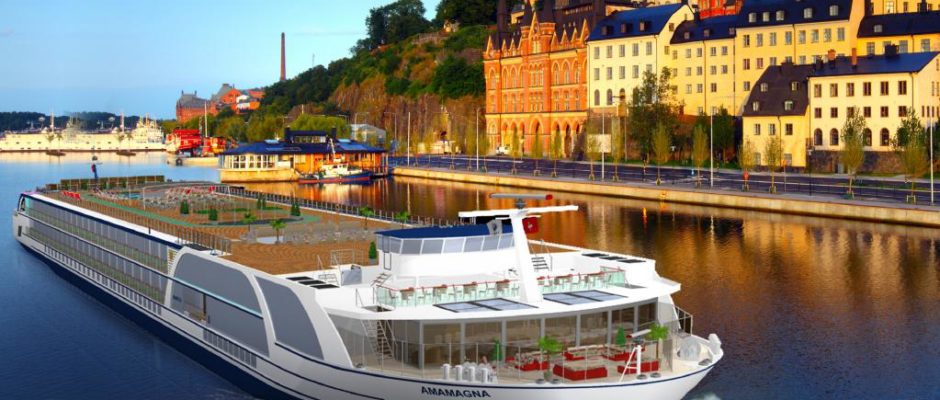 AmaWaterways is making the biggest expansion in its history in 2019, with the addition of three new river cruise ships.
The fleet additions include the innovative AmaMagna, which will be almost twice as wide as the average river cruise ship yet still carry just 194 guests. The extra space makes for larger staterooms, and public areas, including an al fresco restaurant.
The other two new builds will be sister ships to other vessels in the AmaWaterways fleet. AmaMora will debut as a sister ship to AmaLea and AmaKristina and will sail the Rhine. The other new arrival, AmaDouro, will debut as a sister ship to AmaVida, and will sail the Douro River.
AmaMagna will be the first river ship with a watersports platform and expanded fitness facilities. It will also introduce a new wellness program on board.
Twice the width of traditional European river ships, it will welcome only 194 guests and use the extra space to offer some of the largest and most luxurious living spaces on the rivers. There will be multiple dining options including an al-fresco glass-enclosed restaurant and enhanced evening entertainment.
AmaMagna will have the same length, height and draft as the line's other vessels, but at 22 meters it will be twice as wide, yet able to squeeze through locks in the Danube.
"As the luxury river cruise market continues to grow, we want to carry on as the leader in industry innovation. While this new double-width concept has been on the table for some time, we believe, given the unique demand that exists, that now is the perfect moment to introduce this style of ship," said Rudi Schreiner, president and co-owner of AmaWaterways.
The ship will debut a quieter and more fuel-efficient engine and – a first for river cruising – open-water sports platform, complete with zodiac boats, canoes and recreational equipment. Construction has already begun for the new vessel, destined to sail Danube itineraries.
The majority of the AmaMagna's 97 staterooms will be over 300 square feet, some of the largest in river cruising. Additional amenities include a large heated sundeck, swimming pool with whirlpool and sky bar. The spacious spa area will debut a new wellness program and new treatments.
"AmaMagna will provide guests with generous personal space, the freedom of multiple dining choices and exceptional stateroom comfort. Combining this with our award-winning cuisine, noteworthy shore excursions and remarkable on-board service, we feel this ship is a game-changer," Schreiner said.