Answering 7 Questions about Regent's Seven Seas Explorer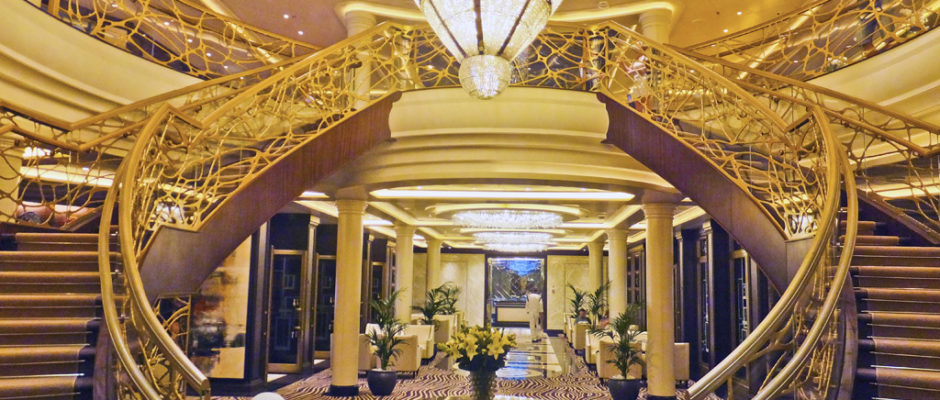 Imagine the challenge of decorating Regent's new Seven Seas Explorer. The assignment was to make it the most superb ship ever.
They used enough marble to keep a quarry in Carrara, Italy busy for a year. The zillion decorative tiles are handmade and even the artworks in each suite are one of a kind.
Then imagine the challenge of cleaning hundreds of Czech and Danish crystal chandeliers and more than a million individual crystals all through the ship.  Ceilings in restaurants and lounges also drip with hand-blown Murano glass in shapes of icicles and water drops that are so seemingly delicate that one false move of the cleaning cloth could mean oh, oh. My, my.
Regent Seven Seas' first new ship in 13 years is dazzling.
But what's it like to sail on board?
1) How sweet is the suite life?
The all-suite 750-passenger Explorer features some of the largest and most comfortable accommodations at sea.
My mid-level Concierge class suite–one of 140 on the Explorer—measures 460 square feet, which is about twice the size of the average on other cruise ships and almost as large as some modern condo apartments.
The furnished balcony is large enough to have a crowded party on, and even fit in a bar and DJ. The living area, that can be separated with a curtain from the sleeping area, has a buffet with multiple storage drawers, a bar with an Illy coffee maker, refrigerator and a 40-inch television.
The beds introduce infinitely comfortable Elite Slumber mattresses that will become the new luxury standard across the Regent fleet. They've got fine linens, duvets and embroidered bed spreads.
Regent bought a year's production of marble from a quarry in Carrara for the baths, which feature double sinks and voluminous storage,  rainforest shower and deep tub with organic lavender bubble bath.
A panelled walk-in closet is as ample as those on royal suites on other ships, and is outfitted with a tall bureau of drawers, ample shelves and enough hanging space for a long world cruise.
 But wait, there's more
It gets more amazing as upper level suites increase in size from 560 square foot penthouses, to grand suites from 1,500 square feet. And the Regent Suite covers 3,875 square feet, which the line claims is 50 per cent larger than the average home in the United States.
2) How's she sail?
Accommodating just 750 guests, Explorer is intimate in an era in which 3,000 guest ships are considered mid-size. But the ship is as tall and wide as many larger ships and that creates an abundance of interior space and gives Explorer a stable ride.
Having a suite near the stern on Deck 10, I did detect some engine vibration that shouldn't have been an issue so high up on the ship. But we were assured on this shakedown cruise that they're working on fine-tuning everything.
3) What makes a bed worth $150,000?
In addition to a Steinway piano decorated by the studio of designer Dakota Jackson, the piece de resistance of the largest Regent Suite is the bed of beds: a $60,000 custom crafted frame supporting a $90,000 Savoir mattress.
The designers weren't giving out free test snoozes on the stratospherically priced mattress, but designer Michael Jackiewitz, CEO of Tillburg Design, says the reason people book one of these suites is the same reason people will only deign to own a Rolls Royce. "Once you've had the experience, anything else is second best." The catch is that, just like running a Roller, the price tag for a test drive is steep: the Regent Suite is priced at a mere $10,000 a night.
4) Why does a ship need a prayer wheel?
"You were given this life because you were strong enough to live it".
"The purpose of life is a life of purpose."
These are among the words of wisdom that are cast into the single most dramatic art installation on the ship. The unique design of 90 intricately decorated disc wheels cast of bronze is at the entryway to Pacific Rim, Explorer's Pan-Asian restaurant.
The design is not religious as such but the $500,000 and three-ton installation is similar in concept to Tibetan Buddhist prayer wheels that devotees spin to improve their karma, explains Greg Walton, vice-president of CallisonRTKL design consultancy.
"We could have made it of resin and it would have weighed less and made the engineers and the accountants happier, but it wouldn't have the same feel. This is the only one like it in the world."
And as new visitors to the restaurant  tentatively spun the wheels and murmured at the insightful quotations received, the choice seemed well made.
5) Does the service shine?
Luxury of course means pampering and Regent claims Explorer's staff of 552 for 750 guests means an extraordinary level of attention to detail and the needs of guests.
On the ship's first cruise with passengers, there were the expected hiccups like delays between courses in the dining rooms.  Frank Del Rio, CEO and President of Regent's holding company, promised that the service will be flawless after the ship gets into full service in late July 2016.  I have no reason to doubt that, because the crew was certainly attentive and were diligent about doing things right.
One evening I volunteered to do a taste test with one  of the bartenders who was trying to perfect an Explorer signature cocktail. Aperol and apple schnapps sounded vile, but we sampled adding various adjustments of fresh lemon juice, which mellowed the cocktail and resulted in  a worthy before-dinner tipple.
6) Is it really all-inclusive?
Yes, you can end up not getting a bill at the end of the voyage.
All of Regent's ships offer complimentary shore excursions, and specialty restaurants, transfers and gratuities are included.
Regent is also offering round-trip business class air on many intercontinental flights, and free economy domestic flights.
Wi-fi is free everywhere on the ship, and it works even on the balconies and decks. And it is unlimited, although that also means that with everyone on at the same time the surfing can be a bit slow at peak times. More bandwidth would be welcome.
Guests staying in one of the upper suites get butler service and top of the line toiletries from Guerlain. Elsewhere the amenities are equally up-market L'Occitane en Provence.
Beverages are included and that means free flowing name brand spirits and a range of quality wines. Of course, if you want to splurge there are also rare vintages on the menus at extra cost. The range of choices includes, believe it or not, a Russian vodka so high shelf that it costs $150 a shot.
7) Could this be the most luxurious ship ever?
Regent boasts that Explorer is "the most luxurious cruise ship ever built." It's a claim that's open to debate, especially with competition from the company's fleet mates and sister brand Oceania Cruises.
And there are new contenders on the horizon, with Seabourn Cruises' new Seabourn Encore due in December, 2016 and Silver Muse from Silversea Cruises due in 2017.
Even the ship's own designers agreed that luxury means different things to different folks. While some people define luxury by brand, while others define it by look, feel and taste. "The aim on Explorer is was to use the highest quality materials and create unique elements not found anywhere else," Watson said.
The only way to really judge the best-ever luxury claim is to put it to your own test.