Around the Bend: New River Ships, More Exotic Itineraries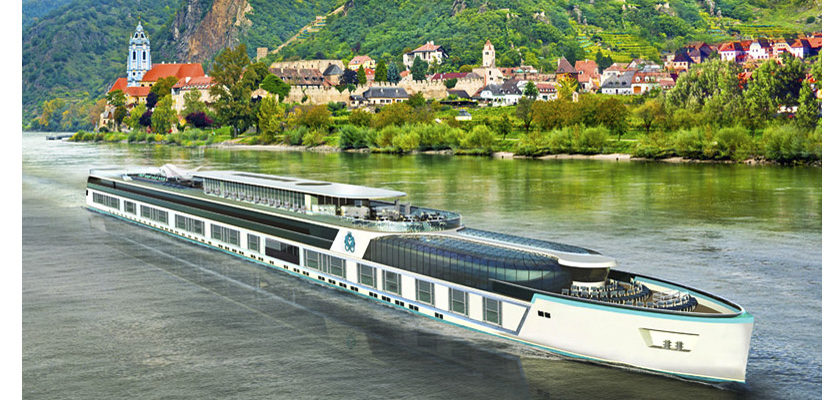 Expanding choice is the story of river cruising in 2017.
The pace of ship building may be down a bit, but there will still be a dozen new arrivals. And they're not all destined to join the crowds on the Rhine and Danube.
Many new or rebuilt ships are headed for less well-traveled rivers, including Portugal's Douro. There's a ship that will call Paris home for cruises on the Seine, and there's a new cruise option in Africa as well.
There's more emphasis on the personal space and attention that river ships can offer. While the trend in ocean ships is to grow ever larger, the constraints of  locks and canals mean that the dimensions of river ships can't expand.  Yet it's remarkable what designers can come up with in design and added features within that space.
Here's a rundown of what's up on the rivers:
AmaWaterways –AmaKristina
The namesake of the line's co-owner Kristin Karst, this long-awaited new ship from AmaWaterways will feature unique elements in decor and have features specifically designed for multi-generational families and groups. Modeled after sister-ships AmaStella and AmaViola, the 158-guest AmaKristina will join the fleet on Rhine River cruises starting in April.
Most staterooms feature twin balconies and suites measure up to 350 square feet. The AmaKristina features multiple dining venues and a heated sun deck swimming pool with a 'swim-up' bar. There's a fitness center and spa, Wi-Fi is complimentary ship-wide and a fleet of bicycles carried on-board  gives guests the option to tour on their own or on guided rides.
AmaWaterways will also continue to offer Adventures by Disney River Cruises with exclusive sailings on the scenic Danube and Rhine Rivers.
Itineraries: The Enchanting Rhine, Amsterdam to Basel as well as wine-themed cruises and Christmas Markets cruises on the Rhine.
CrosiEurope—New, upgraded and exotic itineraries
CrosiEurope senses an appetite for innovative destinations. In April, the MS Miguel Torga, a three- deck ship that accommodates 132 guests, will join the fleet's four other ships sailing on Portugal's Douro River.
Meanwhile, existing ships MS Symphonie and the MS Douce France will be entirely renovated and rechristened.
In 2017, CrosiEurope is also introducing southern Africa cruises on a ship with just eight suites for a total of 16 guests. The journey includes stays in a hotel on land with safaris and a day at Victoria Falls.
Itineraries: Eight-day cruises on the Douro, leaving from Porto and stopping in Regua, Vega de Terron, Ferradosa and Pinhão. The rebuilt MS Douce France II, starts sailing on the Rhine in April and MS Symphonie II will cruise on the Danube beginning in June.
Crystal River Cruises–A new generation
Aiming to become a game changer on Europe's rivers, Crystal Cruises' foray into luxury river cruising will see the first two of what will eventually be a quartet of  new ships. The Crystal Bach in June and Crystal Mahler, coming in August will each carry just 106 guests. As Crystal River Cruises puts it: the all-inclusive ships are best described as yachts that will offer "the most service, space, quality and choices of any river cruise." The suites include some with two bedrooms. Restaurants include a French-style Bistro.
Still to come are Crystal Debussy and Crystal Ravel, designed to sail on the Seine, Garonne, Dordogne and Gironde rivers in France. Crystal calls these its "Paris Class" yachts, smaller and accommodating just 78 guests in 39 different suites.
Itineraries: Crystal Bach and Crystal Mahler will be doing itineraries on the Rhine from Amsterdam to Germany with some cruises including Belgium.
Emerald Waterways–Three, not of a kind
My how Emerald Waterways has grown in the four years since it was launched as a separate brand by Scenic. Emerald is rapidly expanding its horizons and this year sees the launch of three ships, two of them designed for smaller European rivers.
Emerald Destiny, entering service in April, is a sister ship to Emerald's Sun, Star, Sky and Dawn. It's a replacement for the Emerald Belle, a ship that was due to enter service in 2016, but was lost in a shipyard fire during construction.
Emerald Liberté, due in April, will carry 138 guests. The Emerald Radiance, due in May will sail with 112 guests. Both ships have a 3-to-1 guest-crew ratio.
The only difference in the ships is that Emerald Liberté will boast a cinema while the Emerald Radiance will have a pool on the top deck instead. A new category of suite has been added to the Radiance, which has 330 square feet of living space and panoramic floor-to ceiling windows on two sides.
Itineraries:  Emerald Destiny is scheduled for the Danube, Moselle, Rhine and Main Rivers. Emerald Liberté has eight-day voyages from Lyon to Arles along the picturesque Rhône and Saône Rivers, passing through Chalon-Sur-Saône, Tournon and Avignon. Emerald Radience will stop in in the UNESCO world heritage city of Porto and the Roman settlement of Regua in Portugal, and in Spain visit Vega de Terron and Salamanca.
Uniworld Boutique Collection –The Joy of Living
The S.S. Joie de Vivre is called a "super ship,' but the 128-guest ship is compact enough to dock directly in Paris, instead of outside the city and is custom designed for the cruising the Seine.
The ship's decor, designed by sister company Red Carnation Hotels, reflects the opulence of a French grand manor, with art and antiques sourced from Sotheby's and Christie's. The Salon de Toulouse features a full-service bar and art and antiques curated from renowned auction houses and private collections. Dining venues include Parisian-inspired Le Restaurant Pigalle, Bistro Saint-Germain and Café Flore.
Itineraries: Starting in March, journeys begin in Paris, with shore trips to Monet's garden in Giverny, Normandy beaches and Honfleur.
Viking River Cruises –Two new Longships
While Viking River Cruises' new launch is less dramatic than the dozen ships at a time extravaganzas the line has done in recent years, the fleet keeps expanding. Two new 190 guest "Longships" are launching in the spring.
Viking seemingly has the increasing competition on Europe's rivers in mind with the names of the new ships. The Longship Viking Herja is named for a Valkyrie in Old Norse mythology who was known as decider of fates. Viking Hild is named for another mythical Valkyrie who was the personification of battle.
Itineraries: Amsterdam to Basel on the Rhine.
These aren't the only new looks on the rivers, though.
Other river cruise lines are making waves even without launching new ships this year. Both Scenic and Tauck River Cruises are concentrating on refitting existing ships with complete upgrades that will make them essentially brand new. A notable trend in refits is toward combining spaces to offer more large suites and carry fewer guests.
The changes are destined to make even seasoned cruisers to want to come back and experience what's new on the rivers in 2017.