Art Afloat: Riviera's Collection Invites Thought and Conversation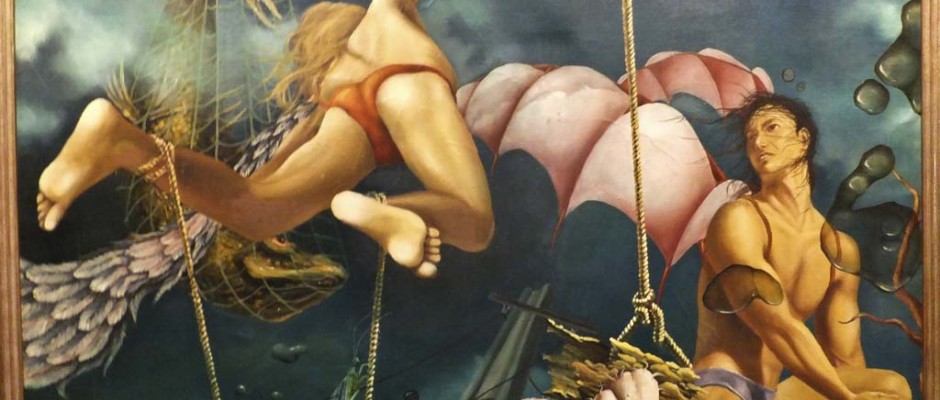 Just going for a walk around the decks of  Oceania's Riviera is like taking a stroll through salons of an art museum. On every wall and in every corridor there are paintings, sculptures and art glass pieces that aren't just pretty pictures, but intellectually  provocative works of art.
Why is that guy blowing a tuba while sitting on a horse in front of a rusty ship?
What weird air flight prompted the painting of passengers flying through the air in a cardboard box?
Does anyone actually have the figures and physiques of the swimmers in the murals in the Canyon Ranch Spa at Sea?
Oceania Cruises' founder, Frank Del Rio, has a passion for fine art and he and vice-chairman Bob Binder have created a vast collection of contemporary pieces that are on prominent display on board Riviera and its sister ship Marina.
Del Rio claims he wants the art to "spark conversation and contemplation" among the guests onboard and it certainly was an ice breaker whenever my wife and I met fellow guests over drinks in the Martini bar or at Riviera's many restaurants.
You'll find a sampler of some of the pieces here and you can see a whole lot more in The Oceania Cruises Art Collection–a new book that catalogs more than 2,000 works on its ships.
The 205 page book describes how Oceania's founders amassed the collection of artists ranging from Picasso and Miró to Robert Mars and Damien Hirst. Many of the paintings on the Riviera are by emerging artists including Li Domínguez Fong and Carlos Luna. A particularly exciting set of works are by Cuban artists such as Wifredo Lam, Cundo Bermúdez and René Portocarrero.
The Oceania Cruises Art Collection is available on www.Amazon.com and at www.OceaniaBookCollection.com for $54.95. The catalogue is also available for purchase onboard Oceania's ships.
The dedication to art on board extends to helping guests who are aspiring artists find their style as part of the cruise experience. The Artist Loft enrichment centers on Marina and Riviera have talented artists in residence to teach classes in painting, photography and crafts.
At the end of my cruise, guests who have created masterpieces in their classes in the Loft had a sale of their paintings and many of them sold for impressive prices to other guests.
No doubt they were inspired by the art round them all over the ship.