At Holland America's Le Cirque, There's No Clowning Around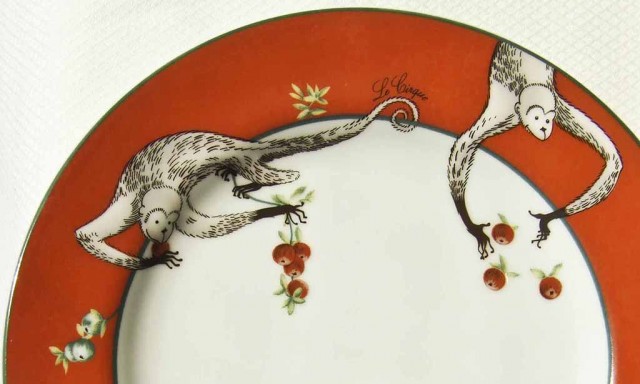 For one night and one night only, ladies and gentlemen, the staff of Noordam's premium restaurant Pinnacle performs an act of transformation, attempting to recreate the flavours and ambience of the classic Le Cirque restaurant.
Sirio Maccioni's once-legendary New York restaurant has since been cloned to Las Vegas, but Holland America Line has now partnered with the company to do classic Le Cirque menus in its specialty restaurants on most of its 15 ships.
Getting a table for the only Le Cirque night on my 10-day cruise in the Mediterranean on Noordam meant making a reservation on-line well before the cruise and paying the hefty $39 per person cover charge, which is a premium over the $25 you pay for dining in Pinnacle — the same room with the same staff — on other evenings.
My wife and I got a table for two set with the signature Le Cirque plates, that have a bright orange border populated with curious monkeys. But the whimsical umbrellas and circus paraphernalia that decorated the original restaurant aren't there. And the selections of wine on the list were pretty much the same as you can order in other restaurants around the ship.
It's show time, and at first the acrobatics got off to a wobbly start. Hopefully, the crew missteps will soon be corrected by the superb new maitre d' who had just joined the ship.
The table had been set with two different styles of water goblets. They had run out of one type in the kitchen, the wine steward apologized. We asked for our white wine served in big, balloon glasses normally used for reds and the glasses arrived but were place at the far end of the table. Was there an imaginary set of guests seated at that end of the table as well?
One waiter introduced himself and when asked what the menu item Chicken Under a Brick meant, couldn't explain. Shortly later, another waiter introduced herself as our server tonight. She explained that the brick was a stack of sautéed vegetables that is placed atop the chicken.
We ordered, and an amuse bouche of wonderfully savoury fois gras with a rhubarb confit was delivered. And then Le Cirque's signature lobster salad that features an entire lobster tail atop an artfully arranged selection of greens, vegetables and fruit.
But soon enough, large soup bowls were delivered and another Le Cirque signature dish — butternut squash soup — was artfully swirled from an antique tea kettle around an island of minced huckleberries — certainly something I haven't seen anywhere else. I seldom rave about soups, but every spoonful of this was a delight. The kitchen was definitely stepping up to the occasion.
The entrees arrived with a flourish on a cart wheeled to the table. I had chosen the signature chateaubriand with a horseradish flan and it was a portion that was easily large enough for two to share, especially as the server sliced it into smaller strips on a cutting board before setting it in front of me. It was tender and grilled precisely to the medium rare I had specified. If you're going to have steak anywhere, have this one.
My wife had the seared Alaska black cod, which in theory would have been harder to pull off because we've been at sea a week and are nowhere near Alaska. It too seemed fresh and cooked to tender perfection, with a leek and red wine beurre.
Other choices could have been rack of lamb with artichoke and arugula, three cheese ravioli, or the mysterious chicken under vegetables with a honey jus. I found all the selections to be more ambitious than the more basic grill selections I had at Pinnacle when I dined there earlier on the cruise.
The desert of choice is Le Cirque's famous crème brulee, for which the tiny ramekins arrive thoughtfully imprinted with the recipe on the bottom of the bowl. Ol' Sirio must have gotten weary of avid fans begging for his secret by the time they'd scraped the bowl dry.
The sense of special occasion was also apparent in the clientele, who dressed in jackets and some even in formal wear despite the fact this was a casual evening. To my mind it's certainly worth the extra $39 for Le Cirque, as the food lived up to the advance billing.
But be warned, if you don't plan and book ahead, you'll miss out because the Le Cirque special evening is planned only once each segment on Holland America ships. Pity.