Avalon Waterways' Vista is Panoramic in All Directions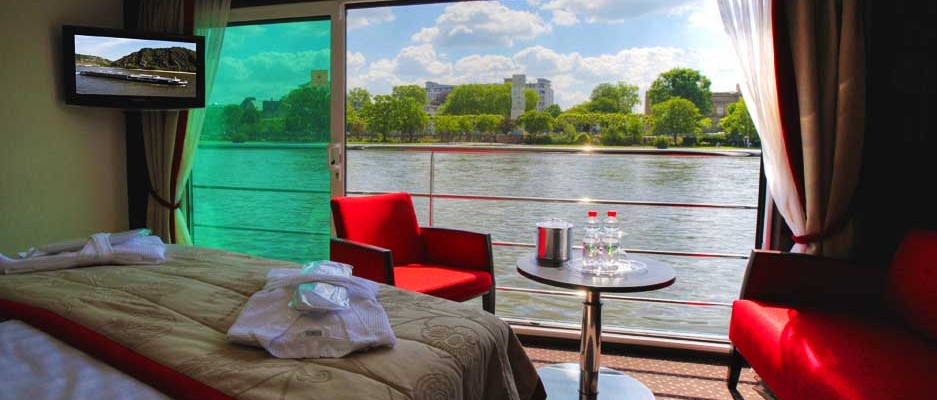 Avalon Waterways calls its new river ships "panorama class," and from the moment I stepped aboard the latest, Avalon Vista, I could see why. You're on the water and you want to see the view, so why use walls when you can use windows? Avalon's solution for opening a bigger panorama  is to divide the floor-to-ceiling windows into panels that slide on a track into the corner of the room, creating a full height opening. It's a neat trick that makes the suite seem almost like a big open verandah. The accommodations are almost 30 percent larger than the average room size on river cruises, which has led Avalon to call Vista and her sisters, Avalon Visonary and Avalon Panorama its "suite ships."
The design has increased the glass area of the public spaces and restaurant as well. The dining room's central divider features open window frames at the top giving a view of the scene on both sides of the ship, while the divider makes you feel you're actually in a much more intimate space. There was so much going on with daily shore excursions and evening gatherings for port talks and drinks before dinner that it took me a while to see all there was to see on the ship.
It wasn't until two days into the cruise that I discovered one of the best design innovations on the Avalon Vista: a conservatory-like lounge at the rear of the ship. Its wraparound glass walls provide a sweeping view of where we've been and its cozy chairs are a great place to settle in and take advantage of the ship's complimentary wi-fi. An added amenity is a coffee bar with a machine that turns out wickedly good coffee, lattes and cappuccinos. There's also a fitness room with  ample space and equipment, which is a step forward for river ships. On some other ships the fitness room feels more like a repurposed closet. A fleet of bicycles is also available–but in Holland they came with a caution: If you're not experienced on bikes it might be better not to hit the roads in Amsterdam, which are like two-wheeler autobahns whose commuters don't cut  amateurs much slack.
One innovationI didn't get to try on the top Sky Deck was the covered Open-Air Bistro, which serves outdoor, grilled specialties at lunch.
Avalon has been raising the quality and selection of its meal offerings. Every evening features a five-course meal with choices of entrees, soups and salads, with complimentary wine or beer. The presentations and preparation were remarkable considering that the galley is about the size of a fair size home kitchen and serves 160 guests a night.
The German and French wines served at lunch and dinner are high quality name brands, which is a step above the generics you'll find on some other river cruise ships. If you're celebrating something really special, there is a menu of premium wines and Champagnes. But I was very happy with the selections available gratis. Coming back to the suite each night there was a video of a crackling fire playing on the television; change the channel and you can change the style but there's always a mesmerizing set of flames.
The marble-trimmed bathrooms also have a feeling of space, and there are welcome upgrades including flowers in each stateroom and premium L'Occitane products and fragrance sticks. Soundproofing has been a specialty of Avalon. The company's novel "Silent Drive" design puts the engines in a separate module from the rest of the ship to eliminate noise and vibration. I had absolutely no trouble sleeping on the comfortable matresses (from Avalon's Comfort Collection) and bed that include a choice of pillows. My three days on board wasn't enough to experience it all. I'll have to come back to get the full experience of Vista's itineraries between Amsterdam and Budapest that run up to 14 days long.