Azamara Offers Modern Day Cure for Greek Island Fever on Visit to Ancient Kos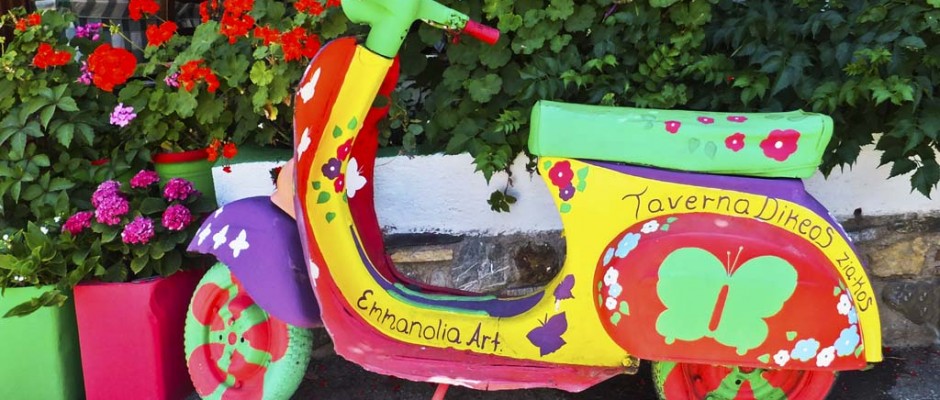 Limp in, leap out was the theory of health care in ancient Greece.
Hospitals were kind of tough-love  health spas where you stayed until you got better. But a lot of it depended on how much faith and financial donation you were willing to devote to dieties like Asclepius, the god of healing.
We're on the island of Kos today to visit a site where the theory of medicine changed forever– and put earthly doctors in charge of both the cures and the cash flow.
During Azamara Journey's day-long visit, Azamara Club Cruises provided a guide who has a wicked sense of humor to lead  the our shore excursion to the island's famed Asclepeion.
"I hope you understand my English as well as I understand your Greek," Christos said in greeting.
We were going to be part of a long standing tradition of visits to the island. Starting around 300 B.C. the sick and infirm sought out places like the Asklepeion in search of miracle cures.
A visit to an ancient hospital was definitely a trial of faith. Visitors were told to sleep on a stone floor and have a consultation the next day with a priest and describe the dreams  they had overnight.  Snakes freed to slither around the dormatories were part of the cure as well– and they were sure to evoke a nightmare or two. .
Invariably the prescription was to propitiate the gods, also including Apollo, the god of medical science and Hygeia, the source of  the word hygiene .
Thank heavens then that Hippocrates showed up in the 4th century B.C. with a different idea. Disease had natural causes rather than anger of the gods, he said. Today, doctors still swear the Hippocratic Oath before they go out to enter a career of healing.
So much for theory. In practice the Asclepeion was a beautiful setting to contemplate nature and gain strength.  Christos leads us on a stroll along paths lined with wild flowers with  marvelous vistas from atop stone walls. If you're going to have a hospital room with a view, this is the place.
From the site in central Kos,  we travel for a lunch in a town that Christos describes as being on "the flat part of the island." It's another of his jokes: by the time we get to the end of the island, it's as rugged as Switzerland.
The restaurant is at an altitude high enough that when we see the menu offers something they call a Godfish,  we can assume it isn't a typo. Washed down with a Mythos beer, it was enough to make me feel I'd been cured of island fever in Greece by Apollo's own physicians.
Finally, it's back to the main town of Kos. Its fortified stone walls were built aptly enough by the crusading  14th century Knights Hospitaller of the Order of St. John, who were dedicated to building hospitals.  But I'd seen enough of infirmaries, so I decided to take a walk around the town outside the walls, which is famed for its ancient tree that legends say descends from the time of Hippocrates.
That's a stretch. The plane tree that's so old and feeble that it's got to be  held up by a steel framework is in reality only about 500 years old. It's said to be a direct descendant from a tree that Hippocrates used 2,300 years ago as a shady place to conduct medical classes. True or not, it was nice to think of how many people have stood on this square at least thinking about being healthy.
I was feeling so good by mid-afterrnoon that I realized there was still time to take the waters. And they are beautifully clear and blue there. A short walk from where the Azamara Journey was docked there's a rocky beach with an expansive view of heaven and earth. It may not have been a miracle cure, but by the end of the day I was feeling so much better.
Thanks, Asklepius and Hippocrates and the elements of nature for a healing day.
And now back to the Azamara Journey for a rejuvenating evening.
By WALLACE IMMEN