Baked Alaska Makes a Comeback in Carnival's Culinary Revamp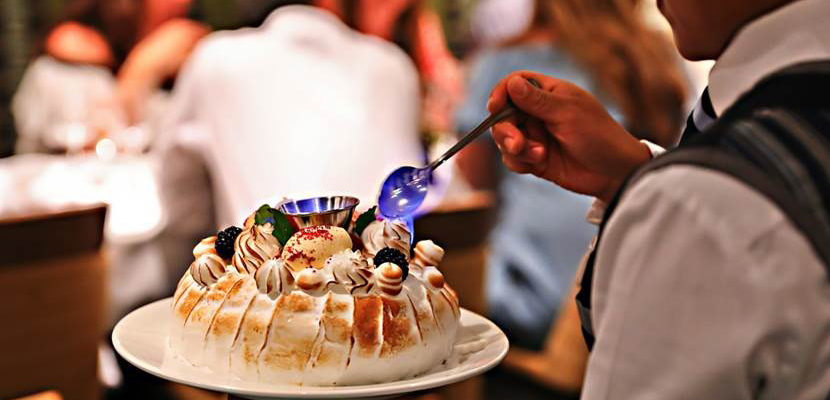 The lights dim, the music amps up and everyone applauds as a parade of waiters and waitresses holding flaming platters of baked Alaskas winds its way around the dining room on the last night of the cruise.
It's a tradition that goes way back in cruising, yet it's all but disappeared on most cruise lines, mostly due to tighter rules about open flames on ships. But the festive event is making a happy comeback as Carnival Cruise Line updates its culinary offerings.
The new version will have the ice cream, cake and merangue, topped with a medley of fruits and a dab of flaming brandy for effect.
And this is only a taste of a revamp of culinary offerings to keep dining fresh and exciting for its guests, Carnival says. Menus are being revamped across the fleet for main dining rooms as well as specialty steakhouses, the Cucina del Capitano family-style Italian restaurants, and delis.
The new menu items reflect changing tastes and trends toward lighter ingredients, updated preparation techniques and more elaborate presentation. For instance, the steakhouse menu of USDA prime steaks will now include an A-5 Wagyu steak and lighter fare like farmhouse chicken with roasted honey vinegar and Dover sole pan-seared with lemon potato-mousseline and shallot emulsion. Seven ships will have the new menus by early 2018.
Carnival is also re-branding its 24-hour pizzerias to Pizzeria del Capitano, offering five kinds of hand-tossed, thin-crusted pies – from Margherita and pepperoni to artisan-style quattro formaggio, mushroom, and prosciutto. The re-branded delis and pizzerias will be incorporated into additional vessels during scheduled dry docks.
With the popularity of Seafood Shack, which debuted on Carnival Vista, offering lobster rolls, fried clams, chowder and other New England-inspired fare, the concept has been expanded to nine additional ships.
You'll have to be in one of the main dining rooms on the final night out to cheer on the baked Alaskas, though.
The secret of Baked Alaska
Charles Ranhofer, chef at the well-known Delmonico's restaurant in New York, created a new cake to celebrate the United States' purchase of Alaska from the Russians in 1867. For some reason, he first called it Alaska-Florida Cake, but on menus it became Baked Alaska. It was a spectacular cake, topped with solidly frozen ice cream, completely enveloped in meringue, then browned and served still warm from the oven.
The key to success for this recipe is to keep the ice cream as cold as possible and turn up the oven as high as it will go. The merengue outside insulates the ice cream inside.
The dessert became a point of pride for ships that were installing newly developed freezers in the early twentieth century and Hamburg-America Line made a parade of singing waiters holding trays of the frozen treat a part of the farewell traditions on ocean crossings as early as 1905.