Behind the Scenes: 5 Factors that Put Regent's Voyager over the Top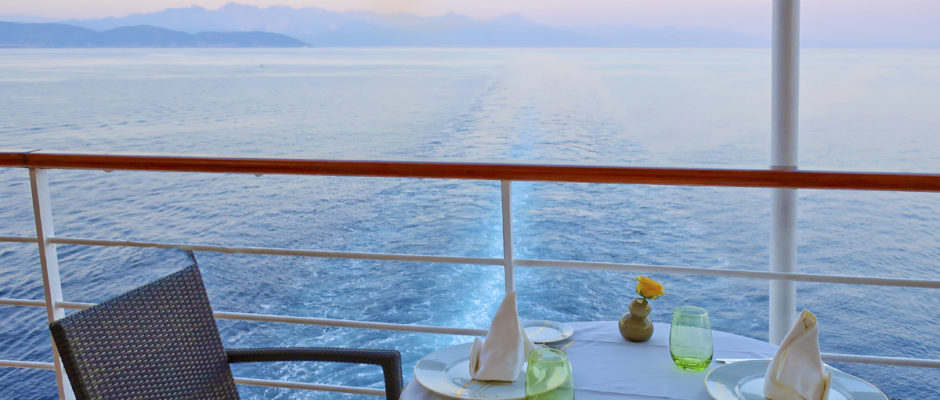 There's nothing new in layer cakes. Or is there? We've all had them and two, three or even five layers make for a tall and appealing treat. So how do you top that?
On Regent Seven Seas Voyager, the sky's the limit. To cap a meal in the ship's newly added Chartreuse dining room, the cake on the dessert menu is a "can you beat this?" 14-layers tall. Not only that, each layer of rich chocolate cake is divided by lines of buttery dark chocolate icing and it's served with a sauce of pistachio cream alongside. Fortunately, dramatic as it may be, a slice is still small enough that you feel comfortable indulging in the whole experience.
It's the kind of innovative effort to go one step further that makes a cruise on Seven Seas Voyager so appealing. A look behind the scenes during a  recent Mediterranean cruise demonstrated the continual refinement that makes a good ship even better:
1) A smooth-running team
Regent Seven Seas Cruises is investing $125-million in a complete rebuilding of its fleet. For Voyager that meant a 25-day stem to stern renovation that completely redid the décor and changed out the restaurants in new furnishings. But the process of renewal is a daily business.
With one of the cruise industry's highest percentage of repeat guests, it's important that Regent continually improve the offerings to keep the experience fresh, said general manager Davor Josipovic on a tour behind the scenes during a recent Mediterranean cruise. Many of the crew have been with the company since the company began 25 years ago, and they're like an extended family. Because this is their home, they want to make it run as smoothly as possible. So there are daily staff meetings to set schedules and ensure that any issues are worked out and regular social events where they can relax.
2) Making the guests part of the family
It's called the block party and it happens on the first evening of the cruise to ensure that guests get acquainted. The ships bartenders load up carts and head for the corridors. When a chine rings at 6 p.m., the guests are encouraged to head out into the hall with a cocktail glass in hand.
The neighborhood block party started out on Regent's world cruises as a way of introducing new guests doing segments of the world circuit to those who were already on the ship for the full circuit. Now it's a tradition on board and it's surprising that other lines haven't adopted it as well.
The party is a great ice breaker and it works perfectly on a ship as intimate at the 700-guest Voyager, where the corridors have only dozens, rather than hundreds of suites. And it's simple on Regent, because with all drinks included you can get just about any tipple want to get the evening started.
3) Making it continually memorable
The attention to detail is meticulous. Noticing that my wife and I were both wearing black, the waiter on our evening in the Chartreuse alternative restaurant discreetly swapped out the white napkins on the table with black ones to co-ordinate with our outfits.
In the evening, what is the lunch buffet zone on the lido deck by day is completely transformed into Sette Mare, a restaurant you could believe is a gem you'd find ashore in Italy, especially if you're lucky enough to snag a table on the rear verandah on a warm evening.
Still, every dinner in the main Compass Rose restaurant is also an event. The gorgeous Versace charger plates are made exclusively for Regent and it's a shame that they disappear as soon as you order. But the table service and plates used for the courses are stunning as well.
4) A galley that keeps creating pleasant surprises
On a tour of the vast stainless steel corridors of the galley, I learned there are 66 chefs and eight sous chefs and 10 pastry chefs preparing meals for the 700 on board. This is a hotel as sea, that has to face an issue that hotels on land don't face: if you run out of something you can't just sent someone out to a store to pick it up. That means they bring on fresh produce whenever they have a chance at local markets and keeping hands in the galley busy constantly experimenting with new dishes with the local fare.
While there are weeks of menu options in the menu books, so they don't repeat on even a long cruise, there are always new twists. Even for something as simple as the salad bar on the lido deck, there are elaborate daily concoctions of veggies that are worthy of a meal in themselves. There are specialties like Alaska king crab, local mussels or fresh fois gras at lunch.
In the evening at Compass Rose the menu choices among chef's daily special entrees can reach double digits. That's not counting a left side selection of entrees available daily that on most ships might only be on offer at the grand captain's dinner. Lobster, no problem, prime beef, any time, and if you're really peckish, make that surf and turf. But really, with such a wide selection of chef's specials nightly, why would you stick to the tried and true?
5) Comprehensive complimentary cellars
A selection of well-selected wines were available each night and there are more choices nightly than I've found on other lines. On this Mediterranean voyage, at every meal there were always half a dozen whites and three different rosés and Champagnes on ice and a range of a dozen reds ready to serve. It gave me the opportunity to get acquainted with wines I'd overlooked in the past not only from California and Europe but Argentina and South Africa. They're mostly all included in the fare, although there is always a premium wine list if you want to upscale the selection for a special occasion.
The results of all this teamwork are daily experiences that will remain as pleasant memories long after the cruise.