Bergen vs. Stavanger: Which Has the Edge as a Cruise Port to Explore?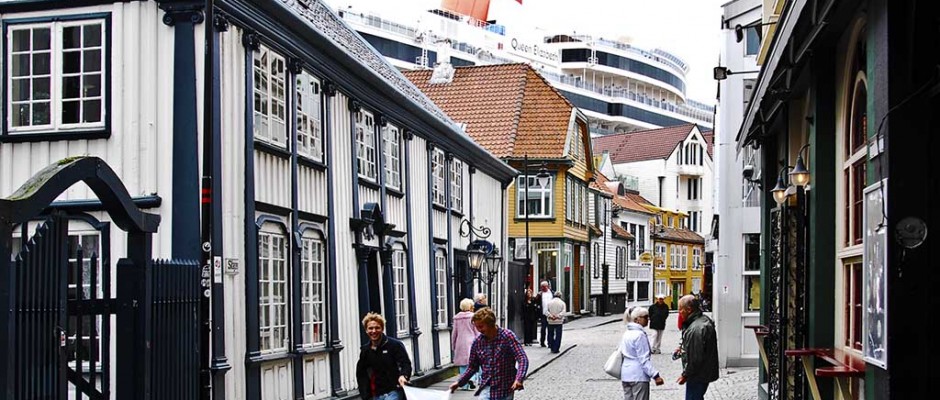 I guess necessity and thrift were what drove Norwegians to build their houses out of wood and sod in a climate that faced incredibly cold, dark winters. Stone and brick were too expensive for home building in earlier centuries, when the economy was based on catching and drying fish. Even imported paint was beyond the budget of the average Norwegian homeowner or shopkeeper.
But they made a virtue out of building in wood in coastal towns like Bergen and Stavanger, where stylish homes and elegantly decorated shops huddled together around sheltered harbors.
Things might look a lot different if the towns were being built today. The cities now rank among the world's most expensive to live– in large part due to the high wages generated by the oil industry and tourism. But the scene that cruise visitors see from the decks of their ships  is very much unchanged from simpler times.
On Seabourn Sojourn we visited Bergen and Stavanger on successive days of a two-week cruise along Norway's west coast. Not having visited either one before I had a preconception that I'd love Bergen but I wasn't really expecting much of Stavanger, which in the past 20 years has become the boom town of the North Sea oil industry. I imagined it to be a rough and ready port of supply ships and storehouses of parts for oil rigs.
In fact my imagination had led me completely astray. I found both towns full of fascinating streets to explore and not only well preserved but thriving.
But what if there were a choice of itineraries that included only one or the other? Which should you choose?

BERGEN
The pier where cruise ships dock is very busy and commercial and it's a fair hike just to get to the gate that opens on the road around the harbor. The main tourist areas are a few blocks walk away from there and many visitors opt to take a tour by bus or sightseeing train.
Most fascinating is the Bryggen row of wooden stores along the harbor dating back 900 years, with rambling narrow laneways and board sidewalks behind the main street facades. Trouble is that when I was there the crowds were so thick I could hardly elbow my way through the tight passages.
The large number of  substantial stone and brick buildings attest to the fact that Bergen was a wealthy trading port while much of the rest of Norway was rural and poor.
The fish market at the end of the harbor doesn't actually see that many commercial trawlers any more. It wasn't  quite the scene of unloading and selling the catch of the day that I expected.
The people who shop here these days are most often tourists looking to buy a jar of caviar or sealed package of smoked fish to carry back home rather than a fresh flounder to cook for dinner. There are some nice displays of crab legs and kiosks that sell the catch of the day, although a humble plate of fish and chips can set you back about $25.
There are interesting shops selling furs and house wares along the harbor as well. But again, the prices make them more interesting for browsing than buying.
Some signs capture the irony and say they'll take gold or diamonds in addition to credit cards and cash.
STAVANGER
When you get off a cruise ship here, you're right in the middle of the old town, buildings from the 18th and 19th centuries include a number of stores and banks right near the port that are built in brick, but again the material of choice was wood. A nice touch is that the narrow inner streets are off limits to anything but local traffic, so it's easy to stroll and window shop without the distractions of noise and parked cars.
It struck me immediately is that this is a mecca for artists. Even the graffiti is artistic. On an otherwise barren wall you may find a Mona Lisa. The city whose wooden facades were once famous for being uniformly white now sport a rainbow of colors. And many street corners feature full- size sculptures in bronze or wood.
I certainly found the displays in many of the stores artistic. In one clothing store they had a brand new tractor in the window advertising blue jeans. Even if I was suffering sticker shock, I was tempted to buy a pair.
Because this is not only headquarters for the oil companies but also a warfare training center for NATO, there are protesters as well. Amid the offices and stores on main streets are storefronts for Greenpeace and anti-war groups.
In both of the cities you'll see something you hardly see in many big European cities these days: lots of young kids playing and moms pushing baby carriages. Families posted here on big oil company salaries can afford to raise several and there are generous government day care allowances and paternity and maternity leaves.
If you have a choice of one or the other for a walking tour, my recommendation would be Stavanger. You can easily see it in a few hours and still have time for a shore excursion further afield on the other half of the day.