Big Gaps in the Caribbean Cruise Map as Islands Face a Long Recovery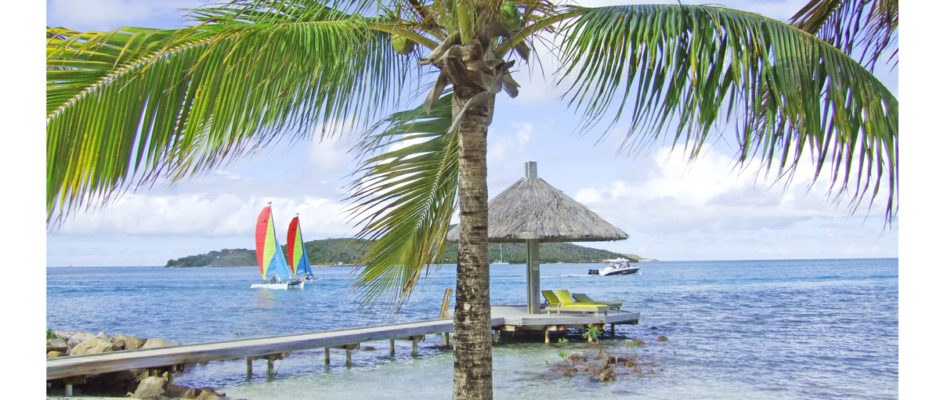 This is your captain speaking from the bridge: 'I know many of you were looking forward to a week of fun in the sun on stops including  St. Thomas and St. Maarten. Unfortunately, those ports are closed  because of the train of hurricanes that's churned through the Caribbean this year.
Our shore specialists have been working day and night trying to reschedule our itineraries. A great advantage of a cruise ship is that we can avoid storms and change island destinations, something that resorts on land can't do.
Meanwhile the pool bars are open and the ship's restaurants are well supplied as we chart a new course. And, fingers crossed, the worst of the weather is behind us….'
Here's a snapshot of the ever-shifting map of islands that may be off the Caribbean itineraries for the foreseeable future:
Wounded but recovering
Key West, Florida
The port has reopened and Fantasy Fest went on as scheduled, despite smaller than usual crowds. The Conch Republic's recovery has been quicker than anticipated from the heavy damage of Hurricane Irma. Most cruises that had given it a pass in September in favor of an extra day at sea are returning.
Some attractions and restaurants remain closed and damaged store windows are still being replaced and a lot of damage still needs to be  repaired, but the road to the Keys is open and supplies of food and drinks are reported to be ample. Limes for margaritas remain at a premium, though, as at least half of Florida's citrus crop was wiped out by the hurricane.
Down for the count
San Juan, Puerto Rico
The port itself was not significantly damaged but the horrendous damage to the island from the storm will linger for months.  The government reports that San Juan's airport has resumed full operation, but  Westjet and Air Canada are among airlines that have cancelled regular flights to Puerto Rico. Much of the island is still without electrical power and less than half of telecommunications and cellphone service has been restored.
The port currently is busy as a staging area for relief supplies, food and fuel. Several cruise itineraries that included San Juan have been altered to avoid Puerto Rico.
In a conference call Oct. 11, Royal Caribbean International's President & CEO, Michael Bayley said he and a team from the cruise line were encouraged by  recovery efforts in Puerto Rico. On Nov. 30, Freedom of the Seas will be the first ship in the fleet to call on San Juan, Puerto Rico, arriving with approximately 3,782 visitors. Grandeur of the Seas will follow suit on Dec. 17 as the first cruise ship to sail into, St. Maarten since Royal Caribbean's Majesty of the Seas arrived to provide humanitarian relief last month.
Carnival Corp. president and CEO Arnold Donald said Carnival believes Old San Juan is ready to receive tourists and visits to San Juan will resume November 30 beginning with Carnival Conquest. However, scheduled cruises of Carnival Fascination using San Juan as a home port have been cancelled until February 18, 2018 because the ship has been chartered for relief efforts.
British Virgin Islands
Tortola Pier Park's cruise and shopping facility is planning to reopen, but only about half of the retail and food and beverage stores will be operating, according to Mark Vanterpool, the minister of communications and works.
Norwegian Cruise Line has cancelled all of its planned cruises there. MSC Cruises has replaced the island on its itineraries with a port stop in the Dominican Republic. Smaller cruise lines like SeaDream Yacht Club and Star Clippers are keeping an eye on recovery and still planning on visiting the island in December and January.
Commercial flights have resumed. Many of the landside accommodations remain closed but yacht charter operations will reopen for the winter season. Many of their boats were damaged and they're bringing in new yachts. The annual BVI Sailing Regatta in March is still scheduled. .Dive BVI is also planning to resume operation.
A majority of the hotels in the territory are currently closed and many homes were destroyed or are without roofs and water supplies.  There was also heavy damage on popular cruise tour destinations, Virgin Gorda and  Jost Van Dyke and Anegada,  where  restaurants and bars are working hard to reopen for New Year's celebrations, the government says.
Barbuda (but not Antigua)
Antigua's small sister island suffered catastrophic damage from a direct hit by Irma, with 90 per cent of homes and all hotels on Barbuda reportedly destroyed. All 1,800 residents have been removed from the island. Low Bay port is closed indefinitely. Only SeaDream had Barbuda on its itineraries for 2018.
Meanwhile, the good news is Antigua itself escaped major damage and the port and hotels are still operating.
St. Barthelemy
The hedonists and sybarites who normally flock to the French island in the winter are likely destined to flock somewhere else this year. Tony resorts like the Eden Roc and Hotel Le Toiny have no reopening dates set. Le Guanahani will not be reopening until summer, 2018.
Roadways have been cleared, water production has resumed and electricity has been restored, but Gustavia, St. Bart's port with its many high-end shops was severely damaged and the harbor is currently only open to relief efforts. Silversea Cruises and Seabourn Cruises are considering alternatives to the island for planned calls this fall.
Philipsburg (St. Maarten) and Marigot (St. Martin)
Both the Dutch and French sides of the island were severely battered by Hurricane Irma and the ports remain closed to cruise business. Royal Caribbean's scheduled visits to St. Maarten will operate as planned starting on Dec. 17 with the exception of Oasis of the Seas, which will make its first call to the island on January 1 during her New Year's Eve cruise.  Carnival will resume visiting the island on  January 15 beginning with Carnival Sunshine. MSC Cruises is replacing calls in St. Maarten on itineraries with St. Kitts. Windstar Cruises has announced it is switching homeport for its cruises from Philipsburg to Bridgetown, Barbados.
The Princess Juliana Airport has reopend for daytime flights but was so devastated it may not be in full operation until the summer of 2018, aviation minister Mellissa Arrindell-Doncher told The Daily Herald. Land-based resorts were badly damaged and many hotels have canceled all reservations on the island through the remainder of 2017.  The hardest hit was the Sonesta, which is planning to refund deposits through next March.
On the French side, some hotels have already said they will not reopen this winter.
Anguilla
Phone and internet communications have been restored to most parts of the island and roads and beaches have been cleared.  The island's Chief Minister reports that recovery is exceeding expectations and the island will be ready to welcome visitors for the Christmas season. The terminal at Blowing Point was so badly damaged it must be demolished and a new dock will be built.  The island still remains on cruise itineraries, but few ships are scheduled to call at the island until the winter. Many villas and guest houses are still housing relief workers but say they will be ready to welcome guests for the holiday  season. Many of the luxury hotels won't open until the new year, including the Four Seasons Resort & Residences, which will stay closed until April.  CuisinArt Golf Resort & Spa needs so much restoration it doesn't plan to reopen until June, but the Reef by CuisinArt will open in April.
St. Thomas
Ports in St. Thomas and St. John are open, but currently being used for relief efforts. More than half of homes are still without power and the goal is to have power restored to more than 90 per cent of homes and businesses in the USVI before Christmas, the government says. Royal Caribbean said in a statement it  is partnering  with the U.S. Virgin Islands to restore  Magens Bay, before the Adventure of the Seas returns to the island. Damage to hotels has been severe and most hotels, including Ritz-Carlton, St Thomas and Frenchman's Reef & Morning Star Marriott Beach Resort are closed until further notice.
Because of the lack of accommodations in the Virgin Islands, the U.S. Federal Emergency Management Agency has chartered the Carnival Fascination for housing relief workers through February, 2018. Guest booked on  Fascination cruises for the next four months will receive refunds.
Carnival Cruise Lines  will resume visits to St. Thomas January 9 beginning with Carnival Glory. Royal Caribbean's Adventure of the Seas will be the first ship to make a port call on St. Thomas on Nov. 10.
St. Croix
This U.S. Virgin Island became to go-to port after St. Thomas was slammed by Irma, but was heavily damaged by Maria. Royal Caribbean is planning  to return to St. Croix on January 8 with the arrival of Jewel of the Seas, which will sail from San Juan.
St. Croix's deep water cruise ship facility withstood the wind and storm surge from Hurricane Maria, according to U.S. Virgin Islands Gov. Kenneth Mapp.  He declared Nov. 11  the official date on which the territory will reopen for cruise traffic and that St. Croix expects to receive at least 90 calls for the winter season.
Dominica
The island has faced severe damage from both Hurricanes Irma and Maria and the port of Roseau is not expected to reopen anytime soon. However,  ferry company L'Express Des Iles has resumed service between Dominica and Saint Lucia.
While main roads have been cleared, access roads to natural areas were damaged and remain closed. The government reports about half of the total number of  guest rooms on the island have been heavily damaged or destroyed. Eighteen guest houses report they will be able to reopen by the end of 2017, but with limited amenities. Soft corals and sponges on reefs were damaged and diving will not be resumed on a limited basis until January. Many of the wooden colonial buildings in the capital were levelled, but power is being restored slowly.
Grand Turk, Turks & Caicos Islands
Damage on the low lying island was severe, but water and power have been restored in Providenciales, North & Middle Caicos and South Caicos and a number of hotels have reopened. Carnival Corp. said it is still assessing when it can return to the port and has replaced upcoming calls with the line's private port, Amber Cove.  Carnival Sensation has been diverted to call at Freeport, Bahamas.
Guadeloupe
The French Government is still tallying the damage caused by rain and winds that also lashed Martinique. Serious flooding and fallen trees left Guadeloupe without power and destroyed sections of roads. The storm also battered three islands to the south that are popular with yacht cruises: Les Saintes, La Désirade and Marie-Galante. 
Business as (sort of) usual
Havana
Cruises scheduled to stop in Cuba, including ships of Royal Caribbean and Norwegian, are visiting as usual. The Cuba Tourism Board reports that all tourist areas have been restored to welcome tourists for the winter season. Havana's sea wall sustained significant damage but the colonial city and tourist attractions were unaffected.
Varadero,  Cayo Coco, Santiago de Cuba  and Camaguey are back in full operation. Holguin suffered property damage, but that has been repaired, the Tourism Board reports.  Cayo Santa Maria actually reports an increase in the white sand and dunes on its beaches because of the storm.
Dominican Republic
The ports of the Dominican Republic and most hotels reported only minor damage. Cruise ships resumed sailing to Amber Cove shortly after Irma gave the island a glancing blow. Punta Cana International Airport reports  normal operations.
St. Kitts and Nevis
The Port Zante cruise pier in Basseterre did not sustain damage and all hotels in St. Kitts report being up and running. The port of Charlestown as well as the Four Seasons Resort on Nevis are also reported back to normal.
Haiti (Labadee Private Island)
Haiti was relatively undamaged by Irma. All services supposedly remain in operation. However, Royal Caribbean's Harmony of the Seas and Oasis of the Seas have swapped out Costa Maya for Labadee, the line's private island, until further notice.
Bahamas private islands
Half Moon Cay and Princess Cay, both ports operated by Carnival Corp., were evacuated during both hurricanes. Half Moon Cay, sustained some damage from Irene and Carnival ships dropped the stop in favor of a "Fun Day" at sea. Carnival and Holland America now say the islands are back in full operation and will be on future itineraries.
This story updated Nov. 16 will be refreshed as  the latest information becomes available.