Camels and a Profusion of Colors on the Road to Marrakesh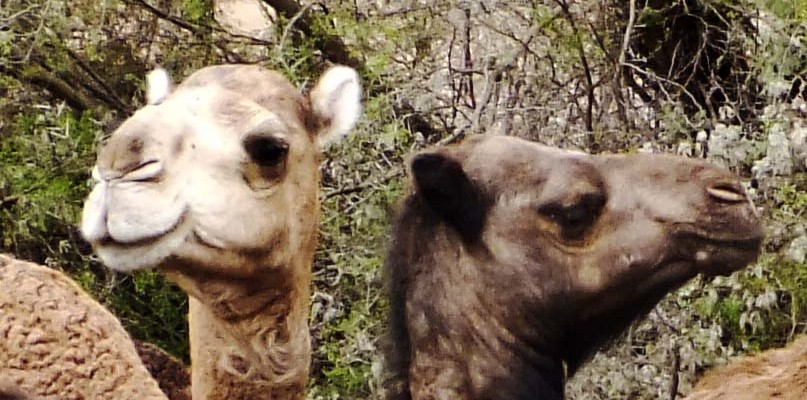 They've got big eyes, furry ears and goofy, toothy grins– and they had us surrounded on the road in Morocco.
It had hardly been the Marrakesh Express since we left Crystal Cruises' Crystal Serenity on the two-lane blacktop road from Agadir to the remarkable walled city of Taroudant. But our bus ground to a total halt as the lumbering camels completely blocked the route.
It's a normal road hazard in Morocco, the guide said.  The herd was being moved to a new location by the nomads who own them, but the slightly loopy-looking group of two dozen one-humped beasts known in Africa as dromedaries had minds of their own.
They're big—and cute. Most of them were tall enough to peek into the bus windows, which we kept closed because the guide cautioned us that while the camels are friendly, they could mistake a hand holding a camera for their lunch.  It was clear they were mostly curious, especially the gawky babies with their innocent eyes and long fluttery lashes.
They gave us another show walking back in front of the bus and along the other side as though they were showing off for the admiring crowd.
Finally back on the move, we passed sandy fields where an occasional scrubby looking tree was surrounded by goats that seemed to be trying to climb onto the branches. They're argan trees and their nuts—the ones the goats don't get first–are the source of expensive cosmetic oil, as we'll discover later.
Arriving at the ancient walls of the desert city of Taroudant we immediately experienced a rush of colors. With everything so uniformly beige in the Sahara desert, people have learned to add brilliant hues to what they wear and how they move around.
The women wore gowns in a vivid rainbow of bright colors. Horse-drawn carriages that are the local taxis and delivery trucks come in brilliant shades of green, lemon or tangerine. And everywhere there were vendors with push carts loaded with succulent, ripe fresh fruits.
Unlike fabled Marrakesh, which is about 160 miles north of here, most of Taroudant is still within the original walls built in the 1520s and the crowded souks with stores that literally deal in trash as well as treasures are wonders to behold.
In the squares near the souk, story tellers, magicians and jugglers presented lively shows for crowds of locals who haven't been jaded by television and video games.  I didn't have to understand the local language to appreciate the patter that drew laughs and cheers from the appreciative onlookers while the performers did their tricks and tossed coins into a cup.
And no Moroccan town square is complete without snake charmers who literally dare nasty looking reptiles to bite their tongues. I always keep a few coins handy to toss in their baskets for their efforts to entertain.
Then we wandered into the narrow commercial lanes, that started with stands filled with fruits and vegetables and displays of spices and progressed into covered inner courtyards where shops sell the colorful robes and pointed shoes that might be all the vogue in the desert, but really wouldn't work if worn anywhere else.
The visit ended at an argan oil workshop where groups of women were spinning grinding wheels that press the oil out of reddish brown argan nuts.   (You'll be happy to learn that it's a myth that the argan nuts have to be digested by a goat before they have the essence needed to make cosmetics.)
If you check the price of argan oil in a local store before you travel, you'll realize that the prices for the oils here are very reasonable. We bought bottles to bring back as presents and for our own skin care.
What struck me continually on my day in Taroudant, is that there was less of a self-consciousness about being a tourist here than in other cities I've visited in Morocco. Unlike in Casablanca or in Marrakesh, where touts will relentlessly follow around visitors to get them to buy something, it was all low key here  The shop keepers seemed happy to let us browse around their stores and didn't try to give us hard sells. Some of the street vendors even mugged for our cameras.
I  grabbed a  brochure for the quaint  local hotel we stopped at for tea before hitting the highway back to the Crystal Serenity.
A day in Taroudant is a genuine experience of the traditional Morocco and I'm tempted to book a longer stay here in the near future.