Can Seabourn Sojourn Still Claim to be a Personal Yacht at Heart?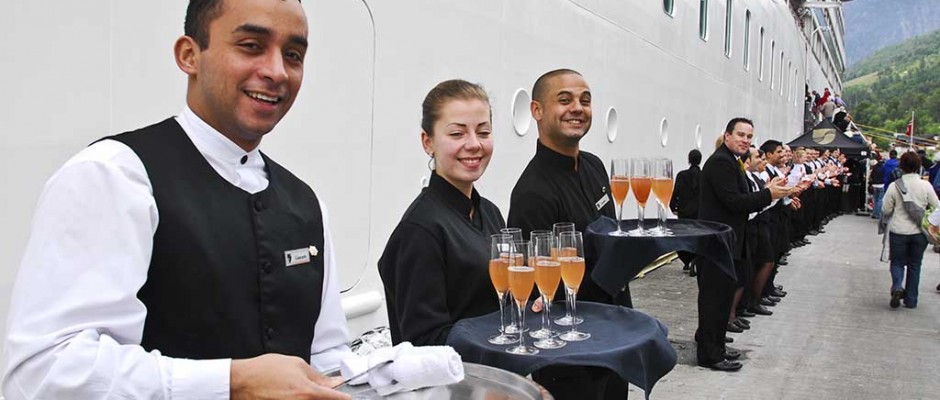 When we arrive at the ship there's a gauntlet to pass before we get to the gangway.
More than a hundred of Seabourn Sojourn's crew, from waiters to chefs to deck hands to office staff, are lined up along the dock to welcome us back from a day-long shore excursion.
The crew was cheering and applauding. They were greeting passengers by name, with handshakes or high fives. It really was a homecoming for many of the passengers who have sailed with some of these crew members on past voyages.
I've experienced crew "welcome back home" events on other luxury cruise lines, but Sojourn's has a special, heartfelt quality.
I've felt the same spirit on past cruises on Seabourn Cruise Line's smaller ships, which really are yachts at heart. They carry just 200 passengers and in the course of a week on board you get to interact with most of the passengers and crew.
Sojourn's welcome home banner still has a logo that reads "The Yachts of Seabourn," a slogan Seabourn phased out as Sojourn and two sister ships that carry 450 passengers joined the fleet.
Hotel manager Hubert Buelacher explained that as the ships grew to 11 decks high–as tall as a lot of ships that carry 2,000 passengers or more–it didn't quite seem appropriate to call them yachts any more. In many ways, though, I found Sojourn can still make the claim to being a private cruising yacht rather than a full-scale cruise ship.
Yes, there were times when the ship did feel large. Even a week into the cruise there were times I found it difficult to remember where the gangway was located or which elevator to take to get to the top deck observation lounge.
But there were design touches that made it feel very yacht-like.
A very successful innovation is the Seabourn Square, which combines functions that otherwise would be scattered in separate rooms all over the ship into one centrally located space. It's got the coffee bar, the front desk, the well-stocked library, the internet cafe, the game room, an observation deck and the future cruise sales office all in one location on Deck 7. That makes it a great place to lounge, read or meet friends before you head out on shore excursions.
The design of my staterooms with its polished wood cabinetry and copious use of marble, its vast walk in closet and lots of drawer space was definitely the way I'd like to have my personal yacht finished.
There's an ever-present feeling that the crew is really part of your extended family. There's no stuffiness, they make the effort to get to know you and your tastes.
I always wonder if there's some kind of bulletin board, or maybe computer screens under the counters with the photos of all the guests and notes about their personal preferences. They're so good about remembering your name and your favorite drink or snack they might just as well be your own crew.
And there were personal touches I've never seen on any other cruise.
One morning walking to breakfast I was happy to find attendants from the spa waiting on deck and urging me to have a "Massage Moment" (a feature so unique to Sebourn that it's trademarked). A nice neck and back massage for about five minutes is free of charge. Of course it's tactful advertising, because I was thinking the whole time how amazing  it would be to have the full treatment in the spa–which comes at an additional fee.
One guest summed up the experience on Sojourn very well: "I like it because there's just more of everything and I like that. I've been on the smaller ships and I wouldn't want to go on any ship that's bigger than this."
Seabourn's policy is "no tipping required or expected' but despite that I happily gave several of the crew little something extra for making me feel as though it was my own personal yacht. I'm expecting many of them will be on board to welcome me home next time I sail on Seabourn.