Capping the Top 10 Cuisine Awards, Silversea Takes Best in Show Trophy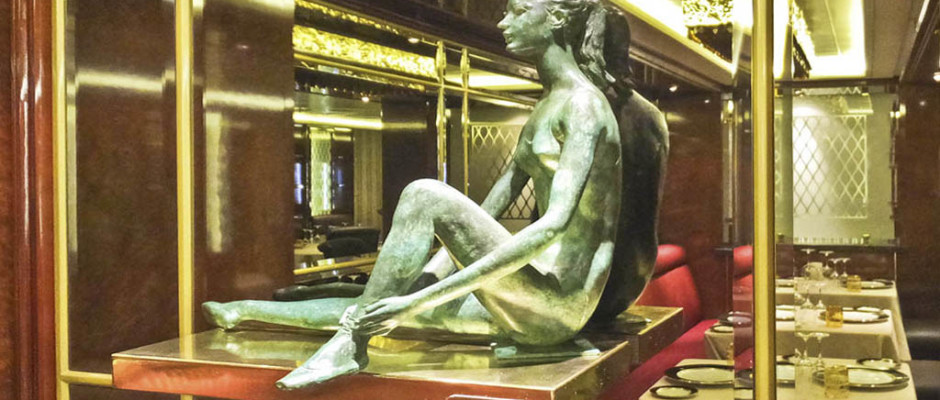 Drum roll please.
When we recently announced the choices for The Cruisington Times Top 10 Cuisine Experiences at Sea, there were conspicuously only nine selections on the roster.  That's because we had a tie for  restaurants on one particular line.
So now we round out the list with Silversea Cruises and award it the title of Best Over-all Dining at Sea.
The choice is not only for specialty restaurants but also the main Restaurant, thanks to Silversea's long relationship with the Relais & Chateaux global association, that holds gourmet restaurants and boutique hotels to exacting standards.
We've also got honorable mentions on other popular cruise lines.
But first, here's a quick rundown of why Silversea's a champion:
Le Champagne
The ultimate choice for a special night out on all of Silversea ships, Le Champagne is a tucked away 24-seat restaurant with a vast wine cellar and cuisine prepared in partnership with the Relais & Chateaux cooking school. The six or seven-course meals feature ingredients like truffles, fois gras and caviar and inventive entrée choices like  New England venison and breast of fresh pigeon.
A caveat: with so few tables available there's a risk you'll be shut out unless you make reservations at Le Champagne in advance of the cruise.
A dining fee of $40 a person applies with the house pours. Premium wine pairings with each course of a menu degustation ups the charge to  $200 a guest. There's also a serious wine list– including many grand crus and rare Champagnes from Silversea's extensive cellar–at serious prices if you want to really splurge.
Seishin
Taking its name from the Japanese word for "spirit", the Asian fusion restaurant on Silver Spirit features regional dishes from Japan, China, Thailand, Vietnam and India prepared from authentic ingredients ranging from Kobe beef to flying fish roe and spider lobster. It's all prepared at a central counter in the restaurant that accommodates only 24, so reservations are definitely required.
A four-course meal is $40. Reservations are essential.
Stars Supper Club
The art-deco décor of this restaurant that's currently only on Silver Spirit is reminiscent of a 1930s supper club , but the menu is contemporary with seasonal dishes from five continents. Live jazz begins with dinner, and dancing lasts well into the night. Reservations are required.
Passengers not dining in Stars but wanting to enjoy the entertainment following dinner can check in with the maître d' for seating.
But every evening can be a discovery in all of Silversea's included restaurants as well.
The Restaurant
Dinner menus in the open-seating dining room include selected evening specialties inspired by Relais & Chateaux Grand Chefs. Menu choices could include filet mignon with foie gras-poached potatoes and shallot jam, a layered partridge tart with Rouennaise sauce, or wild boar ragout with porcini mushrooms. The décor is elegant and there are plenty of tables for two, along with larger tables that make impromptu dinner parties simple to arrange. Choices of wines from around the world are complimentary
La Terrazza
In the evening, indoor/outdoor lunch buffet area La Terrazza is transformed into an Italian restaurant featuring regional "slow food" menus with locally grown sustainable and fresh ingredients. Complimentary wine pairings are recommended for each course. It's popular and attendance is limited to keep up the quality, so reservations are required.
Honorable Mentions
Of course a Top 10 list is always destined to leave someone out and our reader poll also had nominations for restaurants on other lines. There are several other memorable experiences at sea to note:
Royal Caribbean
150 Central Park
The most upscale specialty restaurant on Oasis of the Seas and sister ship Allure of the Seas. It has an inventive six-course dinner menu developed by Michael Schwartz, James Beard Award-winning chef Michael Schwartz of Michael's Genuine Food & Drink in Miami. On a seven-night cruise, the menu changes twice.
The cover charge is $40, with wine pairings available for an extra $75.
Chef's Table
This special six-course dinner, complete with wine pairings, is held twice per cruise on the Oasis and  Allure. Only 14 passengers can go dine  at each seating, so bookings go fast even at a $90 a head fee. Passengers meet in the Champagne Bar for a drink and then go up to a special table set up in the Suite Lounge.
Norwegian Cruise Line
Chef's Table
Foodies on Norwegian Breakaway class ships will want to check out the specialty Chef's Table, a nine-course meal offered on select nights in the Haven Restaurant. The experience includes a glass of Champagne and two glasses of wine, paired with the courses. You also get to meet the chef and tour the galley. The dinners are only held once or twice during a cruise, and they fill up quickly, even with a charge of $99 a guest.
Cunard Line
One to watch for the coming year is Cunard Line's planned launch of a new The Verandah on its flagship Queen Mary 2. A significant refit in June 2016 will see the restaurant that resembles a private club featuring French regional cooking replace the Todd English restaurant. It's named for the first class Verandah Grill that was introduced on the original Queen Mary in 1936.
Here's to memorable dining in 2016.