Carnival Breeze Discovers Antigua, Where the 21st Century Hits a Time Warp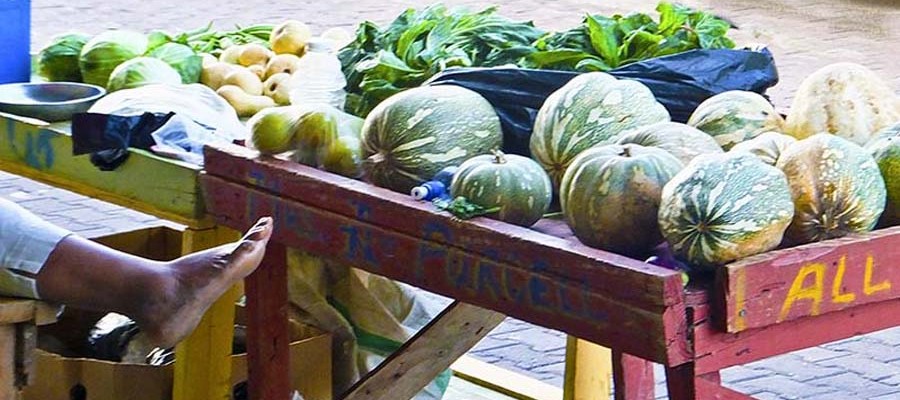 As Carnival Breeze landed on the island of Antigua, it seemed a lot of locals had lined up for the ship's maiden  call on the island.
But it turned out the commotion wasn't for us. The island's first Burger King fast food restaurant had opened in a historic building in the colonial town and they were giving out free samples. But the line out the front door was a sign of the changes coming to Antigua's otherwise unspoiled capital St. John's.
It's a sleepy town of 30,000 that until the cruise dock was built had few visitors other than coastal freighters and fishing boats and had restaurants offering soups and stews and fried fish. Now that two ships carrying thousands of passengers at a time can visit at once there's a change happening.
But so far, progress has been controlled. A block of high-end stores has developed right at the edge of the port that offer the designer sunglasses, cosmetics and duty-free alcohol that visitors expect but the shopping mall ends at an iron gateway to the main street of the old town. It's as though there is a dividing line between the new development and the old colonial city–where life goes on much as it has in Antigua for 200 years.
With so many signals of rapid change coming, I made having a walk through the town a priority on our day on the island.
Many Caribbean ports were like this just 25 years ago in my early days of cruising. Signs are hand painted by the shop owners and restaurant menus may be written on a wall or door. Store hours depend on the whims of the weather or the proprietor's need to take a kid to school.
There's probably not many clothes in the shops that an American who  has made a diet of fast food could fit into, but it's fascinating to poke through shelves of goods that may have been on sale here since the shopkeepers granddad first opened the family business in the days before chain stores and mass-produced products.
I headed down Market Street, past a row of little variety stores, clothing stores and shoe emporiums and a cab stand wth a hand written sign that read: when will I be here? Soon.
And you can't miss the monument at the end of the street: one of the most audacious statues ever built to honor a politician.
Looming over a park right outside the produce and crafts market is a statue over three storeys high honoring Vere C. Bird, the first prime minister of Antigua and its sister island Barbuda. Bouquets of flowers are added daily. And size isn't the only thing this monument  has going for it: it's painted in colors that are vivid even for this tropical town where most buildings are painted in yellows, turquoise or pink.
I spent a couple of hours exploring the town. It all seemed welcoming and safe. Everyone seems to know everyone else and the common greeting is "good day."
Everyone is extremely friendly and anxious to have you poke into their stores, but there's no aggressive hard sell. In fact, around the craft market, I found just the opposite. Many of the shop keepers were so busy making things or reading their Bibles that I had to announce myself before they described the placemats or dolls they had on sale.
At one produce stand the boy on duty was fast asleep on top of a stack of crates.
But once they came to attention they were all smiles and eager to know where I came from and where I was staying on the island. Since the island stopped growing sugar cane–which was a low-value but high cost and labor-intensive crop– it's been focusing on developing its tourism industry.
So expect the changes and tourist attracting fast food to keep coming and see St. John's while it still has its colonial charm.
I loved the hand lettered signs and I hope you'll enjoy a few on your next visit: