Carnival Sunshine's Transformation Showcases the Destiny of the Fun Ships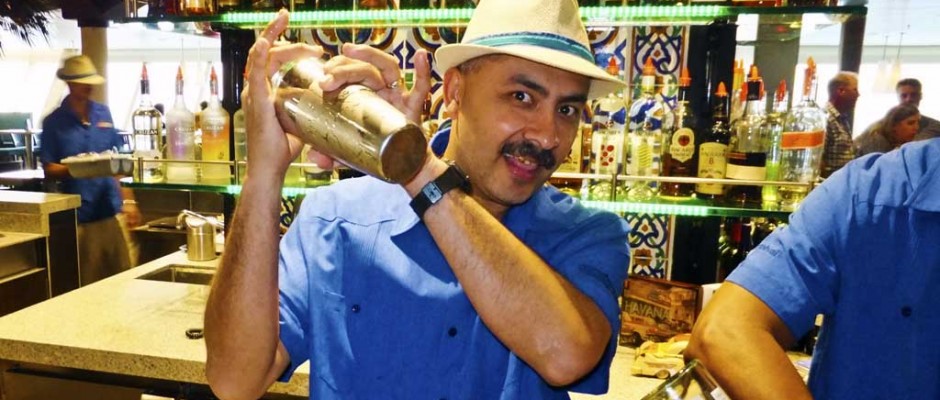 It's fitting that Carnival Cruise Lines chose its ship called Destiny as the showcase for an ambitious plan to re-engineer its Fun Ships.
"When we first decided to change the name of Carnival Destiny to Carnival Sunshine, some traditionalists were not in favor," says Gerry Cahill, Carnival's President and CEO who was sailing with us on the newly rebuilt ship.
After all, when the Destiny first came out in 1996, it made headlines for being the biggest, most audacious ship in the world and it's had a loyal following ever since.
"But we felt we're making so significant a change, we had to emphasize the fact" Cahill says.
It was a big investment. Not including the lost revenue from having the ship in dry dock for 10 weeks for the rebuilding, the company invested $155-million in the renovation.
The result was a ship that appears brand new. Virtually everything inside the former ship was replaced with more contemporary decor and furnishings and state of the art technology. Gone are the neon and flashing lights of the old public areas. In their place are sophisticated panelling, bold sculptural lighting fixtures and LED accents. Light oak trim predominates in the cabins and restaurants.
The big ship has become even bigger. An entirely new Sports deck with a Waterworks slide complex was added, along with an expanded Cloud 9 Spa and three levels of Serenity adult lounge space, the most on any Carnival ship. Two added decks of cabins have increased the capacity of the ship from 2,646 to just over 3,000 guests.
And there are lots of additional "branded experiences," New Italian and Asian restaurants have appeared in an area that was once a rear pool area . A sushi bar is coming soon. There are two new bars, a Guy's Burger Bar and Blue Iguana burrito bar on deck.
Other new bars include EA Sports Bar, Carnival's Red Frog Pub and Alchemy Bar, and a first for Carnival–a Cuban-style Havana Bar serving up Latin inspired drinks. The Piano Bar is packed at night as is the new concept Sunshine Bar in the completely rebuilt atrium lobby. Another first  on Carnival is a bar within the ship's library.
So my first impression is that this is a new ship, on a par with Carnival's most recent addition, the Carnival Breeze.
Sure, part of Carnival's strategy is to give passengers more incentive to spend money. But just as important is to create smaller spaces that spread people out around the ship so that nothing feels crowded, Cahill says.
The strategy seems to work, although I found there still is a lot of congestion in and around the pools on the deck on a warm day as we sail on very warm sunny days on this trip around the Mediterranean from Barcelona to Venice.
However, Cahilll points out that while there are 14 per cent more passengers, there are 19 per cent more deck chairs and seats for dining in the rebuilt Carnival Sunshine. There is also 25 per cent more area for kids, 32 per cent more bar stools and 58 per cent more fitness equipment in the spa.
The new Splash Zone added in a new top deck includes dual water slides called the Speedway splash where bathers can race each other to the bottom. And there's a dump bucket that creates a mighty waterfall every couple of minutes.
So what does it mean for the future of Carnival?
The Fun Ship line has already been adding  new dining and bar options on many of its ships, but in the long term it's likely to give other ships the total  and rebuild treatment that Sunshine has received .
There's already a group working on potential rebuilds of Carnival Victory and Carnival Pride. "If we can make it work financially, we believe it's the right thing to do," Cahill says.
The future depends on attracting as wide an audience as possible. Carnival actually worried that making the brand more contemporary would put off its loyal customers and might not be visually dazzling enough to attract young cruisers, but surveys found that people of all ages prefer a contemporary look and want more variety of spaces and a wide range of experiences, Cahill says.
"This represents the direction we're taking the Carnival brand."
By WALLACE IMMEN