Carnival Sunshine's Wizard of Mixology Teaches a Hands-on Course in Bar Alchemy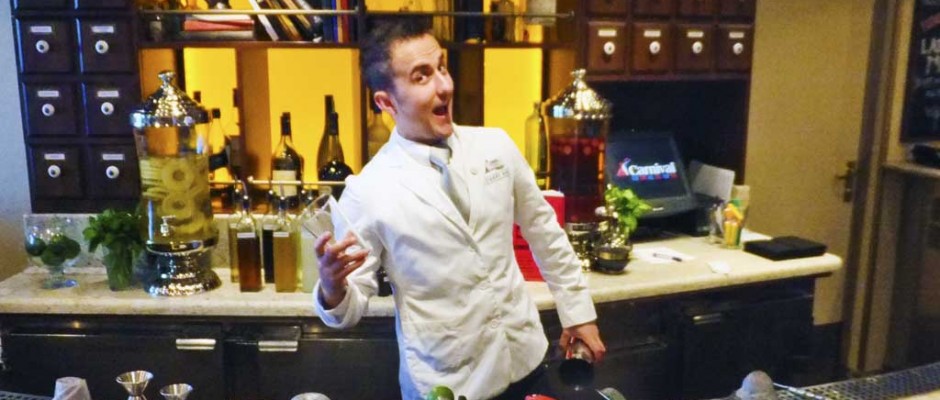 Looking to get more out of a drink than just a buzz? My friends, on Carnival Sunshine you'll get not only a lift but a show and a lesson in wizardry at the Alchemy Bar.
You're about to meet Daniel Zanoaga, a professional alchemist. When you need him, he'll appear in this alcove of Carnival Cruise Lines' newly transformed Carnival Sunshine—a space that resembles an ancient pharmacy.
His tools of wizardry are flasks, wands and shakers and fire, and his forte is mixing liquors, fruits and herbs into magical potions. They can raise your mood, set you up for seduction and either cure or make you forget whatever might ail you.
The bar is just one feature of Carnival's total rebuilding of the ship formerly known as the Carnival Destiny and it sets the tone for an ongoing transformation of the whole Fun Ships fleet.
And for one afternoon on my recent journey on Sunshine in the Mediterranean, Daniel  held an unadvertised afternoon seminar for aspiring drink alchemists at the bar.
Even though I feel pretty confident concocting cocktails at parties, I learned a lot of nifty tricks and got some pointers on showmanship in the session that was aimed at turning the art of mixing a martini into a magical experience.
"The bar is a stage and you're a performer," Daniel begins. "You smile and respect guests. Don't take the last dime from their pocket and cut them off when they need to, and you'll have them happy to come back," he instructs.
A little known fact: a big reason cruising first became an industry in the United States was prohibition that started in 1919. Booze cruises outside the three mile limit were a way around the ban on drinking, he explains. In the 20s and 30s screwdrivers were also popular because they looked and smelled like innocent orange juice even if they were made from some pretty foul smelling bathtub gin.
Prohibition actually just stirred up a taste for cocktails and tastes got more exotic after soldiers returned from Europe in World War Two.
But enough history: let's start creating our own libations.
Daniel, the chief mixologist and sorcerer of Carnival Sunshine's Alchemy Bar is a perfectionist when it comes to mixing drinks the best way possible,
He advises to never to skimp on your magic wands and vials. Use a professional quality shaker, mixing glass, strainers, jiggers, a proper long stir stick that can act as a measurer and a muddler for crushing leaves and fruit.
For starters, something many bartenders tend to forget is that ice can get soggy. Nothing turns a strong potion flabby faster than ice that's already started to melt. When you shake a drink it just makes the dilution even quicker.
It's an effective technique to chill martini glasses too, to keep the drinks cooler longer.
Then there's the theory of color and flavor. Beige and grey just don't look appealing in a glass. That's where fruits, vegetables and herbs come in
Now we start mixing.
A good mixing glass and a shaker should fit together so tightly they form a seal as the cool drink contracts the air inside. We learn the karate chop technique of loosening a sealed shaker with a  good sharp whack with the side of your hand.
Over the course of the next three hours, we get hands-on lessons in blending and shaing it up. we mix our own seduction martinis using fresh fruits and infusions, concoct a very special spicy drink using chipotle pepper vodka, and try our hand at a secret formula he's working on to add to the Alchemy Bar list.
We all had a chance to learn how to shake without getting stirred, grasping the shaker and holding it over a shoulder and shaking vigorously. "Move it like you mean it," Daniel advises. Then the liquid is strained over fresh ice in a glass.
A moment of truth comes when each of the 10 in the class have to make flames rush up from our hands. Pyrotechnics are a part of the mixing process that adds flair as well as flare to serving these potions. The flames that seemingly come shooting out of the palms of the bar staff are produced by lighting the volatile oils in the peels of citrus and give the drinks a tinge of burnt orange or burnt lemon as an accent.
We`re all hesitant at first to take up a Bic lighter and hold it lighted with one hand between the thumb and index finger of the other hand. When the oils start to bubble out of the peel, a squeeze of the drops of oil into the flame produces a sensational flare-up.
Everyone fumbled at first because it seems to risk burning our fingers, but it turned out it's easier than it looks to create an impressive flash. With a "short sharp squeeze" the oils are shot up into the air and catch fire with impressive flashes. One strip of orange rind about two inches across that I lit created a flame that leaped a good six inches. The momentary flash singes the rind enough that it will add a nice zest of orange if rubbed along the glass and floated on the top of top of the drink.
While the Seduction Cocktail is officially listed as the love potion among the drinks we mixed, I fell in love with all the cocktails we mixed, so much so that was determined to come back for more.
Not only did all the students get diplomas and the lesson for our $15 a person admission fees, we also got to finish off our creations, valued at $8.95 each on the bar menu. And as a bonus we also got a voucher good for another complimentary drink on another visit to the Alchemy Bar.
I call that a good deal. And when I get home, I`ll put my newly won graduate alchemy skills to the test in my own home lab.
Cheers!
Shaking it up
Here`s a recipe Daniel revealed in his Alchemy course on Carnival Sunshine.:
Strawberry Mint Fizz:
Three or four fresh strawberries
Six to eight mint leaves,
2 ounces strawberry infused strawberry syrup,
1 ounce strawberry syrup.
Splash of sparkling wine.
1.5 ounces of vodka
Muddle the mint and strawberries in the bottom of a mixing glass; add the vodka and syrup.
Shake vigorously with ice and strain over fresh ice into a high ball glass.
Top up with sparkling wine
Garnish with mint and enjoy.
Compliments of Carnival Cruise Lines
By WALLACE IMMEN