Cruising's New Reality: Everyone Can Sail with the Stars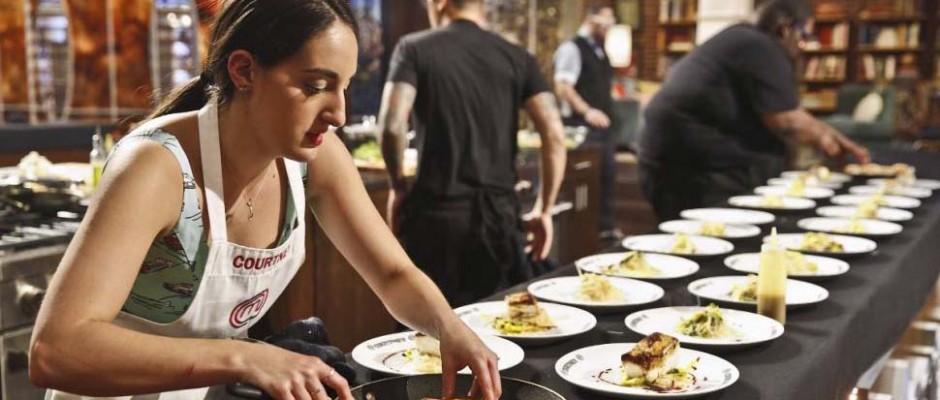 Winning quarterbacks still announce after they've won the Super Bowl that "I'm going to Disney World." But these days, the typical thing winners on television reality shows do is get ready to board a cruise ship.
For the winner of the latest season of Fox Broadcasting's hit reality series MasterChef, the getaway of choice is a Caribbean cruise, where she and  other celebrity chefs will share with passengers their secrets of making gourmet meals under pressure.
Courtney Lapresi, a self-described "gentleman's club" dancer wowed judges including the ever-temperamental Gordon Ramsay and flamboyantly bespectacled Graham Eliott. She managed to turn buffalo testicles into a triumphant treat and pig's ears into a winning appetizer all while racing around the kitchen wearing Louboutin heels. She's joining six winners of previous competitions for what's billed as the first of a series of MasterChef cruises on Holland America Line.
It's the latest in a growing trend of themed cruises based around television shows and high-profile celebrities.
In the past, themed cruises tended to be private charters that needed to be booked through the agencies designated by the organizers. But increasingly cruise lines are sponsoring theme cruises that can be booked through any travel agent. As ships grow larger, many charters are only partial and guests can experience the events even if they don't book through the event organizer.
Another promotion that Holland America is promoting on the line's ships all year is tied in to the long-running hit show Dancing with the Stars. The winners from qualifying rounds on 15 cruises this year will board Westerdam for an eastern Caribbean Dancing With the Stars at Sea champions cruise in December to pick the ultimate winner.
Norwegian Cruise Line is organizing the Norwegian Poker Challenge, with a guest player Joe Cada, the youngest champion in the history of the World Series of Poker. The sailing from Miami on Norwegian Epic in November is the first of what the line expects will become an annual event. Players will have the chance to join cash games on a daily basis during the week, which will feature four tournament events with a $200,000 guaranteed prize pool.
And Carnival Cruises found music-themed cruises are so popular, it organized a lineup of more than a dozen Carnival Live Concerts at Sea cruises this year that feature full shows by marquee performers including Jennifer Hudson, Lady Antebellum, Trace Adkins, Styx and REO Speedwagon. Carnival has just announced the lineup for an expanded season of concerts in 2015. 
Meanwhile, a Bermuda Triangle cruise on Carnival Conquest in December features Chip Coffey of A&E's Paranormal State and Psychic Kids, and Brian J. Cano from Syfy network's Haunted Collector.
Super Bowl fans can hit the waves as well. The "Super Cruise" Super Bowl party at sea is on Princess Cruises' Caribbean Princess in February is the 22nd annual version of the theme.
Cooking's this year's fastest-growing theme, with Bravo's Top Chef already having sold out a November Caribbean cruise on Celebrity Reflection.
What's the appeal? The Cruisington Times and Travel Industry Today's Wallace Immen caught up with Courtney Lapresi, who described how she cooked her way aboard the MasterChef cruise.
"Being a ballet dancer, and performing in front of large and critical audiences for so many years gave me the confidence to work well under pressure," she says. "I learned that it's important to acknowledge your nerves, but to overcome them. As the competition got tougher, I realized that the dishes I had been making at home were not up to par with what the judges were expecting of me. So I began to be more inventive and daring with my dish conceptions."
Mystery boxes are challenging because you have to improvise in two ways, she adds. "What you are going to prepare, and how you're going to incorporate the ingredients in the mystery box. If found the best thing to do is to come up with an idea, and stick to it. If you start changing your idea around, the dish becomes disjointed, and won't come together."
Crispy pig's ear was a gutsy thing to make for a winning appetizer, but she believes you have to take risks to be a great chef. "Being daring and pushing boundaries are important, but it must be done carefully and with clear intentions, and not just because."
Gordon Ramsay has a reputation for being a critic that can drive chefs to tears, but she took it in stride."I took everything Chef Ramsay said to me as a compliment- even the criticism. The fact that he critiqued me meant that he wanted me to learn from my mistakes, and that he saw the potential in my abilities."
On the cruise, she'll be sharing what she's learned about giving dishes finishing touches and tricks of the trade to streamline prep time.
Graham Elliot will be on board as well, there be cooking competitions and audience participation. There will be cooking competitions, a blind taste test with audience members and Graham Elliot trivia competitions. The finale is a cookoff for the title MasterChef at Sea- "which I would really love to win," Lapresi says.
But guests can win too. "There's a Mac and Cheese competition- hosted by Season 3 winner, Christine Ha. "I can't wait to see what the guests come up with"