Crystal Cruise Guests Feast After a Hands-on Cooking Class in Valencia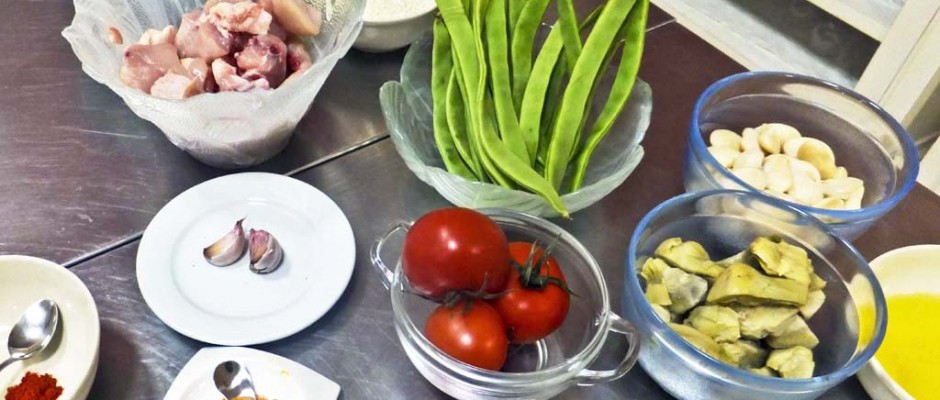 To make an outstanding paella in Valencia, you need to start with a tall, cold glass of sangria.
That's for the chef, before the show begins.
It certainly helped us get in the mood in a cooking class organized as a shore excursion from Crystal Serenity on its day in Valencia, Spain. We'd spent the morning touring the city that made oranges famous and that helped build up an appetite for a meal of famous dishes gazpacho and chicken paella done in the local way.
The catch was we'd have to start with the raw materials and cook our own. But there's no more welcoming place to do that than the Valencia Club de Cocina.
We were welcomed warmly to the studio with its own dining room, slipped on aprons and thoroughly washed our hands before we got down to the business at hand. We needed to chop cukes, tomatoes, peppers and onions for the gazpcho and start frying chunks of chicken and rabbit in heated oil in an enormous flat bottomed pan that would soon be full of water, beans and rice. The paella ingredients needed to simmer with seasonings of sweet paprika, a pinch of saffron and salt for a half an hour while we got some insider tips on cooking from the chef.
Paella goes back to Roman times and means simply with rice, he explains. In Spain it's developed into a way to cook any kind of meat you prefer, meat fowl or fish. The vegetables used vary, but they're most often beans and tomatoes, peppers or artichokes.  The seasoning of choice is a sweet paprika.
There's a special type of short-grain rice called Seina that's grown only in the district around Valencia that makes the dish from this area unique. Another differentiation is the fact that unlike other Spanish paellas, Valencia style doesn't blend meat and seafood. Today, we're going with a mix of chicken and duck.
You need a special flat bottomed high sided pan for the slow simmering needed to reduce the stock and develop the flavors of the ingredients. For that, the school has huge pans a couple of feet in diameter and big gas burners to provide even heat to such a large cooking surface.
First, the chicken and duck chopped into chunks are seared in oil at medium heat until they're golden brown. The paprika is added half way through to add color to the meat and then the cooked meat is pulled to the edges of the pan while the beans and tomatoes are cooking in the center. Then the pan is filled half way to the brim with water and the ingredients are stirred occasionally over the next 30 minutes until most of the water has evaporated.
Then it's time to add the rice and after stirring it add the other half of the water –about three cups of water for each cup of rice–and cook for another 20 minutes. It's seasoned with salt and freshly ground pepper. Just a pinch of saffron is added for color; you don't want it flaming amber, just a pale yellow, our instructor said.
After the rice is added, you don't stir any more. When the water has cooked down, increase the heat to medum high for the last couple of minutes until the rice starts to carmelize or what Valencians call becoming "socarrat." If there's any sign of the rice burning, turn off the heat immediately.
Then it's show time. Decorate it with twigs of fresh rosemary and take applause from your waiting diners.
We let the paella cool while we savored a cold gazpacho that we'd whizzed up from red pepper, ripe tomatoes, a clove of garlic, onion and cucumber with some vinegar olive oil and salt to taste whizzed up in a blender with some bread.
But we couldn't resist moving on to the main event as quickly as possible, with a little more sangria to make it festive.